.
McGuire wrote that Parks Canada paid CBC a grand total of $97,728.75, and the breakdown is as follows:
"- $65,000 for [Parks Canada's] share of the website development costs. Add in federal and provincial taxes, and the total was $74,733.75.
"- $20,000 for its share of the charter plane and communications technology costs. Add in federal and provincial taxes, and the total was $22,995."
McGuire maintains that CBC did not break its own conflict of interest policy and defended the public broadcaster's editorial independence from the federal agency.
"The one thing that was sacrosanct to us was to make sure CBC retained complete editorial and creative control of the content. We even made a point to write it explicitly into the contract," McGuire writes.
"Nonetheless, we find ourselves being asked if we were being paid to do news stories that flattered Parks Canada.
"The answer to that is an emphatic NO.
"We do not get paid to provide coverage. Ever.
"We paid for all CBC costs to cover this story, including the travel.
"Nobody other than CBC journalists produced, edited or shaped the content we delivered to you."
Original story follows below. The full text of the agreement between Parks Canada and CBC over the $65,000 payment is available at bottom.
The CBC accepted more than $68,000 from Parks Canada in an agreement over TV and online coverage of a search for the lost Franklin expedition in the Canadian Arctic last year, prompting Environment Minister Leona Aglukkaq to seek a review of the payment.
The documents, which have been reviewed by Huffington Post Canada, show that Parks Canada paid CBC as part of a partnership over the network's reporting from Nunavut and aboard two icebreakers. Stories on work by Parks Canada's archaeological staff ran over two special segments of the network's flagship news program The National in September 2012 and as a one-hour documentary called "Finding Franklin with Peter Mansbridge".
A spokesperson for the Environment Minister -- who oversees Parks Canada -- said Aglukkaq plans to raise the confidential agreement with the head of Parks Canada.
"The Minister has made it clear to Parks Canada that she believes taxpayers' money must be spent transparently. She has asked them review how they approve projects and to ensure a competitive, transparent process going forward."
In exchanges between Parks Canada and CBC, documents show staff debating whether the payment counted as a "straight transfer of funds between departments" or as a payment for service, which would be taxed.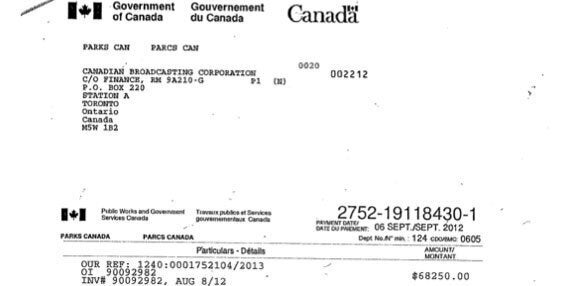 The network's staff ask a CBC tax specialist, Eric Robineau, to advise. In an e-mail, Robineau says that after reviewing the contract "There are numerous supplies made by each party to the other. One might even suggest that there is a barter element -- supplies by both parties, of equal value, apart from the $65,000 payment."
And so he believes there should be tax.
A Parks Canada staffer writes that "We had specifically done an administrative agreement to make it clear that this is not a contract for services. (We are both creating products and sharing them and Parks Canada is contributing funds to defray some of CBC's costs, but we are not 'hiring' CBC)."
According to the CBC's Conflict of Interest policy "accepting free travel to help in newsgathering, creation of content or for research puts us in a conflict of interest."
The policy goes on to say that if there is no way to cover a story in the public interest without financial help from an outside organization, the CBC's practice is to try to reimburse the costs.
If CBC journalists report from a location they travelled to with outside support "we mention that fact in our coverage," the policy states.
The CBC's head of media relations told HuffPost Canada that "CBC News had every intention of telling this story irrespective of the partnership" with Parks Canada.
"In order to access such a remote location and with a view to being financially responsible, CBC shared travel costs with Parks Canada and jointly chartered a plane," wrote Chuck Thompson in an e-mail to HuffPost, adding that both CBC and Parks Canada staff were aboard the plane.
"To be clear, CBC paid their own way."
Thompson said most of the payment from Parks Canada was used to build a website.
"The money CBC received from Parks Canada was used primarily to build a jointly created and branded website," he said via e-mail.
An invoice dated July 27, 2012 from the CBC to Parks Canada for $65,000 (plus GST and TVQ, totalling $74,733.75) makes no specific mention of a website, but states that "Parks Canada will provide access to search vessels along with media and other information. CBC will provide news coverage on various platforms."

An amendment to the agreement states that "Parks Canada shall pay to CBC up to $10,000 to partially reimburse the cost of a charter flight to have CBC personnel join the Martin Bertmann vessel at the search area."
A separate e-mail from CBC staff indicates that Parks Canada ended up paying an additional $20,000 beyond the original $65,000.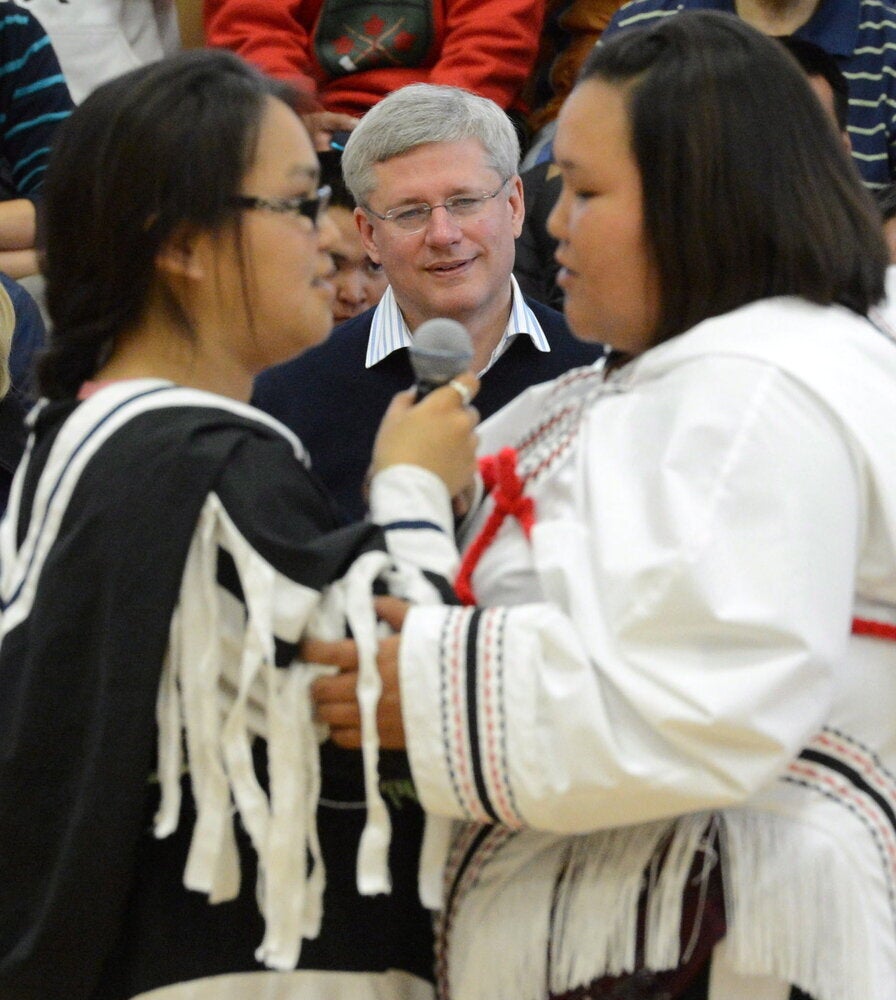 Harper's Northern Tour 2013
Popular in the Community