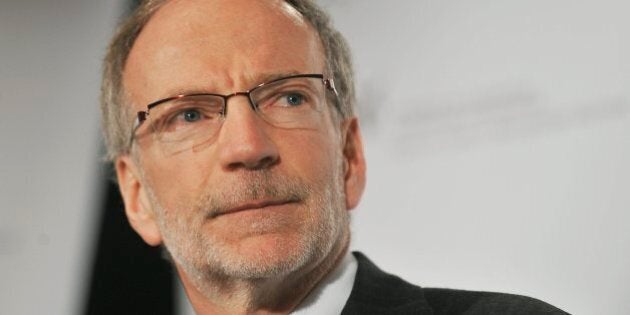 The president of CBC/Radio-Canada says public broadcasters are caught in a "vicious circle" of budget cuts and service reductions that threaten their continued existence.
"First, we struggle with cuts to our funding," Hubert Lacroix told an audience at an international public broadcasters' conference in Munich, Germany, last week.
"Then as the cuts make us weaker and affect morale, critics, key stakeholders and even some of the citizens we serve, question our relevance in a digital world."
Lacroix said public broadcasters are facing budget cuts throughout the world that have "meant huge job losses and a reduced ability to do the very things that we have been mandated to do. It's happening in Australia, in France, in the U.K., in Brazil and in virtually every service represented in this room. And I can say with considerable sadness, it's been happening in Canada."
He said public broadcasters have been too slow to react to changing technologies and a changing political environment.
"Like the proverbial frog put in cold water that is slowly heated, we've resisted telling people that we risk being boiled to death."
The Conservative government slashed the CBC's public subsidy starting with the 2012 budget, reducing the broadcaster's $1-billion annual subsidy by $115 million.
The broadcaster's budget came under even greater pressure when it lost the Canadian rights to NHL games to Rogers in a $5.2-billion, 12-year deal. It's estimated the loss of "Hockey Night in Canada" alone will cost CBC $100 million in ad revenue in 2015.
The Canadian Media Guild estimates the CBC has cut some 2,000 staff in the past five years, a reduction of about one quarter. It slashed more than 600 jobs just last year, to plug a $130-million budget shortfall.
The Liberals and the NDP have both vowed to reverse the $115-million budget cut to the CBC. Both parties have also vowed to restore a greater measure of independence to the CBC, after the Conservative government took control of collective bargaining, salaries and other budgetary issues at the broadcaster in 2013.
Lacroix had previously warned that the CBC faced tough times, but media watchers say this is the first time he has said that public broadcasters are at risk of extinction. Some critics wondered why Lacroix chose to make the comments in Germany and not at home in Canada.
In a press statement, Isabelle Montpetit, president of Syndicat des communications de Radio-Canada (SCRC), wondered if Lacroix's silence was due to a "careful" relationship with Conservative leader Stephen Harper, given "the CBC president is hand-picked by the prime minister for the coveted job."
The Canadian Media Guild said Lacroix had "made a career of shredding" the CBC, and cast doubt on whether Lacroix would rebuild CBC services and staffing if funding were restored.
At the conference in Munich, Lacroix suggested the CBC plans to ramp up its advocacy of public broadcasting.
"In the next year, we're going to try and spark a national conversation on the future of our entire media ecosystem and CBC/Radio-Canada's place in it," he said.