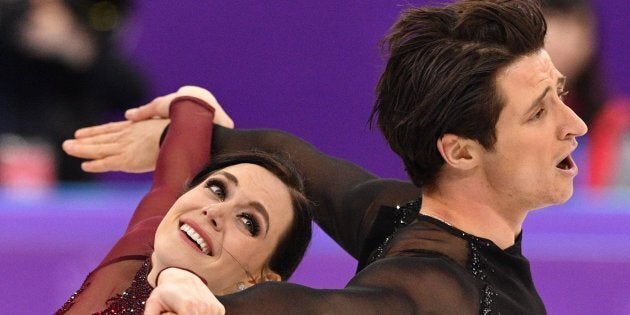 Those watching at home were likely a little emotionally vulnerable after watching the duo perform the skate of their lives in PyeongChang — a steamy, breathtaking ice-dance free skate set to songs from "Moulin Rouge." The tears might have started welling up after seeing the elation and relief in Scott and Tessa's faces, knowing they've become the most-decorated figure skaters in Olympic history.
And then, broadcaster CBC sprung a little surprise that unleashed the flood: a montage of the two-decade-long career of Virtue and Moir set to the Jim Cuddy's quiet ballad, "Pull Me Through."
Here's a clip of it. Keep a tissue handy. You have been warned.
The tribute features several of Virtue and Moir's most memorable moments: clips from their gold medal skate at the 2010 Olympics and from that heartbreaking silver in Sochi, to name a few. It also shows us the depth and intensity of the pair's nearly lifelong partnership.
After watching it, Canadians on Twitter needed a moment.
The swift response to the video surprised the man responsible for the video, Tim Thompson.
At least we know who to blame. We might need more tissues over here.