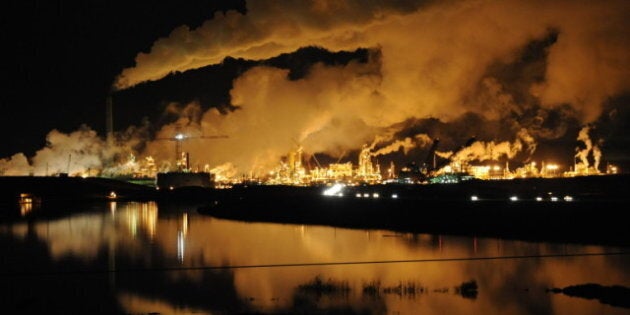 I awoke this morning to the stories of Kenyan parents trying frantically to douse the flames burning their children after yet another pipeline explosion.
With those horrible images seared into my mind I logged on to a video conference to conduct an internal evaluation of Greenpeace International's rapid-response team, which worked around the clock after the nightmare this year in Fukushima, providing independent radiation monitoring and later campaigning for cleaner, safer energy systems. As we discussed what we did well and what we could improve, I began to wonder how much of our work in the coming years will be rapid response to these disasters and to devastating climate impacts, and how much time we will have for proactive campaigning to stop the development of dangerous, dirty infrastructure, such as the Alberta tar sands, the Keystone XL Pipeline, deepwater oil drilling in the fragile Arctic, and coal plants around the world.
I started working as the co-director of Greenpeace International's Climate and Energy program a month before the Gulf of Mexico spill, which locals are still cleaning up. I watched in horror a couple of months later as a Greenpeace photographer filed images that the world will never forget: firefighters in Dalian, China, trying to clean up yet another oil spill and ending up fighting for their lives.
Not long after, I listened with tears in my eyes as brave Greenpeace campaigner Melina Laboucan-Massimo, a member of the Lubicon Cree First Nation, described the impact of this year's spill from the Rainbow Pipeline in Alberta on the health and economy of her community. As we dug deeper into Canada's safety record we were horrified to find out that a 2007 report by the Alberta Energy Utilities Board on pipeline performance found that between 1990 and 2005, there were nearly 5,000 pipeline releases of hydrocarbon liquids. Some releasing between 1 million and 10 million litres.
As I tour the country over the next two weeks with my new book, This Crazy Time: Living Our Environmental Challenge, I would like to inspire Canadians to engage in these issues because change is possible, because we are living a tipping point on clean energy issues and our efforts today will have huge payback.
I was planning on writing this post about how the last two years have been the first years in human history when new investment in clean, safe renewable energy like wind and solar power exceeded the combined new investment in coal, oil and nuclear... globally! How this week, solar photovoltaics achieved price parity with coal in Australia. How Greenpeace's research has shown that in the last five years the number of countries with renewable energy policies or laws has doubled from 50 to 100.
All that is true, and definitely worth mentioning and celebrating, but today as I look at the images coming out of Kenya and I think about how this week is the 40th anniversary of Greenpeace, my focus is how important it is for us in Canada to build a clean, safe energy system so that we are not limping from disaster to disaster, so that our kids have access to a secure future.
Over the last month, 618,429 people around the world signed a petition asking President Obama to say no to a tar sands pipeline -- the Keystone XL Pipeline. Over a thousand people were arrested protesting that pipeline including Canadian writer Naomi Klein and world-renowned climate scientist Dr. James Hansen of NASA. C'mon Canada, let's show the world why this country is the birthplace of Greenpeace. On Sept. 26, brave Canadians will gather on Parliament Hill to protest the tar sands. It reminds me of 1993 when outrage was building over the logging of our rainforests in Clayoquot Sound on the West Coast.
So to all you ageing tree huggers who were there from the beginning, it's time to dust off your placards. To all you tech-savvy clean-energy entrepreneurs, this might be the moment to try out something new.
Happy anniversary, Greenpeace.