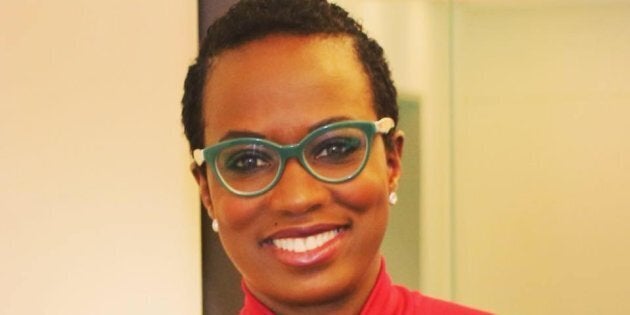 A Liberal MP says she regularly experiences instances of "microaggressions" that feel like "death by a thousand cuts."
Celina Caesar-Chavannes took to Facebook on Thursday evening to describe an experience she had in a washroom in her Ottawa office building.
In a post, the Ontario MP said she was getting ready for an "epic" photo shoot for a magazine spread due for release next year.
"I was excited. I was joy personified," she said.
The mood quickly changed, Caesar-Chavannes said, after two women walked into the washroom.
She said one of the women walked straight past her and into a stall while the other put her wallet on a counter by the washroom door.
"As she placed her wallet down and our eyes met in the reflection of the mirror, she said, 'Don't steal my wallet OK?'" the MP wrote.
To say that these micro-aggressions do not bother me, would be a lie.Liberal MP Celina Caesar-Chavannes
"My smile, joy and excitement vanished. She noticed, because she quickly responded with an, "I was just joking" - with a little sprinkle of 'like duh??' on the side."
HuffPost Canada reached out to the the MP's office for comment, but a spokesperson said she had nothing to add to what she wrote in her post.
"To say that these micro-aggressions do not bother me, would be a lie. They do," she wrote. The term is used to describe the subtle or unintentional insults or discrimination of a member of a marginalized group.
"They happen all the time."
Caesar-Chavannes, who was elected in 2015, said other experiences include being asked what she was doing in a certain location or if she was "with" the "White men in suits ahead of me."
Geoff Regan, the Speaker of the House, released a statement on Friday saying he was disappointed to learn about Caesar-Chavannes experience but that he'd spokenwith her about the incident.
"As Speaker, it is of course my priority that all Members are treated respectfully. I have instructed the Parliamentary Protective Service and the House of Commons Administration to take immediate steps to ensure that all Members and indeed all visitors to the Hill are treated with dignity and respect, in keeping with our institutional values," Regan added.
Supporters on social media thanked the MP for sharing her story.
The MP has been outspoken on social issues in the past. In September, she rose in the House of Commons to deliver a powerful speech on body shaming that earned her a standing ovation. Take a look:
Caesar-Chavannes said at the time she was standing in solidarity with those who have been shamed for merely looking different.
"Most importantly, in solidarity with young girls and women who look like me and those who don't, I want them to know that their braids, their dreads, their super-curly afro puffs, their weaves, their hijabs, and their headscarves, and all other variety of hairstyles, belong in schools, in the workplace, in the boardroom and yes, even here on Parliament Hill," she said.
The MP echoed those comments in Thursday's Facebook post. She wrote that despite her experiences, she will continue to stand up for her daughters and "all our daughters."
"I will stand for future generations of women, in order to ensure that they never have to feel the humiliation and pain, hidden behind this smile," she said.
"I stand because we need more women in positions like these to change the status quo. Glass ceilings do not get broken by sitting on the sidelines and watching. They break when you stand up."
Popular in the Community