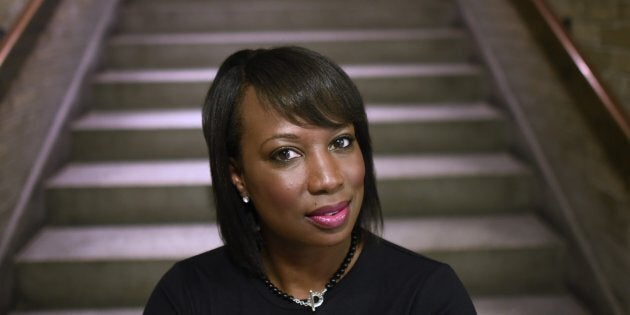 Senior Liberals and everyday Canadians are showing support for Ontario MP Celina Caesar-Chavannes, who has been lambasted in some Conservative media outlets for her comments on racism.
The Whitby, Ont. MP has become well-known for taking a vocal stance on issues of race, drawing the ire of some Conservative media figures. The Rebel's Ezra Levant wrote that Caesar-Chavannes "might be Canada's most racist MP," and reporter Brian Lilley charged that she "sees a racist behind every rock and tree."
Caesar-Chavannes acknowledged the criticism on Twitter Monday, and said that she won't back down.
"So tired of being attacked as a racist b/c I question racism or speak up against it. The label that does not belong to me," she wrote. "I will not sit & let others say what they wish, because they feel they can get away with it."
Supporters responded by sharing their appreciation for Caesar-Chavannes with the hashtag #HereForCelina.
"Canadians are #HereForCelina," said Gerald Butts, principal secretary to Prime Minister Justin Trudeau. "We deserve better than the alt-right knock-off politics of Ezra Levant and the Conservative Party."
"Our government is lucky to have such a strong advocate in @MPCelina," wrote Defence Minister Harjit Sajjan.
"I'm #hereforCelina because it's time we centred discussions on racism around the oppressions Black women name and not around how they make white men feel," wrote Toronto Star columnist Shree Paradkar.
The MP thanked her supporters in an emotional video posted to Instagram on Tuesday.
"I just wanted to send a heartfelt thank you to Canadians who took time out of their day to show up and show out for me," she said. "I've heard many times people say that I'm their voice in Parliament and today, you decided to be my voice because I was losing my voice."
Caesar-Chavannes often speaks her mind on social media.
The MP also called out a reporter for The Globe and Mail, Robert Fife, who suggested that the federal government is wrong to do a study on systemic racism in Canada because, "kids of all ethnic backgrounds are hanging around with each other."
Caesar-Chavannes said, "To suggest that systemic racism does not exist, makes me question your ability to investigate stories of the Canadian experience without bias."