"I don't know how she's going to do it!" Dion said in an interview with CityTV's Adam Wylde. "I had twins, I don't know how she's going to do it. I had twins! Is she going to [do a] Shakira move? I don't know."
While the "Sorry" singer did not necessarily do any "Shakira move[s]" she and roughly two dozen dancers conducted an ethereal ode to motherhood, which included a long table and saw Beyoncé recline back in a chair.
She received a standing ovation from the crowd for her performance from numerous celebrities, including Jennifer Lopez, Faith Hill and husband Jay Z. If her pre-show interview was any indication, Dion was likely taking it all in, too.
Dion is a five-time Grammy winner, who most recently won two trophies for "My Heart Will Go On" in 1999. She was on-hand to present the Song of the Year Grammy to Adele for "Hello," and spoke strongly about Stevie Wonder, who famously spoke about connecting music to memories.
"I will never forget sitting with my husband René when My Heart will Go On won the Grammy Award for Song of the Year, 18 Years ago," said Dion, prior to announcing the winner of the category. "Thank you."
Earlier in the night, when asked if she was rooting for either Canadian Justin Bieber or Drake to take home the statue for Album of the Year, the singer said, simply, "You know, they all deserve it."
"People who are in the industry, and their nomination, they've worked hard and they all deserve it."
Beyoncé received nine nominations for her album "Lemonade" at the 2017 Grammy Awards, and won the Best Music Video prize for "Formation" prior to the the big show.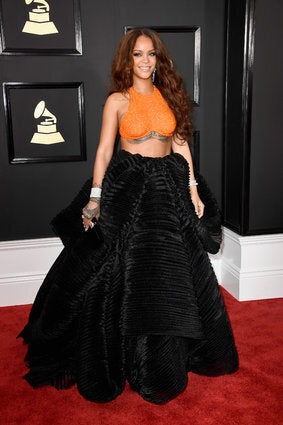 Grammys 2017 Red Carpet Photos