For as long as we can remember, Dion's twins have had long hair, so it was a surprise to see the boys with freshly chopped 'dos.
"Holiday memories!" Dion wrote in the caption. "Now time to get back to work!"
In a second photo, Dion looks very happy as she poses with her youngest boys in ski gear.
According to Page Six, the family had a tradition of spending the holidays skiing in Montana. This year, they honoured Angélil's memory by continuing that custom.
"I cannot just live on like, 'I lost my husband; my children have no father,'" Dion told the news site.
"I have to stand tall and strong because this is my way of living: Stand tall, be positive, pick your battles, do the best you can and to live for today, not for tomorrow, for today, and know nothing is perfect, not everything you want will happen."
While the singer had a rough year – not only did she lose her husband, but she also lost her brother to cancer, two days later – she has kept a positive attitude to life.
For her twins' sixth birthday in October, for instance, the family took a trip to California's Disneyland Resort. On Instagram, Dion shared a silly, family photo from their visit.
A source told People magazine that while the singer is "still grieving… she's doing everything she can to keep as happy and as healthy as possible. It's all about the kids."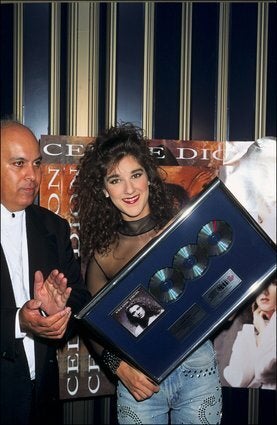 Celine Dion and Rene Angelil