It's arguably her most well-known song but when she first sang a demo of "My Heart Will Go On," Céline Dion hated it.
In the fascinating oral history of the Titanic theme song, published yesterday on Billboard.com, the Québecois chanteuse recalls her initials thoughts of the track, which almost didn't make it into the Oscar-winning movie.
"When I recorded it, I didn't think about a movie; I didn't think about radio," Dion told Billboard. "I thought, 'Sing the song, then get the heck out of there.'"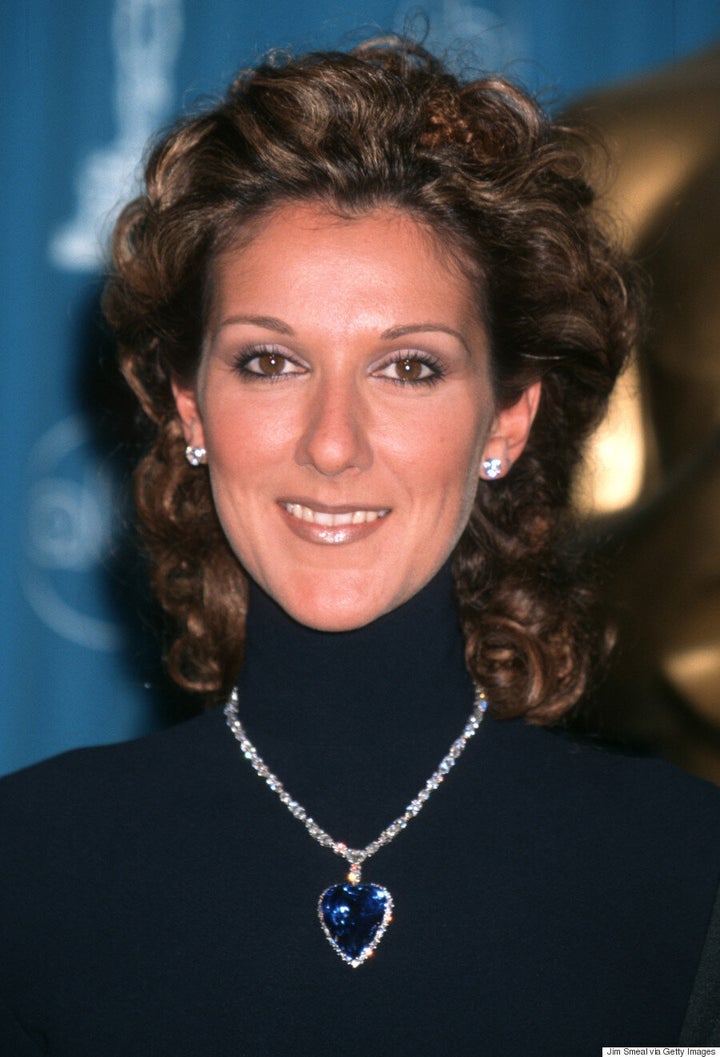 Célion Dion at the 70th Annual Academy Awards.
However, even though the pop star and James Cameron, the director of "Titanic," were at first uncertain whether the song should be included in the movie, it went on to debut at No. 1 on the Billboard Hot 100 on Feb. 28, 1998, helping the movie's soundtrack stay on the Billboard 200 for 16 weeks.
According to the people involved in the making of the song, there was a lot of pushback to not include it in the soundtrack, and, as Céline recalls, it took her late husband, René Angélil, and Tommy Mottola, then-head of Sony Music Entertainment, to convince her to even record the James Horner-penned tune. (Horner died in a 2015 plane crash at age 61.)
"I was in a suite with a piano at Caesars Palace. [Horner] started to play the song. With all the respect that I have for James — poor him, this guy is looking above us right now — he is not the greatest singer," said Dion. "I was making this sign like, 'This is not possible.' René stopped him: 'James, James, James. Listen to me. You're not doing justice to the song right now. I'm going to make a deal with you: Let's have Céline make a demo.' I wanted to choke my husband. Because I didn't want to do it! I just came out of 'Because You Loved Me,' and then 'Beauty and the Beast' was, like, huge. Why do we need to break our nose?"
Fortunately for all of us, Mottola convinced the singer to get in the studio after explaining the plot of the film. And even though she was suffering from, as Dion hilariously puts it, "belly pains" and "girly days," she agreed to record a demo.
"They're all crying. And they said, 'We're done.' I said, 'OK, well, I'm glad that you liked the demo," she said.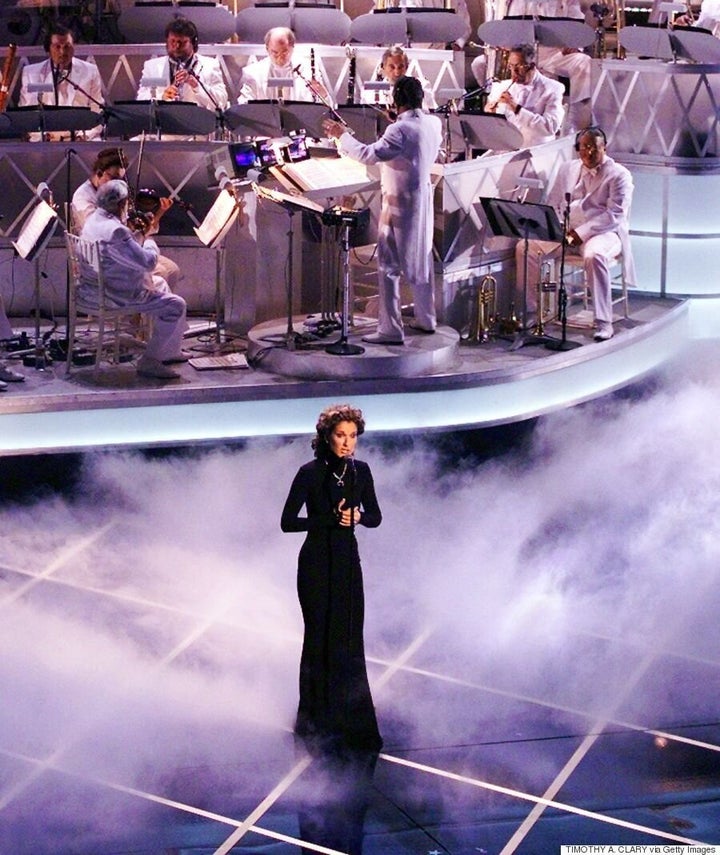 Céline Dion sings "My Heart Will Go On" during the 70th Academy Awards.
But even though the mom-of-three, who went on to win two Grammys for the love song, was convinced, Cameron was not.
According to Simon Franglen, co-producer of "My Heart Will Go On," Horner carried around a cassette (this was the '90s, remember) for weeks "waiting for the right time to play it for Cameron. He wanted him to be in a good mood."
"'My movie is big enough, I don't need something bigger, I don't need any singer,'" she recalls him saying. "And I don't blame him. But Horner says, 'I'm not going to tell you who sang the song. Just please give me a favour and listen just one time.'"
"My movie is big enough, I don't need something bigger, I don't need any singer."
Dion went on to perform the hit tune at the 1998 Oscars wearing the famous Heart of the Ocean necklace that Billy Zane's character, Cal Hockley, gives his fiancée, Kate Winslet's Rose DeWitt Bukater.
"This song means a lot to me, and it has played such a huge role in my career," Dion said in a statement. "I'm so grateful to the late James Horner, and to Will Jennings, for writing it and creating the opportunity for me to be part of 'Titanic,' an amazing film whose legacy will continue for generations to come."