Her new line, Célinununu, is a collaboration with Iris Adler and Tali Milchberg, the co-founders and designers of the kids fashion brand nununu. But the new ad is 100 per cent Céline Dion, complete with over-the-top dramatic scenes, tongue-in-cheek references to her fame, and — obviously — glitter.
WATCH: The first ad for Célinununu, starring Céline Dion. Story continues below video.
"Our children, they are not really our children, as we are all just links in a never-ending chain that is life," Dion says in the ad, during a scene where she busts into a children's hospital in the stealth of night.
"We may thrust them forward into the future, but the course will always be theirs to choose," she says, strutting past a row of newborn babies divided into "girls" and "boys" via their pink or blue blankets and hats.
In the background, what we must assume is Dion hums a haunting children's lullaby, as Dion then blows black glitter onto the babies and transforms all their outfits and decor into black and white. But soon the spell is broken as two security guards chase her away from the babies and arrest her.
Dion shared a preview of her getting slammed to the ground on her Instagram account Monday.
"It's OK, it's OK, I'm Céline Dion," she says in the ad, before getting hauled away. Later in the ad, she thinks that surely they won't arrest her since she's famous, before muttering a swear word and bolting.
Dion doesn't shy away from showing her goofy side, professionally or in real life. A sweet photo she recently posted to mark her twins' eighth birthday, for instance, shows her making a funny face and holding a mask up to her son. At Halloween, she posted a photo of her and her family wearing gross fake teeth while she gives a thumbs up.
Célinununu is gender-neutral
"CELINUNUNU liberates children from the traditional roles of boy/girl, and enables younger people to grow on values of equality with the freedom to strengthen their own power of personality based on mutual respect," the Israel-based company explains on its website.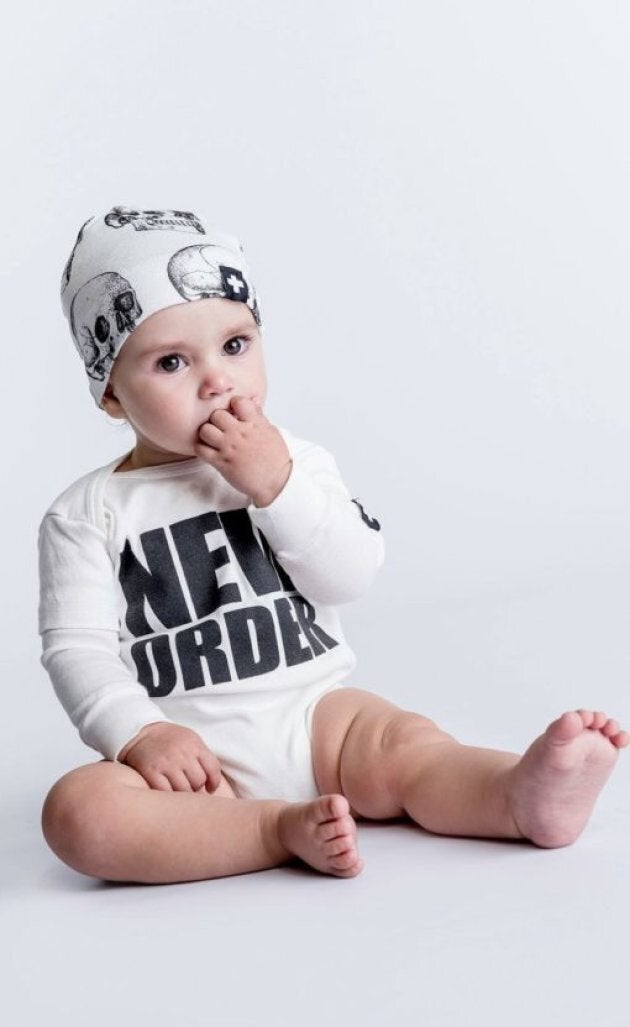 "I've always loved nununu and what they represent. Partnering with them to encourage a dialogue of equality and possibility makes so much sense," Dion wrote on Instagram Tuesday.
The new line includes tops, bottoms, dresses, baby clothes, shoes and blankets — some adorned with stars, the alphabet, skulls, or messages like "New Order." The items are mostly black, white, grey, or yellow.