It's been one year since Céline Dion's husband René Angélil passed away, but the Canadian songstress and her kids are recovering together just fine.
"They cope with the loss of their dad very well," Dion admitted to Extra on Tuesday. "To be honest, they're remarkable. They are helping me, I am helping them — it's mutual."
The "My Heart Will Go On" singer has three children with her late husband: 16-year-old René-Charles and six-year-old twins Eddy and Nelson.
Angélil passed away in January last year, after a long battle with throat cancer. But despite his passing, Dion says she isn't putting pressure on her eldest boy to be the new man of the house.
It's not surprising that Dion has so much on the go. In an interview with Entertainment Tonight, she admitted she's taken on the role of leader of her family and that she knows her husband would be proud of her.
"I'm pretty sure he would be very proud because my husband is… we've always been 50/50 together in everything that I've done in my life," she said. "When he left, he came inside of all of my kids' hearts and mine, he gave the rest of his 50 per cent for me to be complete, to continue the rest of my life, to feel strong and to believe that I can still do this and he will always be with me."
"I feel stronger," she continued. "I stand up for my kids and I feel like I'm the leader of the family."
Despite the rough year she's had – Dion also lost her brother to cancer just days after losing Angélil – the singer says her children helped her recover.
"What makes me most proud is to be a mother," she told Extra. "I have three magnificent kids, that through them, I see my husband and I have the strength today to keep dressing up."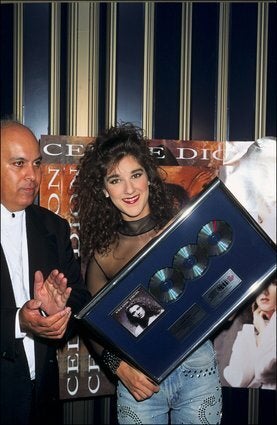 Celine Dion and Rene Angelil