June is Pride Month and pop culture's biggest and most-celebrated names are showing their love and support for the LGBTQ community.
In a feature called "30 Days Of Pride," Billboard asked a diverse set of stars to pen "love letters" to the LGBTQ community. From Selena Gomez to Britney Spears to Christina Aguilera, music stars are not only sharing their heartfelt messages, but personal moments from their lives.
"I've always said that music is a language that has no barriers, and it's also true that love is an emotion that has no barriers," the 49-year-old French-Canadian songstress said.
"I've been fortunate to be surrounded by so many beautiful people from the LGBTQ community throughout my entire career ... from talented performers, musicians, producers and songwriters, to colleagues who have contributed significantly to my success, and last but not least, to so many of my loyal fans who have stood by me, in the name of love."
"I hope and pray that our world will continue to better understand that acceptance and tolerance are virtues that we can never have enough of," the "My Heart Will Go On" star wrote. "For now, I join each and every one of you in this year's celebration of Pride, sending you all my love and wishing you peace and happiness today, tomorrow ... and well beyond."
Last year, Dion released a video for Montreal's Pride celebration, sharing her support and love.
"Hi everyone! Wishing you an amazing 10th Pride Montreal. Be strong, be proud, be yourself. And, above all, celebrate and have fun. Be safe. Happy Pride, Montreal. Love you! Bye!" Celine said in French.
"The unwavering loyalty. The lack of judgment. The unapologetic truth. Acceptance!" Spears wrote. "Your stories are what inspire me, bring me joy and make me and my sons strive to be better people. I love you."
"I had no idea they were all gay as I didn't even comprehend what that meant at the time. All I knew is that I loved being surrounded by these kind, fun and loving friends my mother had around her," the 24-year-old pop star wrote. "I definitely give credit to her for raising me in an environment that was incredibly open-minded and non-judgmental."
The actress concluded, "There is still a significant amount of work to do and I look forward to the day when a person is never judged, discriminated or feared for their sexuality."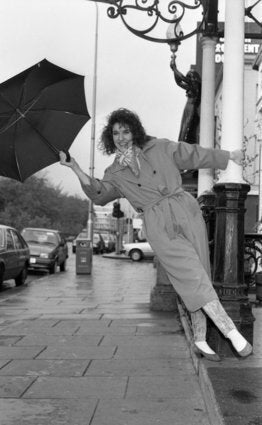 Celine Dion Style Evolution (2016)