Celine Dion isn't ready for her teen son, René-Charles, to date just yet. But considering that her eldest boy is 15 years old, the Canadian starlet knows it'll happen sooner than later.
During a TV interview on the French-Canadian show "Sucré Salé," the 48-year-old songstress opened up about how she really feels about her son dating. Naturally, Dion's response was hilariously perfect.
"The time will for sure come when I'm sitting in the living room and I see a girl with her hand on my boy's leg… I will fall over. I will totally fall over," she said. "But at least it'll be in my living room. And what's important is that he finds the one who will make him happy." (A big thanks to Lainey Gossip for the translation.)
Watch Dion's honest response above at the 8:30 mark.
René-Charles is Dion's eldest son, who she had with her late husband, René Angélil. The "Power of Love" singer is also a mom to five-year-old twins Eddy and Nelson.
Considering that Dion and her late husband decided to keep their kids out of the limelight, fan reactions to seeing René-Charles all grown up is not surprising.
While the 15-year-old's new celebrity might heighten his mom's fears of him dating, René-Charles' Instagram account proves he's far more interested in just being a teen.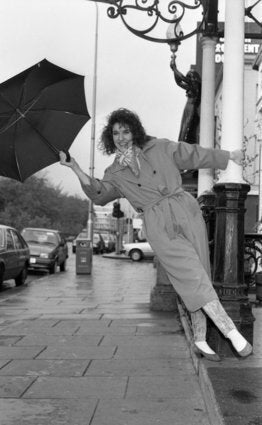 Celine Dion Style Evolution (2016)