Céline Dion took to the stage at the Billboard Music Awards on Sunday for her first live television performance since the death of her husband in January, proving her endurance as the ultimate Hollywood showman.
The five-time Grammy winner sang her cover of Queen's "The Show Must Go On" accompanied by violinist Lindsey Stirling. But it wasn't her showstopping vocals and triumphant stance that stole the show — it was her acceptance speech.
Following her performance, Dion approached fellow singer Seal to accept her Billboard Icon Award trophy, only to be surprised by a different presenter — her 15-year-old son, René-Charles Angélil.
Dion was floored, and immediately got emotional at the sight of her son. It was René-Charles who would present his mother with the statue.
"I'm so sorry, I... I want to be so strong for my family and my kids, and I didn't expect that, I don't want to cry in front of you but you make me so happy," said Dion, before holding her son's hand and asking him to stand next to her.
The two stood together, hand-in-hand, for the rest of her speech.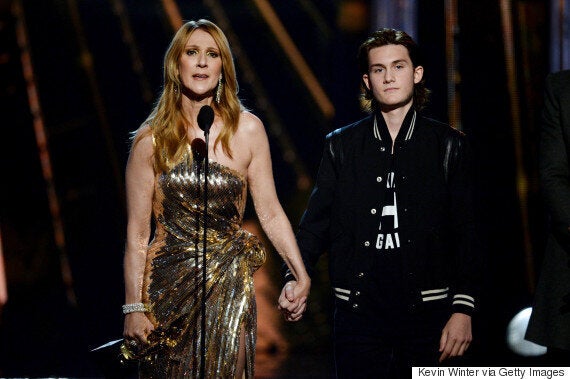 Celine Dion accepts the Billboard Icon-Award from son Rene Charles Angelil onstage during the 2016 Billboard Music Awards at T-Mobile Arena on May 22, 2016 in Las Vegas, Nevada. (Photo: Kevin Winter/Getty Images)
She continued, saying her thank yous by acknowledging fans for "travelling through music with [her] in good and bad times."
After giving shout outs to her longtime record company Sony Music and those behind-the-scenes, her speech got more personal.
"[To] my friends, all the people who believed in me, my family, my mom who wrote my first song, my children René-Charles, Nelson and Eddy," said Dion. "And most importantly, my beloved husband whom I know will continue to watch over me from up above."
The "Power of Love" singer fought back tears as she concluded her speech with a heartfelt and emotional salute to her late husband and manager, René Angélil.
"René, this one's for you, the show must go on!"
And the show will go on for Dion, too.
The singer will next perform at Caesars Palace on May 24 as part of her longstanding Las Vegas residency. Dion's version of "The Show Must Go On" was released as a digital single on May 20.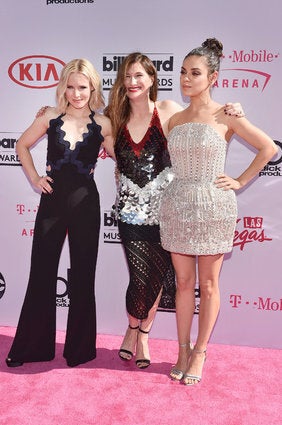 Billboard Music Awards 2016 Red Carpet Photos