News of Celine Dion's decision to halt her career to look after her husband Rene Angelil focused attention on the couple. But it's not the first time Angelil's health has been a cause of concern for his family.
In 1992, Angelil suffered a heart attack in the then-engaged couple's Beverly Hills Four Seasons hotel suite. Dion went to the hospital with Angelil still wearing her swimsuit after taking an afternoon dip. "We came down the elevator, and it stopped at every floor," Dion told People in 1999. "I stood in the emergency room freezing. But they took real good care of him." At the time Angelil said there "is no trace" of any lingering effects following the heart attack.
In 1999, Angelil was diagnosed with throat cancer and received treatment for the illness. According to a 2001 People article Angelil had "squamous cell carcinoma" on a lymph gland in his neck.
Similarly to what she announced today, Dion also took a break from her career in 2000 to focus on Angelil's recovery as well as starting a family. Angelil underwent "a battery of drug treatments and invasive, sometimes painful procedures" in battling the disease. After a reported 38 rounds of radiation and chemotherapy, Angelil had been cured of cancer with no trace of the disease found.
The couple also renewed their wedding vows that year.
Story continues after slideshow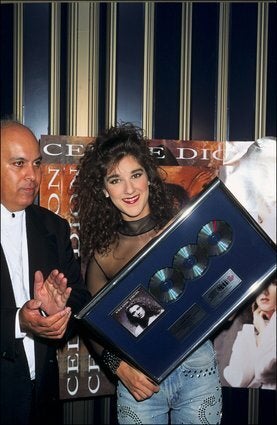 Celine Dion and Rene Angelil
Angelil had another medical procedure in 2009 to deal with his heart. The Las Vegas Review-Journal reported at the time the procedure concerned "arterial blockage." The procedure had been planned for some time and Angelil returned home from hospital to recuperate.
In August 2011, Angelil took the time to support cancer research. A statement on Dion's official site said the otorhinolaryngology oncology research chair, the first of its kind in Quebec for cancers concerning both the head and neck, would be based at the University of Montreal. The research chair was named after Angelil as well as the late Dr. Antoine Azar who headed an oncology department at St. Luc's hospital for three decades.
In 2012, Angelil spoke via video message to the World Cancer Congress which took place that year in Montreal. "My name is Rene Angelil, throat cancer survivor, artist manager, and I am also known as Celine Dion's husband," Angelil says in the short address as shown in a YouTube clip. "In my experience with cancer, I was one of the lucky ones. Diagnosed and treated by a qualified team of professionals as well as benefiting from the advancements in cancer research."
The video message concludes with Dion appearing beside him. "There is still so much work ahead of us and on behalf of every cancer survivor, Rene and I thank you all for your perseverance, leadership and dedication to this global fight. Merci et bienvenue a Montreal."
Last December, the CBC reported Angelil had a tumor removed from his throat days before Christmas. A publicist for Angelil said the operation was successful and he was recovering in Las Vegas with Dion.
"He's working really hard on his health and he's being a dad at the house, which I'm very happy about," she said in a press conference. "It's a good way to think about it," she added. "You have no choice, life imposing things on you, but he's doing really well. He's working hard, he's really being disciplined, which is not an easy thing for him. He's playing with the kids, he's having a good time. But everything is OK."
Perhaps something has changed since then as Dion has cancelled her Vegas residency and her upcoming Asian tour in order to help care for Angelil.