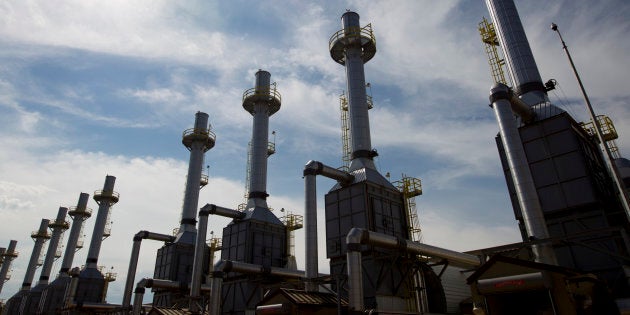 An oilsands giant is calling on the Alberta government to limit the amount of oil produced in the province, but it's not out of any desire to save the planet. Rather, it's an attempt to prop up oil prices in the wake of a weeks-long slump.
"This is an extraordinary situation brought on by extraordinary circumstances," Cenovus said in a statement emailed to Bloomberg this week.
"The government needs to take this immediate temporary action — which is completely within the law — to protect the interests of Albertans."
Watch: Oil falls for the 13th day in a row (story continues below)
The company says Alberta already has laws on the books that would allow it to limit oil production during a glut.
"Legislation exists, and has been used previously by the Lougheed government, to require all producers to temporarily cut production to alleviate the wide differentials," Cenovus said in an email to CBC News.
CEO Alex Pourbaix said during an earnings call late last month that the company is "temporarily ramping down a portion of our production until prices improve."
And he pushed other producers to follow suit.
"The industry right now has a production problem. We're going to do our part but we are not going to carry the industry on our back. I think this is something that has to be dealt with on an industry wide basis."
The benchmark price of North American oil has fallen by more than 20 per cent since a recent peak in early October, trading at around US$56 on Wednesday.
But oilsands product was selling at a little under US$18 per barrel, a 67-per-cent discount to the North American benchmark and a level that Pourbaix described as "absurd." It traded below US$15 briefly last week, after a federal judge halted work on the long-fought-over Keystone XL pipeline, until a more thorough environmental review could be carried out.
The Canadian Association of Petroleum Producers estimates that the price discount has cost Canada CA$13 billion so far this year.
But climate activists and renewable energy proponents say the industry has no one to blame but itself for the hard times it faces.
"The root of the problem is that companies kept expanding production even when they knew there was no new transport," Keith Stewart of Greenpeace told the Canadian Press recently.