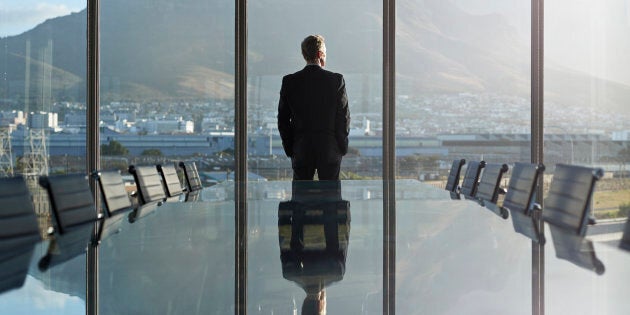 How much should a corporate executive make? Perhaps more importantly, how much should they make in contrast to the people they employ?
A 2014 study from Harvard Business School found people greatly underestimate how much more than their workers CEOs make. In Denmark, those surveyed estimated that CEOs made 3.7 times the average employee's income, a relatively modest difference compared to the belief by those surveyed in South Korea who estimated that CEOs made 41.7 times the average employee's wage.
In reality, the CEO-to-worker pay gap is much more. An analysis of five years of financial reports from 10 of Canada's largest companies, carried out for HuffPost Canada, found that CEOs made an average of 227 times the average employee working for that same company. Top executives, including the CEO, made on average 106 times more than the company's average employee.
Over the 2012-2016 period, the gap widened in six of 10 companies surveyed.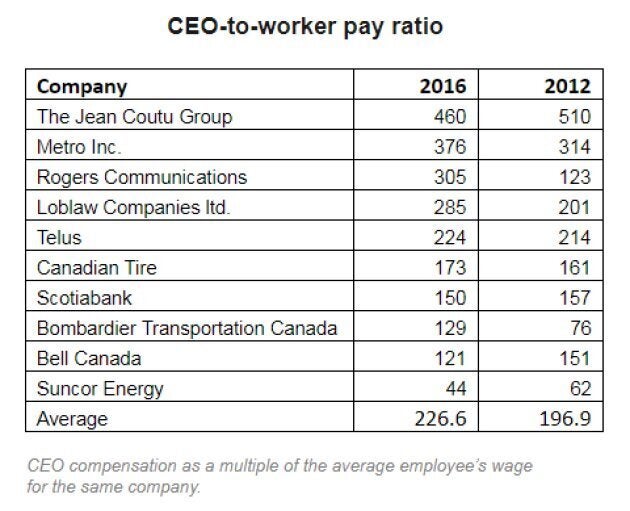 Between 2012 and 2016, Rogers Communications had the largest increase in the CEO pay gap by far, growing by 148 per cent to 305 times average pay in 2016, from 123 times average pay in 2012. This was largely because of a payout to its outgoing CEO, J. Guy Laurence, who took home $24.6 million in 2016, more than double what he took home the year before.
Loblaws had the second largest increase in its CEO pay gap, which increased by 42 per cent, growing its multiple to 285 in 2016 from 201 in 2012.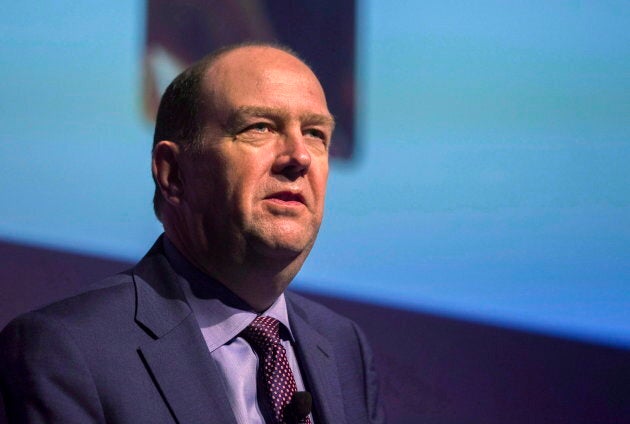 Not only is Canada's wage gap significantly more than expected, but it's growing. This ratio has increased by 15 per cent for CEOs and eight per cent for top executives from 2012 to 2016. In 2012, CEOs and top executives made 197 times and 98 times the average employee working for their same company, respectively.
Still, not all of these companies had their CEO pay gap increase during the period. Four of the ten companies had their pay ratio fall from 2012 to 2016: The Jean Coutu Group, Bell Inc., Scotiabank and Suncor.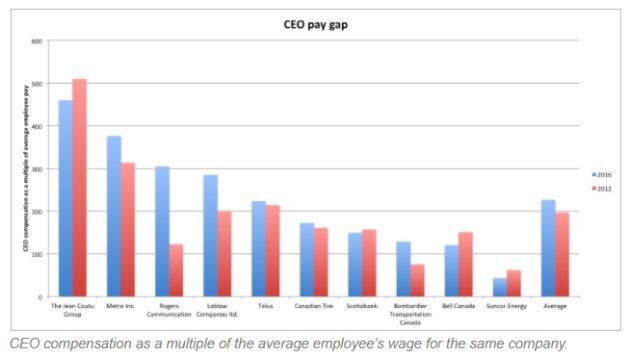 The pay gap between Bell's CEO and its average employee fell from 151 times in 2012 to 121 times in 2016. This was largely attributed to Bell increasing the average wage of its employees by 21.4 per cent over the same period. Reducing the pay of its CEO by 1.7 per cent from 2012 to 2016 also had a modest impact on Bell's gap.
Similarly, Suncor was able to reduce its CEO's pay gap from 62 times to 44 times its average employee's wage despite increasing the CEO's compensation by 4.7 per cent over the five-year period.
"There's no question that this gap is large," said economist Thomas Lemieux, professor at the Vancouver School of Economics at the University of British Columbia. "The fact that CEOs are paid more or even substantially more than the average worker is not very surprising. The real puzzle is why it has grown so much over the last 30 years or so."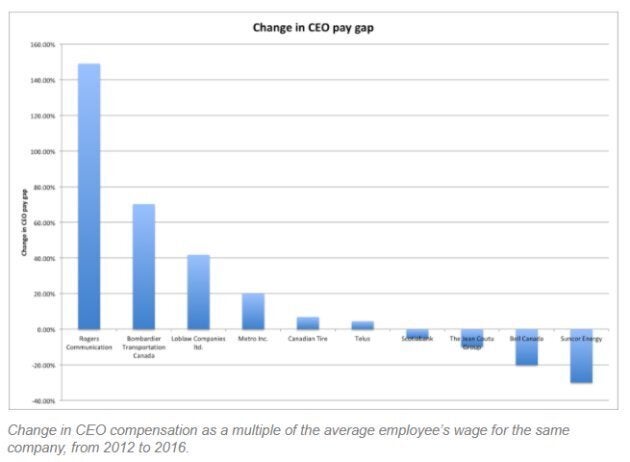 Global income inequality today may be worse than it was during the middle ages. According to information gathered by the World Economic Forum, in 2010 Europe's richest 10 per cent owned 64 per cent of Europe's wealth, significantly more than in the 15th century where the richest 10 per cent owned 50 per cent of the wealth.
Lemieux says that income inequality is growing less in Canada than in the U.S. and UK, but more than Japan and continental European countries.
Nonetheless, growing income inequality is also characteristic of Canada's broader economy. According to a 2015 study from the University of British Columbia, "Changes in Wage Inequality in Canada," wages grew faster for the top 10 per cent than for the rest of the country from 1997 to 2013. In contrast, wages for the remaining 90 per cent stayed stagnant until 2006, after which they made modest gains.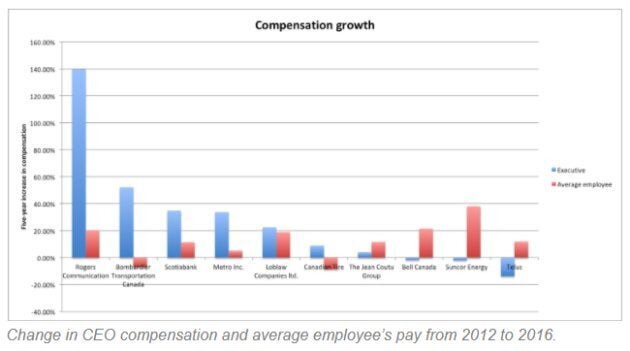 The Harvard survey revealed that, globally, there is a consistent belief that the pay gap between executives and workers should be lowered. The study surveyed over 55,000 people across 26 developed countries and 83 per cent agreed that differences in income between executives and the average employee in their country are too large.
The inequality concern is also evident in Canada's national conversation. It's been six years since Thomas Piketty's critically acclaimed 700 page manifesto on wealth inequality, "Capital in the 21st Century," was released, bringing newfound respect to the topic in Canada and around the world. And yet, seemingly little has been done in the face of the growing wage gaps and its inequality.
Watch: Automation will make 40% of Canada's jobs disappear, Liberal economy czar says
Lemieux says there is no ideal ratio for CEO compensation to average pay. That exact number depends on the size, scope and scale of a business. However, while there is no golden ratio, an exaggerated gap can have negative effects on both the firm and the economy as a whole. It's a balance between equity and available human resources, he says.
This is problematic since a majority of people could become disillusioned by policies that promote growth, such as trade and government assistance, said Lemieux. Many assume that they will never benefit from these things, or at least certainly not as much as their company's executive team.
"We know that it tends to be bad for morale within firms when people perceive that there's really big differences [in pay] across people that are perhaps not justified by their contribution," said Lemieux.
Too much inequality can be bad for the economy
Increasing pay gaps and income inequality between the average employee and CEOs also has effects on the economy. According to Lemieux, because richer people save more, if you give them an increasing portion of the income, there will be a smaller effect on consumption than if income were distributed more equitably. Consumption is the largest contributor to the global economy, making up 58.3 per cent in 2016, according to the World Bank.
While consumption may suffer, investment, a markedly smaller portion of the national economy, may benefit. Investment constituted 23 per cent of the global economy in 2016. If there are increased savings that means there is more money to possibly invest.
"The overall effect is complicated," said Lemieux. "But you could say that maybe it's bad for consumption but good for investment."
Since consumption makes up a markedly greater portion of GDP than investment, there are concerns that the negatives would outweigh any positives.
"Even if the economy is growing, if you have these growing disparities at the same time that means the average worker is not benefiting very much from that," said Lemieux.
Income inequality in Canada is growing, and so does the debate and national conversation right alongside it. As the gap between executive compensation and that of the average employee widens, it appears that the inequality conversation has yet to bring any meaningful change.
Popular in the Community