The trade deal that Canada and the EU signed in October will cause a loss of jobs and threaten to increase already high social tensions in Europe, a European Parliament committee has concluded.
The Committee on Employment and Social Affairs voted against CETA in December, meaning it is recommending that the European Parliament vote down the deal. It's one of many committees that have to vote on a recommendation to parliament.
The full EU parliament is slated to vote on CETA in early February.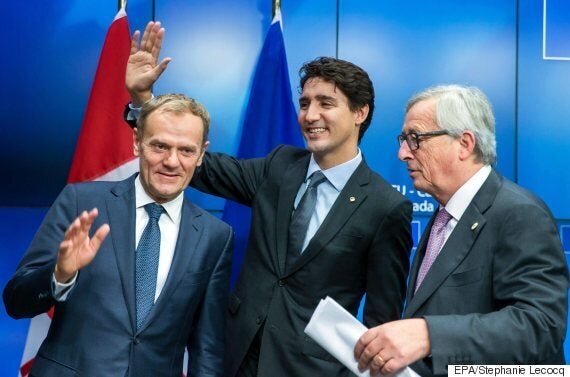 Prime Minister Justin Trudeau with European Council President Donald Tusk (left) and European Commission head Jean-Claude Juncker at the signing of CETA, the Canada-EU trade deal, in October. (Photo: EPA/Stephanie Lecocq)
The committee report cited economic models showing the European Union stands to lose 204,000 jobs as a result of the trade deal, including 45,000 job losses in France, 42,000 in Italy and 19,000 in Germany.
It cites research suggesting the deal would cause economic dislocation in some parts of Europe, increasing long-term unemployment.
"Evidence shows that the agreement would contribute to widening the incomes gap between unskilled and skilled workers thus increasing inequalities and social tensions," the committee said in its decision.
"Inequality is grist to the mill for far-right populists."

— Mark Dearn, War on Want
The previous Conservative government estimated the deal would add $12 billion to Canada's economy annually and create 80,000 jobs in Canada, but never answered media questions about how that jobs number was arrived at. Liberals, then in opposition, criticized the estimate as "fiction."
A report by the left-leaning Canadian Centre for Policy Alternatives estimated in 2011 that CETA would result in the loss of 13,000 to 70,000 jobs in Ontario alone, by accelerating the decline of the province's manufacturing base. That prediction and others like it are widely disputed.
It is possible for a trade deal to cause job losses on both sides of the deal, as opening up markets creates economies of scale — you need fewer factories and people to produce the same amount.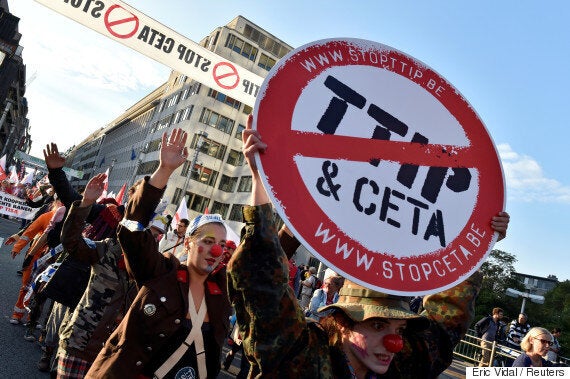 Thousands of people demonstrate against the Transatlantic Trade and Investment Partnership (TTIP) and the EU-Canada Comprehensive Economic and Trade Agreement (CETA) in the centre of Brussels, Belgium September 20, 2016. (Photo: Reuters/Eric Vidal)
But the Employment and Social Affairs Committee's vote against the deal suggests there may be further roadblocks between here and full ratification.
Trade deals fuel racist right?
President-elect Donald Trump's anti-free trade campaign and subsequent electoral victory has pushed many experts to suggest that rising xenophobia and racism could be an unintended consequence of free trade.
"Inequality is grist to the mill for far-right populists, yet the European Commission and members of the European Parliament are failing to learn the lessons of Brexit and the rise of [British far-right leader] Nigel Farage and Donald Trump," wrote Mark Dearn of the anti-poverty group War on Want, in The Independent.
Even Prime Minister Justin Trudeau, who fought this fall to get CETA signed, said in an interview with The Guardian that "globalization isn't working for ordinary people."
He said he wants Canada to show the world that "you can have engaged global perspectives and growth that works for everyone," and pointed to CETA as an example of this.