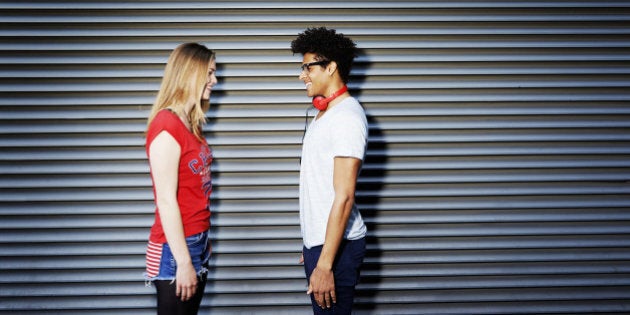 I'm not that much of a romantic. In fact, among my close circle of family and friends, I'm known as rather a cynic or a pessimist. I'm also not into grand, over-the-top, flamboyant gestures. To give you a better understanding of my temperament, I have been likened to Sesame Street's Oscar the Grouch. So, having prefaced my personality in that way, let me tell you how I met my husband.
It was an extraordinarily random meeting. It was bold, grandiose and very memorable in hindsight -- one might argue that it was stolen right out of a blockbuster romantic film's plot line.
It was the summer of 2008, when I was working at a local IKEA's customer service department. Even if I try, I can never forget the little details which encompassed that day. It was towards the end of my shift when I noticed a group of three people approach my desk. They were clearly friends and wanted to return something. Among them was a guy wearing a green T-shirt that read in white font, "The city that never sleeps." I made a comment about it, asking the fashionably bearded young man wearing it if it was in reference to Paris or New York. He responded saying it was whatever the viewer made of it.
In those initial brief moments, it became instantly apparent there were definite sparks between that guy and myself. One of his friends even piped up exclaiming, "You should go out with my friend." Somehow, miraculously, he was able to communicate to his friend his feelings about me, something which still amazes me as I was standing right there, but had apparently checked into La La Land.
The exchange transpired very quickly. Before I knew it, I realized my heart was beating a little faster. He went on to explain to me that the T-shirt was from a local, independently owned skate and snowboard shop, which he happened to co-own. He gave me his business card and told me to call him sometime. About a week later, I picked up my purple Motorola Razr and gave him a call. Later, he jokingly referred to that call as my way of subjecting him to a "screening test."
His name was Brian, and meeting him inadvertently ignited something in my little self-proclaimed cynic self. He awakened a certain romantic soul in me. That was more than seven years ago. Three years after our meeting on that random summer day, I ended up marrying that bearded guy. Today, we're in love, just as we were when we first met. Last year, we had our darling daughter Zara, who's now 15 months old.
So, what exactly transpired in those moments? Could it be happenstance or was it a fairytale?
Call it what you may, because my resilient cynic nature will certainly not credit fate or -- heaven forbid -- thank the stars. These instances are more commonplace than we might think. What matters is that two strangers took a chance, and realized that life's strange, full of hope, fear and promise.
My encounter with Brian was life-altering, and definitely had the makings of a fairytale. However, ultimately, many men and women like myself have experienced this. So, fairytales aren't just reserved for the few, or the unique, or even the "lucky ones." Getting to meet the love of my life didn't happen in an abstract magical way. It happened, and it was certainly something attainable, even by a hardened skeptic like myself.
So, if you're single ready to mingle, maybe pay your local IKEA a visit. You might just walk away with a phone number from the love of your life, as well as a 50-cent hotdog. Life couldn't be any better. Trust me.