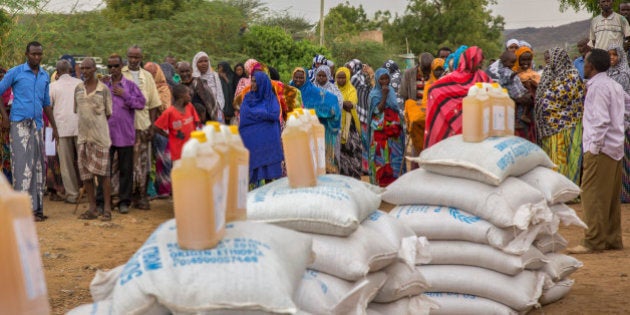 This post is the sixth of a seven-part series on the themes of the High-Level Leaders' Roundtables at the first-ever World Humanitarian Summit, to be held May 23-24 in Istanbul, Turkey.
In 2015 governments and multilateral, national and international organizations working on global development, humanitarian response, and climate change were all engaged in a moment of deep reflection. The Millennium Development Goals came to an end, and while significant progress was made on poverty, maternal and child death and education, and some countries were able to reach their MDG goals, success was uneven between and even within countries.
What became clear is that if we are to achieve a world that has put an end to extreme poverty and preventable maternal and child death, a world where children have quality education and a chance at opportunity, a world that is environmentally and economically sustainable, we will need a new and more comprehensive approach to development and humanitarian response.
Indeed if we don't dramatically improve how we prevent, respond to and recover from crises, particularly as we face a growing number of humanitarian emergencies and increasingly complex conflicts, we will not be able to achieve the 2030 Global Goals. The global concentration of people living in extreme poverty who experience the correlated poor development outcomes is increasing in fragile and conflict affected states.
Renewing the humanitarian system will not just require new models and more investment. It will also require shifting power and influence.
We need a paradigm shift from delivering aid to ending need that enables us to bridge the migration in response to shifting weather patterns that cause droughts and floods and rising sea levels. The strain on resources like water and arable land will have impacts on geopolitical relations and borders. This in addition to the current drivers of conflict and the common natural disasters we experience will mean more people in desperate need of short term assistance and longer term help to fully recover. The World Bank reports that countries that experience protracted crises can fall more than 20 per cent behind in efforts to reduce poverty.
In the "Agenda for Humanity" annexed to the Secretary-General's report for the World Humanitarian Summit, a new approach to partnership was identified as key to making this paradigm shift a reality. Important to building these new approaches and partnerships are: adherence to the core humanitarian principles; more local and national responsibility and leadership; more trust and accountability; greater agility and responses driven by the needs of those affected; the ability to consistently innovate and the willingness to include non-traditional humanitarian actors, specifically the private sector, at both the local and international level.
As humanitarians we uphold the Core Humanitarian Principles of humanity, neutrality, impartiality and independence; and as a rights-based organization that also delivers on long-term development objectives, Save the Children will always vigorously defend the rights of children.
Renewing the humanitarian system will not just require new models and more investment. It will also require shifting power and influence. Localizing leadership with affected countries will be an important step, but it must go beyond national government ownership; the power must shift to the people affected including the children and youth, if we are to succeed in reaching the most vulnerable.
Competition and fragmentation is perhaps the greatest inhibitor to achieving the new partnership agenda. Funding restraints in the face of growing need has led to a replication of similar but branded approaches that don't necessarily translate to scale and sustainability. A lack of flexibility in donor funding, particularly for development efforts in countries impacted by crisis, continues to mean delayed responses in the short term and challenges to building long-term resilience.
While no single approach will work, we should be developing common ones, grounded in the core humanitarian principles.
The report specifically notes that the private sector, both national and international, could be better mobilized during emergencies. National businesses are often themselves directly affected and are some of the first responders in a crisis. They play a critical role in restoring markets and employment and as financial contributors to humanitarian response.
With more collaboration and communication between the private sector and traditional humanitarians, new platforms can be developed at the national, regional and global levels. These platforms could enable better pre-crisis planning and priority-setting, could help build capacity of local first responders as well as lead disaster risk reduction and preparedness work. To build the necessary trust for these partnerships will require clear roles, responsibilities and accountabilities.
We must continue to innovate with new technology to help with early warning and response. New ways will need to be developed to work with big data that will both protect the rights and safety of affected people while helping us get ahead of a crisis and ensure that we are achieving desired outcomes. We need to promote and scale up programs we know work. Innovation will be needed to reach the hardest to reach and it will require investment. What will also be required is the willingness to take a risk on something that is tested but not yet proven.
We must let go of the perverse incentives that drive growth of individual agencies and instead incentivize and reward collaborative efforts to deliver scalable, sustainable programs. While no single approach will work, we should be developing common ones, grounded in the core humanitarian principles. Starting with a more robust needs-assessment, actors would come together and bring with them their respective comparative advantages based on networks and relationships that are developed well in advance of a crisis. This would allow for a predictable but still flexible response that would be informed by country and community context. NGOs, whether national or international, bring to these new partnerships our ability and experience in piloting innovative programs, as well as relationships at the community level and mechanisms for community consultation and accountability.
The affected communities, particularly those facing protracted crises such as the Syrian refugees or recurring disaster like the people of the Philippines, know what changes are needed to help them get through the worst and rebuild their lives. Those working on the front lines of humanitarian and development know that we must evolve and that our systems and practices must adapt to new challenges. The donors, multilateral and international organizations see the roadblocks and the conflicts of interest. The question now is will the World Humanitarian Summit be the moment when we enable the paradigm to shift?
Patricia Erb is President & CEO of Save the Children, and Chair of the Humanitarian Coalition.
This blog series on the World Humanitarian Summit was convened by the Canadian Council for International Co-operation. The views expressed in each blog are those of the authors, and do not necessarily reflect the positions of CCIC, its members, or other participating organizations.
Follow HuffPost Canada Blogs on Facebook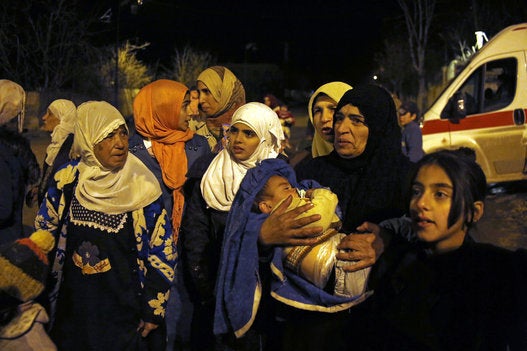 Aid delivered to the town of Madaya in Syria,