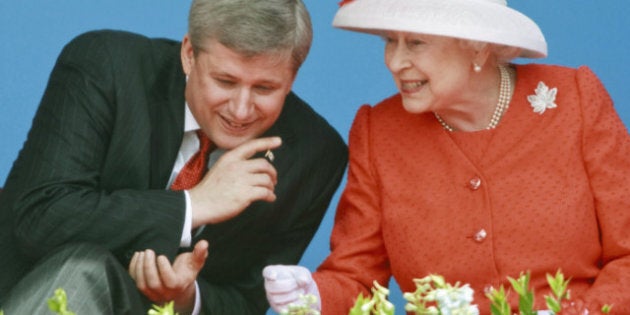 Her Majesty Queen Elizabeth II has refused a request by a Quebec resident to fire Canadian Prime Minister Stephen Harper.
Chantal Dupuis, a Montreal resident, wrote the Queen in December requesting she remove Harper from his position.
"As Your Majesty is our head of state, I have no other choice but to ask Your Majesty to help us Canadians to remove Stephen Harper from the office of Prime Minister of Canada, because Canadian democracy is in danger like never before in its history," she wrote in a Dec. 16, 2011, letter.
Dupuis complained that Harper has repeatedly violated the Canadian constitution and that he doesn't deserve a majority government after getting less than 50 per cent of the popular vote. She argued that Harper's appointees, the Governor General and his senators, are doing his bidding instead of fulfilling their duties.
"In the past, people went to prison for having been found in contempt of Parliament, but now, when the totality of the government Stephen Harper leads is found in contempt, nothing is done to protect Canadians and their constitutional rights," Dupuis said.
"As a Canadian, I was wondering when Your Majesty would intervene to protect us Canadians?" she asked. "How could Her Majesty, as the chief of Canada, do nothing?
The Queen's senior correspondence officer, Sonia Bonici, responded on Feb. 24, 2012, thanking her for her letter but confirming Her Majesty has no plans to remove Harper from office.
"Her Majesty has taken note of the views you express but I should explain that there is no question of The Queen dismissing the Canadian Prime Minister or dissolving Parliament as you suggest," Bonici wrote.
"Nonetheless, it was useful to The Queen to have your views and I am to thank you for writing," the correspondence officer concluded.
Dupuis said she didn't really expect Her Majesty would respond to the request.
"I hoped she would but I did not know, I was really surprised, I was shocked actually," she wrote in an email to HuffPost.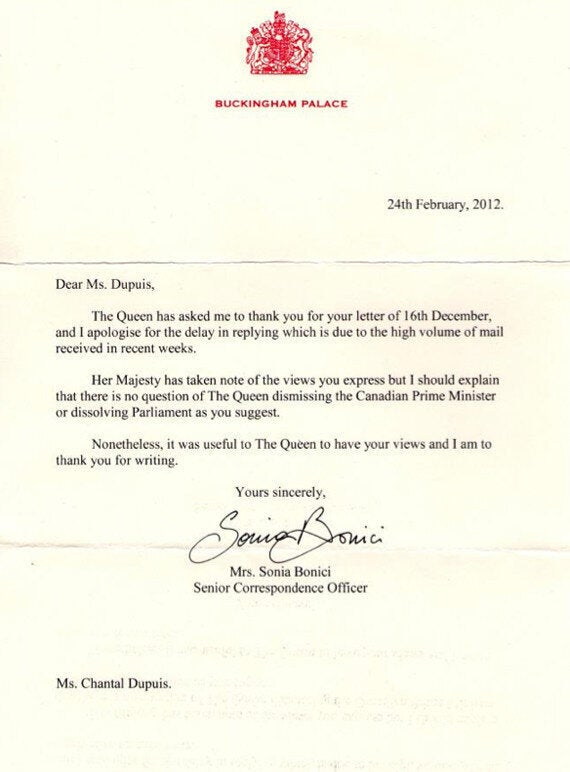 Popular in the Community