An NDP MP warns the string of attempted suicides in a northern Ontario First Nation may be the tipping point for a new mental health crisis if the government fails to take timely action.
Speaking to reporters on Parliament Hill Tuesday, Charlie Angus said there's a "sense of uncertainty" in Attawapiskat over the future of its youth.
"There's a lot of wonderful young people in the community who are trying to get on with their lives, but we have a number of very, very high risk children," the Timmins-James Bay MP said.
"There's a real concern there because we don't know what's going to happen with them."
Angus cancelled a trip to be part of the Canadian delegation to the United Nations in New York City. The NDP indigenous affairs critic said unresolved issues in Attawapiskat prompted him to visit the remote northern community with MPP Gilles Bisson instead.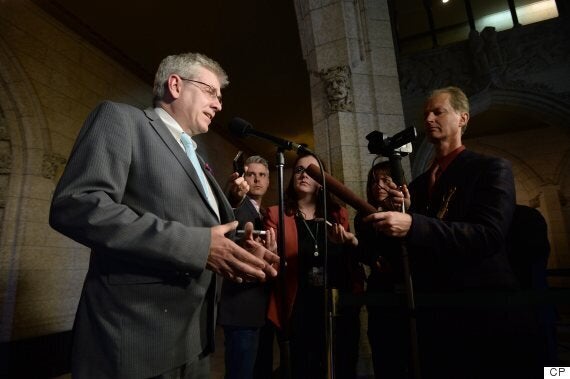 NDP MP Charlie Angus speaks about the Attawapiskat First Nation in the foyer of the House of Commons on Parliament Hill in Ottawa on May 10, 2016. (Photo: Adrian Wyld/The Canadian Press)
He said he toured the local hospital and met "wonderful" young people who are "trying to get on with their lives." He lambasted the federal government for failing to help children who are at "severe risk."
"A real concern that we're hearing from some experts who are the ground there is we may not be at the end of the crisis, we may be at the beginning of a newer crisis," he said.
"The kids can't wait another day, another week or another month until the government finds it convenient."
Tuesday is the deadline for the federal government to confirm whether or not it will implement Jordan's Principle — a policy to ensure indigenous children have equal rights to healthcare.
Attawapiskat resources stretched thin
In April, police in Attawapiskat thwarted a suicide pact between 13 young people — including a nine-year-old. The community's emergency responders and mental health services were stretched so thin, half of the youths sat in jail while they waited for treatment.
The spike in suicide attempts and ensuing national discussion prompted the federal government to send additional mental health workers to the reserve. But the community needs more than new temporary healthcare workers.
At the beginning of May, the First Nation saw nine more suicide attempts and overdoses, Chief Bruce Shisheesh reported.
'A matter of life and death'
Last week, the chief wrote a letter to the prime minister — who is also the minister of youth — pleading for immediate action on "a matter of life and death."
The community has continually asked provincial and federal governments for help to improve its inadequate medical and mental health resources to support the approximately 2,000 people who live in Attawapiskat.
"While the effort of your ministers is appreciated to date, it falls short of finding a permanent solution for our youth here in Attawapiskat," it read.
"Time is our enemy, and we cannot afford to delay immediate action."

— Attawapiskat Chief Bruce Shisheesh
He called for an urgent meeting with Trudeau, Minister of Indigenous Affairs Carolyn Bennett, and Minister of Health Jane Philpott before the Assembly of First Nations annual general meeting in June.
"Time is our enemy, and we cannot afford to delay immediate action, and we may have more of our youth die or attempt to end their precious lives."
The prime minister responded to Chief Shisheesh's words with a letter saying how "agonized" he is over the ongoing situation in the remote First Nations community.
"I am unhesitatingly willing to accept your offer to meet," Trudeau said.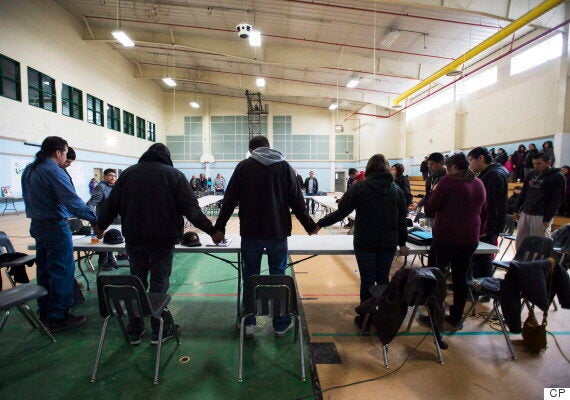 The youth panel hold hands before a meeting in the northern Ontario First Nations reserve in Attawapiskat, Ont. on April 16, 2016 (Photo: Nathan Denette)
No official Attawapiskat visit yet
Trudeau has not yet visited Attawapiskat as prime minister. However, he did make a private visit to Shoal Lake 40, a First Nation on the Ontario-Manitoba border, last month to speak with elders and school children about life on the isolated island reserve.
Shoal Lake 40 has been under a boil-water advisory for nearly two decades.
In December, the prime minister repeated his Liberal government is committed to forging a renewed "nation-to-nation" relationship with the country's aboriginal communities.
"This is a responsibility I take seriously, and I have instructed my government to do the same," he said at an Assembly of First Nations address at the time.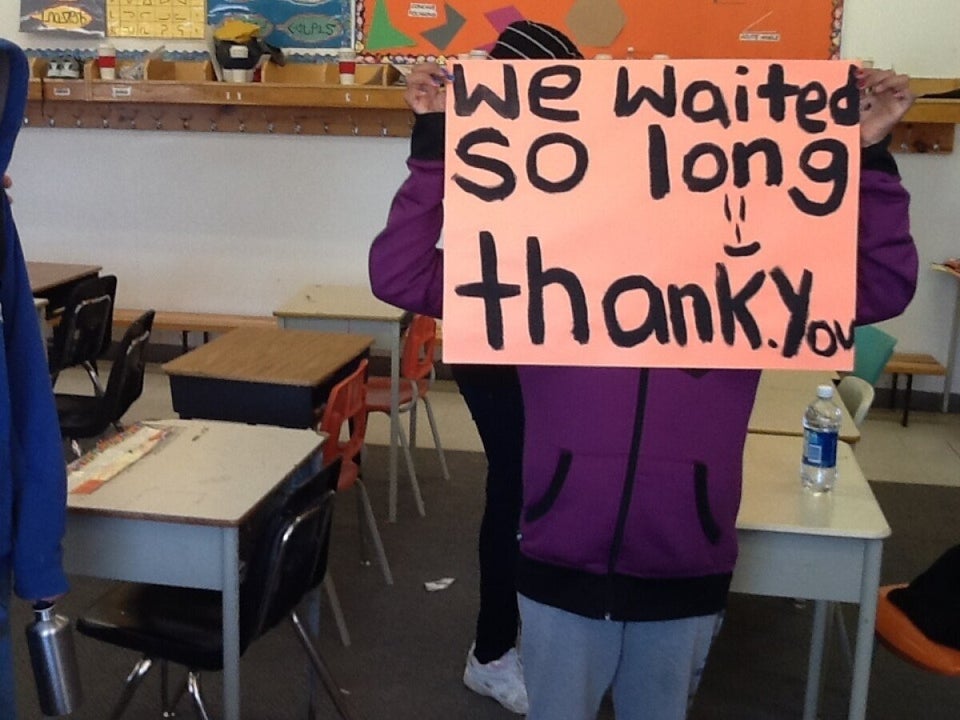 New School in Attawapiskat