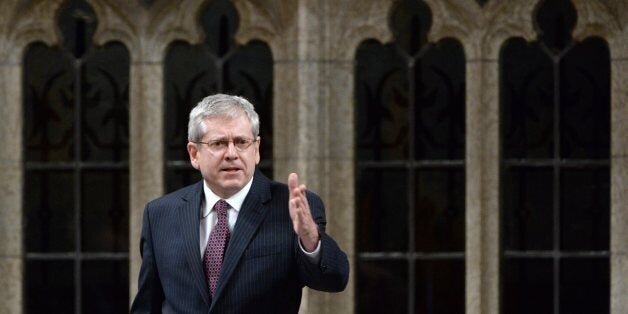 "You call yourself the Moral Majority. We call ourselves the people of the real world." - Dead Kennedys
If the American election taught us anything, it's this; leaders who are perceived to be anti-establishment are currently the ones who can energize the people. This is the era of calling out the status quo, typified by both Bernie Sanders and president-elect, Donald Trump. While on the opposite sides of the political landscape, these two candidates reinvigorated the public's thirst for change, for better or worse, and shook the very foundation of a public service wrought with nepotism, glad-handing and corruption.
In Canada, our two main opposition parties are in limbo. Both feature interim leaders who will not be there by this time next year. The conservatives are running a battalion of virtual unknowns, with the exception of one Trump-like populist, Kellie Leitch, while the NDP bides its time trying to unearth a candidate that can bridge the differences between the practical and passionate lefties in their party.
That leader is probably going to be Charlie Angus.
Every piece written about the current NDP critic for Indigenous Affairs mentions his punk rock roots, and this piece is no different. Punk is a subculture that is defined by its anti-establishment beginnings, and we've never seen a bona fide punk make a real mark on society from Parliament Hill before. It's a juxtaposition that is not just unique, but oddly fitting in today's societal contempt for our institutions and the men and women who occupy high office.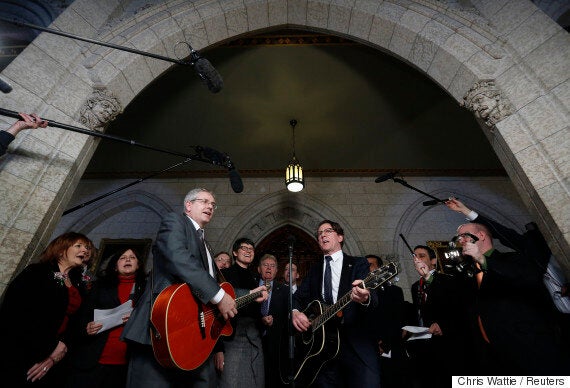 New Democratic Party MP Charlie Angus (third left) singing a Stompin' Tom Connors song with Megan Leslie (fourth left), Andrew Cash (second right) while paying tribute to the late Canadian singer on Parliament Hill in Ottawa on March 7, 2013. REUTERS/Chris Wattie
Even Justin Trudeau, who was a household name his entire adult life, executed a campaign defined by how different he was from Stephen Harper, a status-quo poster child if ever there was one. But despite Trudeau's ability to spellbind a nation, his personal brand only has one way to go, and his attempt at appeasing both progressives and conservatives could very well alienate both sides.
Angus, however, is a more serious, less sculpted version of authenticity. Even more than Jack Layton, Angus seems sincere about his concerns for the plight of poor people, especially indigenous communities who have seen countless leaders pucker up during campaigns, only to be left with nothing but lip service once the votes have long been tallied. Like Bernie Sanders, it would be hard to imagine Angus dithering on the issues he speaks so passionately about, and that's why he will likely win his party's nomination in a cakewalk.
That the NDP can unify is a feat in itself. The party became fractured in a perfect storm of activism and provincial realities in Western Canada, where the NDP is trying to execute the almost impossible balance of environmental sensibilities with oil sands realities. The takeaway from the much hyped and widely criticized Leap Manifesto is that there is a thirst for a more progressive set of principles in Canada, but also a requirement of realism.
The prospect of a true left-leaning politician inspiring voters from various sub-political persuasions no longer seems so far fetched.
The Leap Manifesto was a deliberate overreach, a wish list of reforms that ignored uncomfortable realities the activist wing of the party would need to consider before attempting to reshape the nation, should the party ever win an election. Out of all the NDP stalwarts, Angus is one who shows pragmatism, sorely needed not just to retain power, but hold onto it as well.
The 2015 election saw Justin Trudeau out-progressive Tom Mulcair, who should have kept being Angry Tom instead of Fake Smile Tommy. An Angus-led NDP would diminish Trudeau's ability to present himself as the only choice for the left, especially in hot-button areas like climate change and indigenous affairs. Trudeau's credibility on both those files has taken a beating. The prime minister's penchant for pipelines and his government's foot dragging on native issues has caught the ire of actual progressives, who were a sizeable swath of the Liberal party's base last year.
Without those votes the Liberals could lose their majority status in an election where the Conservative party runs a second tier candidate. The conservatives saw virtually every household name take a pass on the next election, and while they would never admit to doing so, they presumably saw Trudeau as a sure thing in 2019. But the downside of trying to run an ambidextrous government is that you have to juggle two ideologically opposed groups, or hope you can hold on to just enough from both sides to keep governing.
Of course, all of this is speculation. But the reason why a candidate like Angus is so interesting is because the new conventional wisdom is that there is no conventional wisdom anymore. A self-described socialist almost won the nomination for president of the United States, and probably would have won if the party he ran under did not work tirelessly against him. So the prospect of a true left-leaning politician inspiring voters from various sub-political persuasions no longer seems so far fetched. Both Sanders and Angus also have a history of activism, reinforcing a kind of credibility among progressives looking for a sort of anti-politician.
Most importantly, Sanders and Angus both sound honest when they speak, a kind of credibility that, even if you disagree with them, protects them from having their characters assassinated. Trudeau doesn't have that, he has charm, and whomever the conservatives elect as leader probably won't have either trait. It is an invaluable asset in politics -- to be seen as an honest-to-god straight shooter while having a personal backstory that plays to the populace's new thirst to buck the system -- all while sporting a personality that would surely end in Parliament getting punk'd in the best way possible.
A moral majority comprised of people. Not lefties or socialists following another lefty, just people thinking that a leader is telling us the truth.
Follow HuffPost Canada Blogs on Facebook
NDP Leadership Race 2017: Candidates