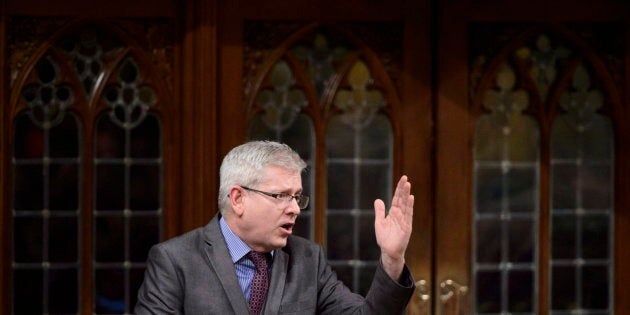 An NDP MP has offered a "simple plan" for the federal government to scrap a controversial $15-billion arms deal with Saudi Arabia and protect Canadian jobs.
On Friday, Charlie Angus was the latest New Democrat to rise in the House of Commons to call on Liberals to cancel the contract, noting Germany has frozen arms deals with the kingdom.
"There is no way this government can justify this arms deal to the House of Sauds," Angus said.
But he also proposed an idea to soften the blow for workers at London, Ont.'s General Dynamics Land Systems-Canada, the company building light armoured vehicles (LAVs) for Saudi Arabia.
"Repurpose the plant in London to build military vehicles for our troops who need the upgrades," Angus said.
The NDP MP also urged Canada to invoke the Magnitsky Act. The law allows the government to freeze the Canadian assets of foreign actors who violate human rights, such as those responsible for the brutal murder of Jamal Khashoggi in the Saudi consulate in Istanbul.
Turkish officials say a group of 15 Saudi men — including at least one member of Prince Mohammed bin Salman's inner circle — murdered and dismembered Khashoggi in the diplomatic outpost.
'We don't apologize to tyrants'
"As for the Saudi Crown prince, will the government do the right thing and tell him that we don't apologize to tyrants and he can go stuff his objections?" Angus asked.
Pamela Goldsmith-Jones, the Liberal parliamentary secretary for foreign affairs, did not weigh in on the feasibility of Angus' proposal.
"In the Jamal Khashoggi affair, we demand that Canadian arms exports are used in a way that respects human rights," she said, reading from a prepared statement.
Goldsmith-Jones reiterated that Canada is "actively looking" at arms exports permits to Saudi Arabia.
Though Trudeau has opened the door to freezing arms export permits to the kingdom, he says scrapping the LAV deal would result in penalties "in the billions of dollars." The NDP have accused Trudeau of inventing those numbers to avoid cancelling the contract, signed by the previous Conservative government in 2014.
Tory Leader Andrew Scheer was also pressed about the issue this week. He repeatedly dodged questions from reporters asking if he would cancel the arms deal if he were prime minister. Instead, he said the case proved why Canada should stop relying on Saudi oil.
"When we look at the events in the past year, now more than ever Canada has to recognize that we are pumping billions of dollars into the Saudi economy by importing their oil," Scheer said.
Scrapping deal could cost 'billions': PM says
"When we talk about what Canada can do to stand up to Saudi Arabia, I believe the most effective way to do that is to get Canada off foreign oil, especially Saudi Arabia's."
General Dynamics Land Systems-Canada announced Thursday that it is laying off 37 positions in the company. In a statement to The Canadian Press, the company said the layoffs are part of a "normal cycle of work" and have "no connection to recent events that the government of Canada is addressing.''
With files from The Canadian Press
Popular in the Community