When he finds himself in times of trouble, Charlie Angus goes back to his hometown of Cobalt, Ont., population: 1,333.
The NDP MP for Timmins—James Bay did just that on Wednesday to absorb the reality of Hillary Clinton's stunning U.S. election defeat against billionaire reality TV star Donald Trump.
"Today the boys at the garage helped make sense of the Trump election," Angus wrote in a Facebook post. "They delivered the message in coveralls, greasy boots and biker tattoos: 'the man is a pig, who would give power to someone who treats women like that?'"
An "Access Hollywood" tape from 2005 of the president-elect bragging about how his celebrity status allows him to do whatever he wants with women, including manhandling them by their genitals, was leaked to The Washington Post last month.
"Yes blue collar folk have been shafted time and time again but I still set my political watch by their decency, sense of community and willingness to go to the wall to help others," he said.
Parallels have been drawn between Leitch and Trump for drawing on populist rhetoric to monopolize headlines to create a vacuum of attention on their political campaigns.
At the first Conservative leadership debate in Saskatoon on Wednesday, Leitch repeated her proposal to implement a "Canadian values" test to screen all immigrants.
In a recent fundraising pitch, the former status of women minister attacked her opponent Lisa Raitt for voicing opposition to her controversial screening proposal.
She accused Riatt of standing with "left-wing media elite," embracing the same verbiage utilized by Breitbart, the conservative news outlet which Trump campaign chief Stephen Bannon holds a position as chairman.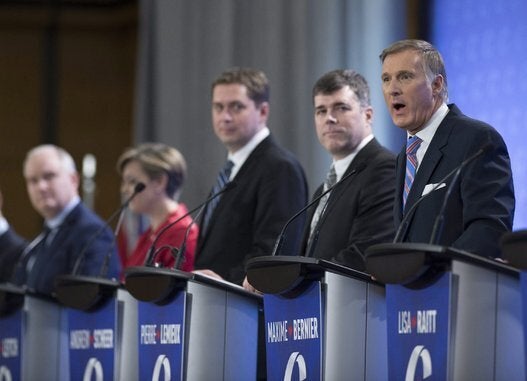 Conservative Leadership Candidates
Popular in the Community