But it turns out Kim's new lipstick is so much more than just a really great nude hue. It's all part of a collection created by Charlotte Tilbury to support Women for Women, a nonprofit humanitarian organization that provides practical and moral support to women survivors of war.
The line, which is dubbed "Hot Lips" is created after 12 celebrities Tilbury works with on a regular basis and features shades that "capture the personality of each of the 12 incredible women [she] admires," according to a press release. It also features four additional shades that are part of Tilbury's core lipstick collection. And for each Hot Lips lipstick sold in the first two months of launch, £1 will be donated to Women for Women.
Charlotte Tilbury's Hot Lips lipstick swatches.
"Psychologically, lipstick has this amazing effect on women," the iconic makeup artist told press during the launch event in New York City on Tuesday, citing the "lipstick index" and the effect it has had on women and the community throughout history. "To work with these incredible celebrities that really are beauty icons of today and to be able to steal a little bit of their DNA, give back and be associated with this incredible charity, the whole thing is just so exciting."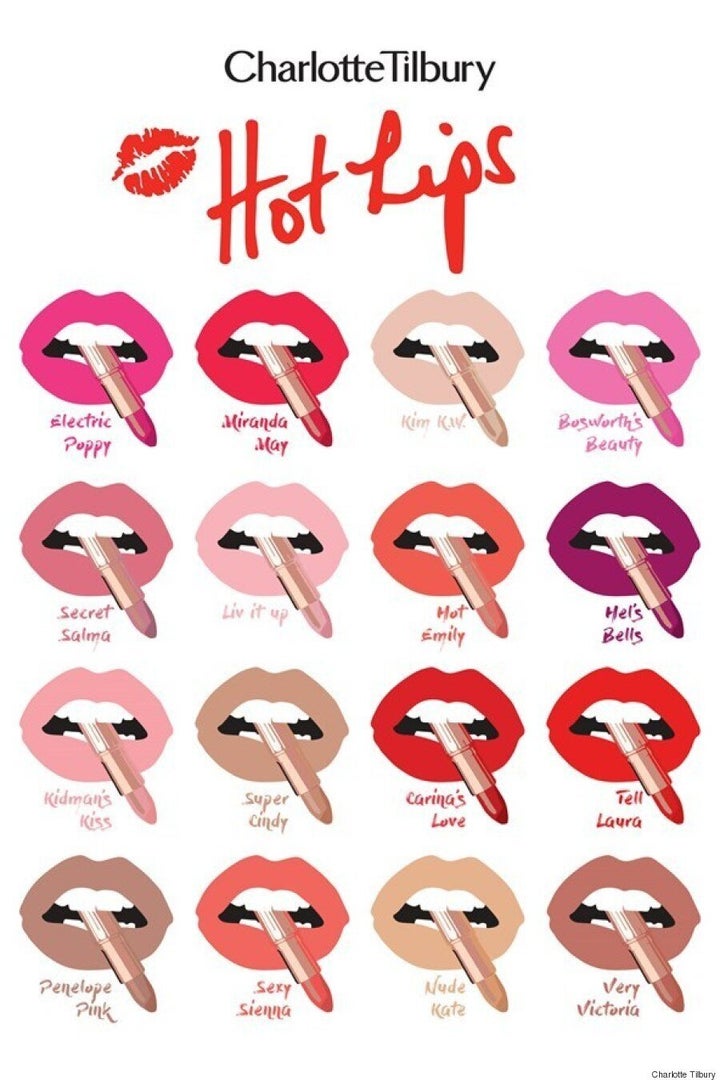 Celebrities whose DNA has been stolen by Tilbury for the cause include Miranda Kerr, whose shade is a "fresh, pinky coral", Cindy Crawford ("a taupe-y nude that's very '90s"), Emily Ratajkowski, whom Tilbury dubs the "sexiest women on the planet right now" ("a retro, '70s coral, but neutral) and Helena Bonham Carter, who originally wanted to name her dark lippie "Kisses From Hell" but then opted for "Hells Bells" instead.
As for Kim's shade? It's simply named "Kim K.W." and is a pale nude pink that Charlotte says is "actually quite naughty, the colour."
The whole notion of lipstick inspiring confidence in women ties in well with Charlotte's partnership with Women for Women. Brita Fernandez Schmidt, executive director for Women for Women International UK told press during the launch event that when the organization was working in Bosnia 20 years ago, they asked the 50,000 women that were raped what they could bring them to help them.
"They said, 'Bring us lipstick,'" Fernandez Schmidt explained. "They said, 'I want the sniper to know that he's killing a beautiful woman that is powerful and strong.'"
Tilbury continued, "It's just a little tube of confidence and happiness. Elizabeth Taylor put it so brilliantly when she said, 'Pour yourself a drink, put on some lipstick and pull yourself together.' And even if you have no makeup skills, somehow everyone can put on a lipstick."
Charlotte Tilbury's Hot Lips collection will be available on CharlotteTilbury.com starting June 27 for $38 each.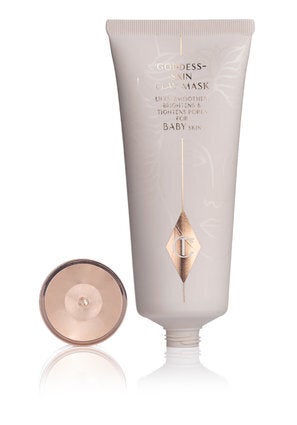 10 Must-Have Products From Charlotte Tilbury's Collection
Popular in the Community