Brunch is always on my brain.
I will boldly go on and declare that it is the best meal of the day. And I'm confident that I'm not the only one who feels this way. After all, when else can you have alcohol in the morning without getting side-eyed glances from dining companions and/or strangers. When else can you order dessert as the first meal of the day without anyone judging your life choices? I rest my case. So, the only thing to do when another restaurant in Toronto offers brunch is to rejoice, and hope the spot takes reservations-- or if failing that, has little to no line-ups.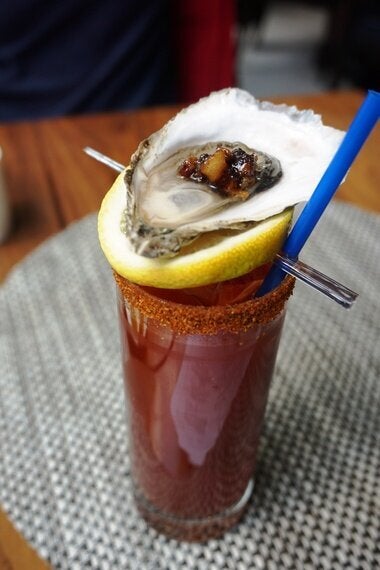 *CFO Caesar with freshly shucked oyster topped with bacon jam*
The Chase Fish & Oyster, the more relaxed sister of the upscale Chase fine dining spot, is the latest restaurant to throw their Sunday brunch hat in the proverbial ring. Having just debuted their menu at the end of April, I had a chance to taste a few of the menu items.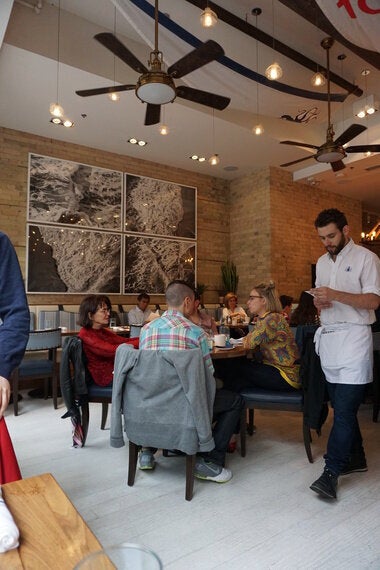 How the space looks and feels:
Various nautical elements from the east and west coast have docked here; however, it's done tastefully so as not to make the restaurant feel too kitschy. Ocean photography line the walls, anchors, lighthouses rejigged as ceiling fans, bevelled chairs, boat knots, and sailing banners hang overhead in a regalia style. Exposed brick with linen drapes add textural dimension. It feels like a mixture of the Hamptons and New England with a splash of the O.C.
Chef Michael Steh oversees the culinary department of The Chase Fish & Oyster. He proudly notes that their supplier is 100 km Foods. "They are an amazing company which sources only the best products from great farms and artisan purveyors from within 100km of our city."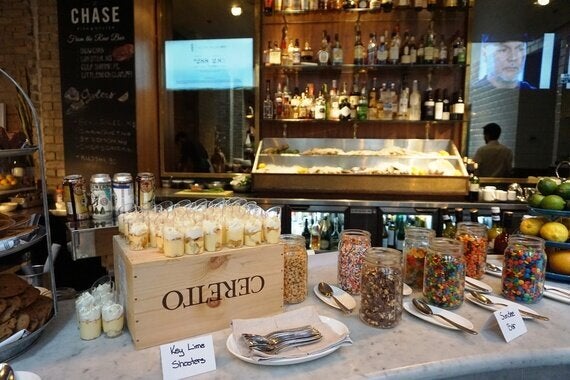 Brunch can be competitive in a city like Toronto. Places like Mildred's Temple Kitchen and Saving Grace spring to mind-- they have a legion of fans who are willing to wait nearly two hours for a table on weekends. So how does CFO plan on edging out such talent? Steh offers this, "We knew we had to have something more interesting than your average brunch place to stand-out from the competition-- the aim is to get people out on a weekend. We needed dishes that spoke to our philosophies regarding sustainability, seasonality, and providing a great overall dining experience". To reinforce the idea of seasonality, Steh adds "Brunch is still very new for us, but we plan to change it as often as our other menus."
Furthermore, Steh hopes that his headliner dish will draw in crowds: Eggs Benedict, with a coastal twist. "It seems to be a right of passage for brunch in Toronto. So we decided to do one, but knew it needed to be unique and a bit over the top. Our dish is a Crab Cake Eggs Benedict. We make crab cakes using Alaskan king crab meat, sweet potato and other vegetables; they replace the English muffins. We top the crab cakes with coleslaw, poached eggs (from a collective of Mennonite farmers located in Ontario), hollandaise, locally produced smoked paprika, and fresh watercress."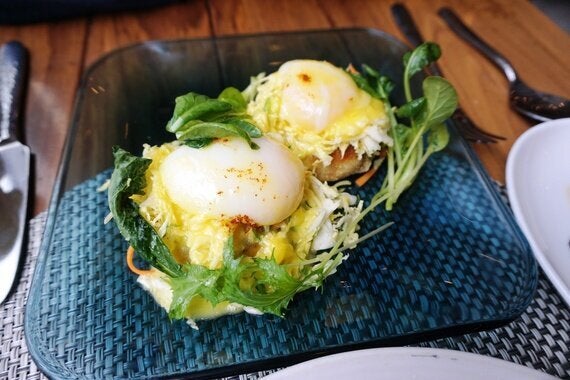 *King Crab Cake Benedict*
Food is one part of the equation for brunch success and the other is the drinks. I asked Chef about the importance of having a great brunch cocktail/drink program. "Brunch has a tendency to become booze heavy, and you never want someone to feel left out about not drinking, so our bar team crafted a great list of both alcoholic and non-alcoholic cocktails that also rotate with the seasons."
Chef offers the Cold Comfort Cocktail as his favourite brunch drink. "It's a perfect balance of cold pressed coffee and alcohol. A bit of hair of the dog and coffee to wake you back up."
And what would be an ideal dish pairing? "I would order it with our Bananas Foster's pancakes and a side of bacon, sourced from Cumbrae's. Ours is a riff on the classic dessert made with three buttermilk pancakes; we make it with great organic flour from K2 milling in Beeton, ON. We top them with a sauce made from caramelized bananas, brown sugar, Gosling's Black Seal Rum and my Sous-Chef Jordan's secret ingredient, angostura bitters. It's garnished with candied pecans, whipped butter and icing sugar. Our house bacon is thick cut and pan roasted to order and glazed with local maple syrup from Ennis Maple Products. The combination of bananas, rum and bacon give it an Elvis feel."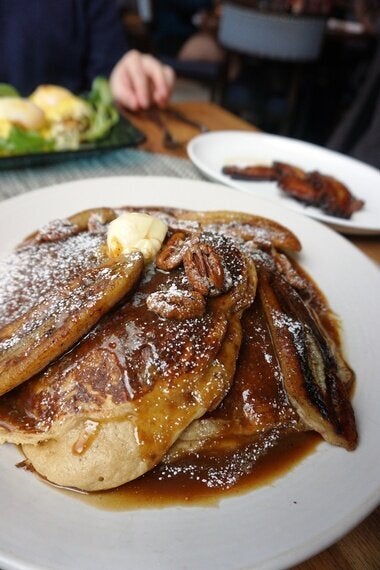 *Banana's Foster Pancakes*
With thoughts and recommendations from the chef in mind, we order the benny, the pancakes with a side of bacon, and salmon platter with cheddar biscuits as a 'starter'. The first two dishes certainly meet the 'uniqueness' criteria but lack restraint for certain elements.
For instance, while the cakes contain an ample amount of crab meat that is sweet and tender, it is also very delicate. So when it's coated with a runny egg yolk, thick tarragon hollandaise, and mayonnaise-based coleslaw, the ratio of fat to everything else has tipped the scales. It's overwhelming on the taste buds; the richness coats your tongue and each flavour profile gets lost in the melange of creamy sauces pooling onto the plate.
It is the same situation for with the pancakes. The organic flour yields squat, but soft and cushion-y cakes. However, when it is drenched in a pool of mahogany, supercharged-sweet sauce, it's becomes a challenge to taste the pancakes themselves. The side of bacon that was supposed to temper the sugar content in the pancake stack tastes like a salt-lick; it is as salty as the dead sea. Although it has a beautiful sheen and lacquered appearance from the maple syrup, you can only detect those flavour notes with the burnished ends.
And what about those biscuits? They arrive as squat cylinders with a deep, bronze hue. The cheddar used (sourced from The Cheese Boutique) is very prominent. As a result, a savoury umami taste comes to the fore with floral undertones from the wildflower honey, and a hint of bitterness. It's definitely not the same kind of towering, fluffy biscuits you would find in other places because the organic flour used here has less gluten structure. But appearances aside, they still have a welcoming tenderness to them.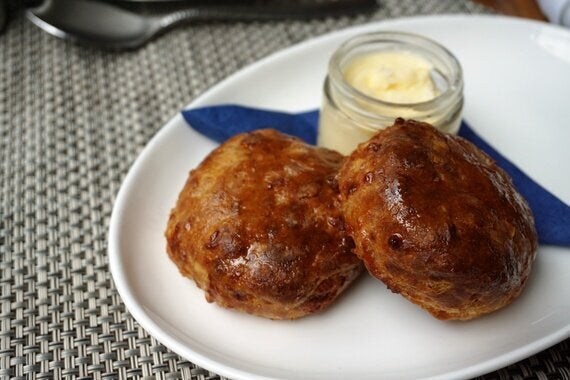 As for the salmon pastrami platter, it is offered to us as a game of choose your own (eating) adventure. Items are nestled beside one another, encouraging you to mix and match ingredients. The salmon itself is not as supple and slippery as the ones you would find in Jewish delis -- and the hot smoking process is the reason for this. It gives the salmon a firmer and drier texture. This isn't a bad thing (even though I prefer the deli style more), it is really a matter of personal preference. It's still offers a hearty flavour and faint smokiness.
Along with soft scrambled eggs, the salmon comes from PEI, bagels from Thuet, and salmon caviar from Nova Scotia.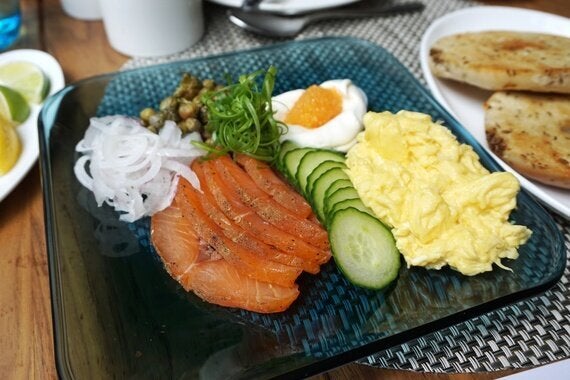 *Salmon Pastrami Platter*
With the exception of the King Crab Cake Benedict ($29), everything is in the mid-priced range (mains are from $13-18) and portions are generous. You could dine here once a month without breaking the bank.
Is this place worth coming back to? If they exercised more balance and restraint with certain dish components, then I definitely would make a return trip here. CFO is offering beloved classics with a welcome twist.
Follow HuffPost Canada Blogs on Facebook