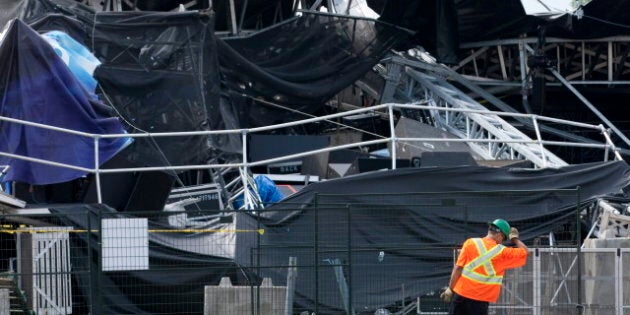 A roadie with Cheap Trick has filed a lawsuit against organizers of the Ottawa Bluesfest and a staging company following a stage collapse while the group was performing at the 2011 Ottawa Bluesfest.
The Ottawa Citizen reports Sandy Sanderson filed a statement of claim May 28 accusing the festival and Groupe Berger and Mega Stage Inc. of gross negligence and "created a situation of danger" by not properly monitoring weather conditions in and around the area. David Lussier of Groupe Berger and Project X Productions, the company who provided video screens, lighting and set up of the main stage, are also named in the suit.
The statement adds both organizers and the staging company didn't follow safety procedures including freeing the main stage's wind walls before a storm descended in the area and didn't erect the stage in compliance with proper building codes. "When the existence of the hazard became known, they failed to take the necessary and appropriate steps to secure the area, and to ensure that all attendees and the plaintiff were safe from the harm posed by the hazard," the statement says.
Sanderson alleges he suffered nerve damage in the skin around his right thigh, stress disorders along with a laceration to his abdomen which later became infected. The members of Cheap Trick escaped unscathed as they fled the stage literally seconds before winds reaching 117 km/hour toppled the stage. The roadie -- seeking both general damages and specified damages for loss of income, earning potential, pain and suffering and medical expenses -- still visits rehabilitation clinics to deal with the injuries sustained.
Festival organizers refused comment on the lawsuit while Stephane Berger of Groupe Berger said it was "unfortunate for him and sorry for him" regarding Sanderson's situation.
WATCH: FIVE VIDEOS OF THE AFTERMATH
Cheap Trick -- whose manager Dave Frey at the time compared the collapse to "the Titanic or something" -- made no comment regarding Sanderson's statement.
In 2012, the band were considering suing as well, but did not file suit. The band however nixed some Canadian dates last summer with Aerosmith after realizing stages in certain markets were being built by Mega Stage.
The news comes on the verge of the first anniversary of the tragedy at Toronto's Downsview Park June 16, 2012 prior to a Radiohead concert when a stage collapse killed the band's drum technician Scott Johnson.