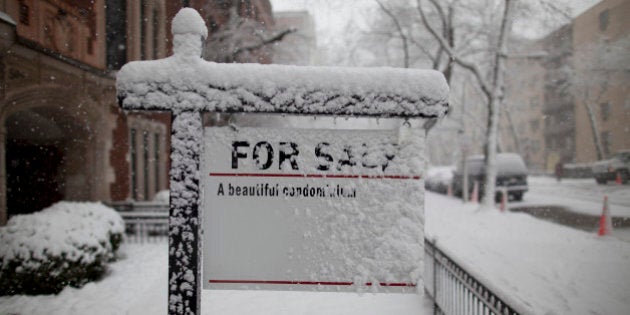 The old and familiar rule of real estate is that it's all about location, location, location. But getting a good deal on a new house — or selling it for the best possible price — may also depend on timing, timing, timing.
The brokerage analyzed five years' worth of sales prices in the Toronto housing market and found there has been a whopping $60,000 difference in the average selling price of a Toronto house in January versus in May.
Simply put, you can save $60,000 on a house in Toronto if you buy in the middle of a nasty, cold winter than if you buy when the birds are chirping and the flowers are blooming. And you can lose just as much if you're in a hurry and can't wait for spring to sell.
Even the difference between January and the next-cheapest month (July) works out to some $16,000. Lesson learned: Don't buy in May (and don't sell in January, if you can help it). TheRedPin.com published this chart on its blog: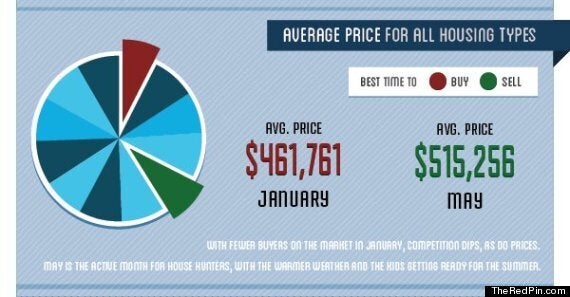 "When we look at the market over the past years, the first two weeks of January [are] usually the very very slow weeks, because people are coming back from the holidays and I guess people are not really ready to buy an expensive home after all the shopping during the season," Fard told Global News.
Story continues after slideshow: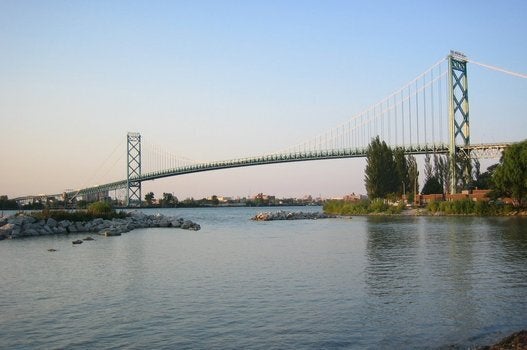 Canada's Most, Least Affordable Housing (2014)
With fewer buyers around in January, houses for sale spend more time on the market (about 34 days, compared to 20-odd days for houses in May), and that motivates sellers to cut the price.
To take advantage of lower prices, the best time to start looking for a house is December, and the best time to start selling one is April, the brokerage concluded.
Fard says though the research was specific to Toronto, you can expect the pattern to hold throughout the country.
"If you're a serious homebuyer, you definitely don't want to miss out on the opportunity in January," he said.
The latest Teranet house price index, released Wednesday, showed prices in Canada falling for the second month in a row, a sign that the collapse in oil prices may be working its way into at least some of the country's housing markets.
House prices fell in Calgary (down 1.1 per cent), Halifax (down 1.9 per cent), Montreal (down 0.9 per cent), Quebec City (down one per cent) and Vancouver (down 0.4 per cent). All remaining six cities measured in the index saw home prices continue to rise.
Thanks to large price jumps in the earlier months of 2014, house prices are still well up compared to the same time a year ago.
Overall prices in the cities measured by the index grew some 5 per cent, and even though Calgary's market is showing signs of strain, it still recorded the largest year-on-year price growth in December, up 8.3 per cent.
Toronto recorded the second-largest year-over-year price increase, at 7.2 per cent. Only home prices in Quebec City (down 0.8 per cent) and Halifax (down 2.5 per cent) have fallen compared to a year ago.