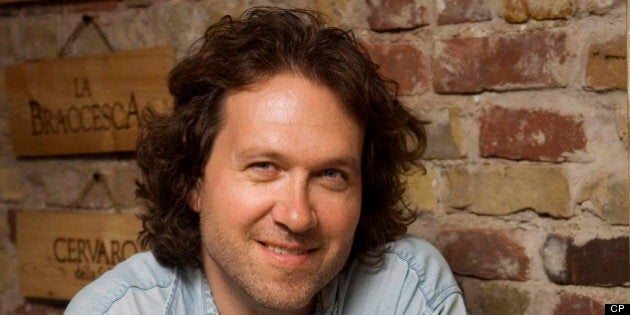 He was born in New York, but chef Michael Smith is as Canadian as the local cattails he forages for in his home province of Prince Edward Island.
His passion for P.E.I. cuisine made him a natural choice as the province's culinary ambassador in 2009. Four years later, Smith is still striking a balance between his duties as a father, writer, television host and promoting P.E.I. as a destination for culinary tourism. Oh, and he still finds time to cook, too.
The Huffington Post Canada caught up with Smith while he was in Toronto to talk to about his love for gin and tonics, the role foraging plays Canadian cuisine and what candied crickets taste like.
What does 'Canadian' food mean to you?
I think Canadian cuisine is actually a blend of many cuisines in the same way European cuisine is a blend of many regional cuisines. All of our cuisines represent time and place. You've got different terroir across the country, we have different ingredient traditions, different ethnic traditions — what comes to mind really is a mosaic or a tapestry and all those threads, all those pieces of glass, each one distinctive but they all add up to something wonderful: Canadian cuisine.
What is one of the first things you crave to eat when you return home from abroad?
A good, classic, P.E.I. lobster. There's nothing like boiling off a bunch of whole canner lobsters, laying out the newspaper on the table and going at it with some potato salad, melted butter and lemon juice, you know? Dead simple.
What's your favorite food to make for yourself at home after a boozy night out?
The first thing that jumps into my head is after we've all been hanging out and having a good time, more often than not, I'll break out my can of candied crickets. I've got this mason jar of candy crickets that I picked up in Tokyo and it's about two thirds full now and for anyone's who's been drinking at my house at 2 o'clock in the morning, you just know those candy crickets are coming down at some point.
What's your favourite poison?
Gin and tonics. I'd be so surprised five years ago to hear myself saying this but really, what it comes down to is that we've got two distilleries within a 10-minute drive away from my house that both make artisanal-quality gin. One of them is focused on moonshine and the other guys are focused on potato vodka but both of them, on the off season, make gin. So we at my house constantly have this North Shore versus South Shore gin thing going on and they're both out-of-this-park delicious. We're spoiled when it comes to gin and so our summer drink of choice is gin and tonics.
If you could prepare only one last meal, what would it be?
It would be a freaking awesome cheeseburger with a lot of bacon on it and some damn-good P.E.I. fries.
What would be in your emergency "survival pantry"?
Canned tomatoes. I live for canned tomatoes. Them and chick peas. Those are the two canned things in my world. Oh, and coconut milk, too.
What is the wildest thing you've done in a kitchen, culinary or otherwise?
The first thing that jumps to mind is the Olympics and leading the team of chefs in Whistler that cooked for the athletes of the world. Thirteen-thousand meals a day, the greatest professional challenge in my life and scoring the highest ever food rating in the history of the Olympic Games — and doing that for Canada. Nobody knows I did it and that's okay. That's not why I did it. I mean that was two years ago. This isn't about "hey, look at this thing I did," but you asked the question and I'm wildly proud of that.
What is the best restaurant that no one's ever heard of?
Terre Rouge on Prince Edward Island. They've been open for about six to eight months at this point and they're going into their very first summer, their very first full growing season right now.
What would you be doing if you couldn't be a chef?
Farming. No question. I'd trade it all in if I could pull off a two- or three-acre market garden. I'd grow everything. And you can grow anything on P.E.I and I'd trade it all for just a few acres of super rich, fertile soil, just growing and sustaining myself and my family on the land. It's real work and passion and commitment and a connection to real life.
What is your favourite cheap food thrill?
Fries. Poutine. Hopefully with some foie gras. Or bacon. Or both.
What is the most memorable food city in the world?
I think Tokyo, without question, is the best food city in the world. No question about it. It's not necessarily my favourite city, but food-wise, it's just an astonishing place to be. In terms of food adventures, for me, I'm an outdoors kind of guy. There was this time in the Peruvian rainforest where we did everything with cassava roots, like everything under the sun with cassava root and then fished for piranhas and making ceviche, you know, a man-eating fish kind-of-thing. Those outside adventures…they're my favourite.
Which Canadian restaurants have you been to and would recommend?
What's the most unusual and delicious food that you would suggest people try?
I'd have to say more foraged ingredients. I'm thrilled to see this is a movement. We're all sort of following the trends and we can go meta here and think about El Bulli on top of that San Pellegrino list for five years running and handing it off to Noma and watching that shift away from molecular gastronomy and heavy manipulation and back towards foraged foods and the food around us and traditional foods and being proud of what we have in our own backyard. I love that.
For me, the fact that I see Canadian chefs all over the country waking up or remembering or starting to share what they've been doing for years, and that's focusing on foraged foods, I think it's wonderful. It's the last missing pieces in our culinary identity and it really shows maturity that we've grown up to the point where we feel so confident in what we do that we're comfortable saying "that's not a weed, that's lamb's-quarters, that grows in my front yard."
It just speaks to the integrity of our chefs that we're comfortable and we're Canadian and we've got everything in this country, right here, right now, and we're the best in the world and we're proud of it.
Popular in the Community