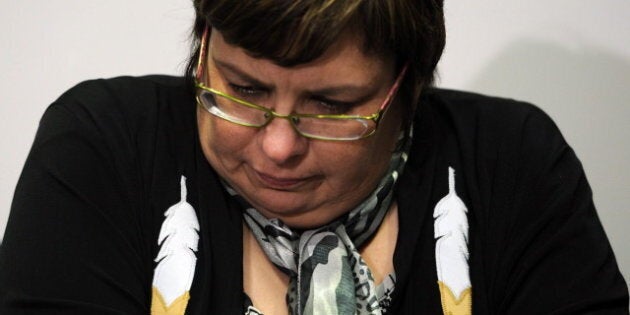 "I'm willing to die for my people because the pain is too much and it's time for the government to realize what (it's) doing to us."
The chief of the northern Ontario First Nation reserve of Attawapiskat uttered the haunting statement as she announced her hunger strike in Ottawa on Monday. Theresa Spence is demanding a meeting with Prime Minister Stephen Harper and a representative of the Queen to discuss treaty agreements between Canada and First Nations.
We should all be ashamed that these words were uttered in Canada, and that a First Nation leader has put her life on the line to be heard. A hunger strike is a weapon of last resort for the oppressed. A hunger strike in Canada is a sign of imperfect democracy. It betrays an invisible police-state line.
I met Chief Spence briefly on Parliament Hill on Tuesday morning as she started her peaceful protest. It was a somber moment. At the beginning of June, I ended a 85-day hunger strike against the omnibus crime Bill C-10, the Safe Streets and Communities Act. I'd demanded the immediate repeal of the draconian bill, and the institution of a national and fully-funded inquiry into the case of the 600-plus missing or murdered aboriginal women and girls.
In the past, only repressive countries, such as Cuba, experienced hunger protests. But now, repressive regimes, democratizing countries and fully-fledged liberal democracies are witnessing hunger strikes. So far this year, more than 2,000 people have starved themselves for change in more than a dozen countries around the world, including India, Turkey, Russia, Bolivia, U.S. and Ukraine. Canada has now joined this infamous club.
BLOG CONTINUES AFTER SLIDESHOW
In her protest narrative, Spence isn't re-inventing the wheel. The pain is real. Her words echo the long-standing anguish of the aboriginal collective. Her protest is the human incarnation of the pain and struggles aboriginal people endure every day. The majority live in third and fourth world conditions on their own land. According to James Anaya, the United Nations special rapporteur on indigenous peoples, they face grinding poverty, poor health, low education standards and high unemployment rates. And only last year, Chief Spence's community of Attawapiskat was thrust into the puzzled glare of the international media after it declared a state of emergency because of a housing crisis. Residents lived in unheated shacks or trailers lacking running water and toilets.
Then there is the scourge of racialized violence. A 2004 General Social Survey noted that Aboriginal women 15 years and older are three and a half times more likely to experience violence than non-Aboriginal women. No other western country has more than 600 women and girls from one racialized group missing or murdered and still has neither the political will nor strategy to find a lasting solution.
Spence's peaceful protest personifies the growing frustration by aboriginal peoples. Last week, First Nations leaders were barred from entering the floor of the House of Commons, where they'd hoped to air their legitimate grievances against Bill C-45, the government's 400-page budget implementation bill. The bill alters the Indian Act and weakens the ability of people on treaty territories to make decisions about their land and resources. Proposed changes to the Navigable Waters Protection Act would jeopardize aboriginal people's livelihoods by eliminating thousands of lakes, rivers and streams from federal protection.
Spence's grievances epitomize the monumental failures of our democracy. Canada is fast turning into a "suicidal state," which relentlessly snipes at its own democratic institutions. For example, the prorogation of parliament. In May 2011, we elected MPs to represent our dreams and interests in Ottawa. The current parliament is the most undemocratic and dysfunctional in the British Commonwealth.
Chief Spence's hunger protest is an expression of our suppressed democratic outrage. It's a peaceful protest against the government's continuing Orwellian assault on the parliamentary process. On legitimate dissent. It's a rebuke of the government's unilateralism, which has replaced Canada's hard-won fine arts of consultation, inclusion and democratic conversation. Chief Spence has put her life on the line hoping to re-introduce into the language and practice of our politics something that our politics ruthlessly excludes during parliamentary debates on life-changing legislation.
Am I surprised that the prime minister has so far ignored Chief Spence? That NDP MP Charlie Angus is the only elected politician publicly supporting the chief? Hell no. During my protest, I conveyed my demands to the Governor General, Harper and Parliament (all senators and MPs). As of May 29, day 77 of the protest, only Liberal senator Joan Fraser and the Governor General's office had responded in writing.
Canada Post delivered the response from Rob Nicholson, the Minister of Justice, on June 7, a day after I ended the protest. The mainstream media completely ignored me. Imagine the pain I felt reading about former Ukraine prime minister Yulia Timoshenko's hunger strike in the National Post on April 20, 2012. Can you imagine how I felt reading about the hunger strikes of Palestinians jailed in Israeli prisons on the CBC website on May 14?
I felt oppressed, abandoned and devalued. I ended the protest after a beautiful meeting with NDP MP and justice critic, Francoise Boivin. She came out and sat a while with me on the steps to the legislature. In 20 short minutes, she restored my stolen human dignity.
As I write, the mainstream media's interest in Spence's protest is waning. Both the media and politicians are giving Spence the "silent treatment," an oppressive response that nurtures our ignorance, fear and denial. We're being seduced into believing that hunger strikes aren't part of the democratic process. They are. Mahatma Gandhi's hunger strikes accelerated India's march from British colonial rule to independence.
Hunger protests are alien to Canada? Nonsense. Twenty-six years ago, social activist and former senator Jacques Hébert completed a 21-day hunger strike protesting Brian Mulroney's decision to nuke the Katimavik project. He saved Katimavik, one of Canada's oldest and largest youth
volunteer programs. Unfortunately, the project did not survive the 2012 federal budget guillotine.
Spence's protest is a journey of hope. A call to compassion, fairness and respect for fundamental rights. She's urging Canadians and First Nations to rediscover the lost art of democratic conversation.