TORONTO - Protesters crashed the grand opening of Chick-fil-A's only Canadian location Friday, sending a loud message that the company's anti-LGTBQ history would not be ignored.
"I don't want no deep fried hate. I think that gays are great!" the crowd shouted outside the fast food restaurant in downtown Toronto.
"This is not a singular issue. This is about pure violence and systemic oppression on marginalized bodies, queer bodies and bodies of colour," said protester Mandi Howard. She was surrounded by dozens of animal rights and Indigenous activists, as well as LGBTQ community groups such as the 519.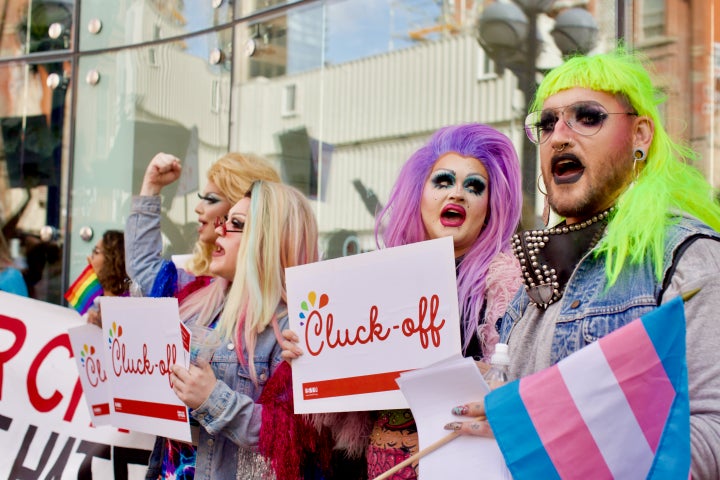 "The reason why we're all together here is because the Chick-fil-A corporation donates millions of dollars against organizations and lobby groups that actively campaign against queer people having the right to exist, a right to live," said Ryan Tapley, a member of the 519.
"I'm hoping that in seeing all these signs and hearing all these chants opposing this corporation, at least one person in that line up will decide to support human rights instead of corporate profit."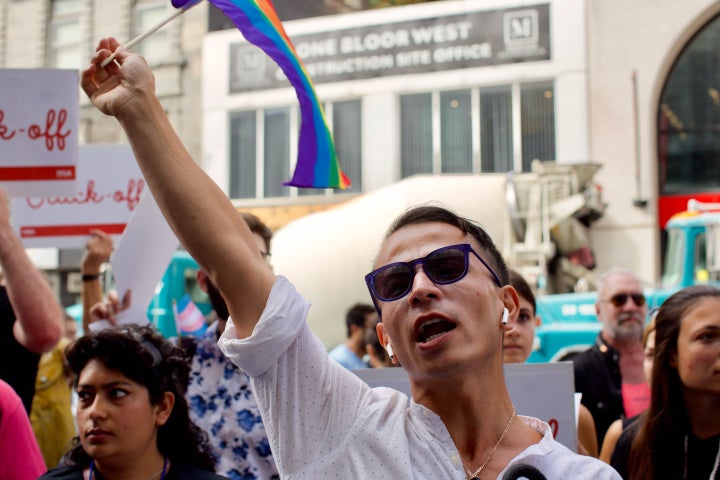 The chain also doesn't offer protection, benefits or diversity training to LGBTQ employees.
Toronto customers lined up outside to get a first taste.
"This place is great in Ohio, I love it," said Charlie Mitchell, from the U.S., as protesters blew shrill whistles nearby, threatening to drown him out. "They picked this place randomly," he said of the crowd.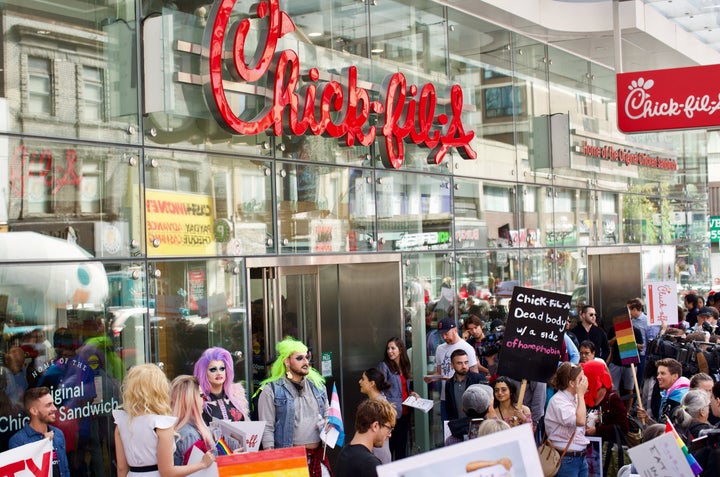 When asked about the company's anti-LGBTQ stance, he said; "They (Chick-fil-A) have a right. It's a business."
Standing just ahead was Sam Lui, who said he'd never been to Chick-fil-A and simply wanted to try it. The protesters issue "doesn't really resonate with me specifically," Lui said, adding that he thinks the company discriminating against the LGBTQ community isn't fair.
Caitlin Brubacaher was at the protest as a citizen concerned about not only homophobia, but the chain's treatment of animals, and impact on the environment.
"It's not a coincidence that this is a restaurant that's deeply embedded in capitalism, homophobia and specism. These are all forms of objectification," said Brubacaher. "We desperately need to think about the planet as a whole and take on an entirely different world view."
CORRECTION: A previous version of this story incorrectly stated Chick-fil-A had donated $1.8 billion. In fact, it had donated $1.8 million.