Like many around the world, health care providers in Canada watched the news of more than 2,300 child migrants separated from their families in the United States with horror. This cruelty is apparently the newest front of the Donald Trump administration's war against asylum seekers. We've heard audio recordings of young children begging for their parents, and read first person accounts of migrants being told they will never see their children again.
Many want the Canadian government to take a strong stand and condemn the U.S. for its actions, yet in this country, too, children are held in immigration detention or separated from detained parents, and this needs to end.
In our day-to-day work in health care we regularly see the results of childhood trauma in patients of all ages. Harm done at a young age can reverberate throughout one's life, causing intense distress and serious health consequences.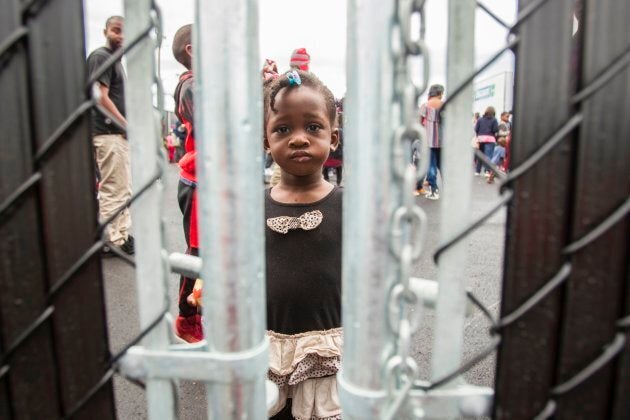 Canadian research and reports have repeatedly shown the severe mental health impacts of even short-term detention on both adults and children, including elevated rates of depression, anxiety and post traumatic stress disorder symptoms in adults. Children also suffer severe symptoms such as regression of developmental milestones, sleep disruption, anxiety and depression.
Although family separation at our border is not routine, a 2011 study on 20 families detained in this country found that many of the children were separated from their parents at some point in the detention process.
Imprisoning children, or forcibly separating them from their parents, is simply not acceptable
Since the health effects of family separation and community disruption are well known, we are calling on our federal leaders to take action on these issues and consider how history will look back on what we as a country choose to do right now.
Our letter to the Canadian government, which expresses our concerns about the perpetuation of this type of childhood trauma, has garnered more than 2,000 signatures, including more than 30 health care institutions and organizations.
We, as health care providers, call on our government to take the following four actions.
End child detention and family separation in Canada
Imprisoning children, or forcibly separating them from their parents, is simply not acceptable, no matter what the migratory status of the children or their parents.
End immigration detention in Canada
Currently, in Canada, migrants are detained in both immigration holding centres and maximum security jails. We join a group of Canada's leading physicians, academics, lawyers, community organizers and policy makers in calling for the government to stop holding immigration detainees in maximum-security correctional facilities and to end the practice of indefinite immigration detention.
We join these experts in stating that: As a matter of principles, individuals should not be placed in immigration detention or separated from their families. If a person poses a danger to themselves, or to others, other legal measures outside the scope of immigration policy should be used to address such situations.
End the Safe Third Country Agreement
We join Canadian Doctors for Refugee Care in calling for an end to the Safe Third Country Agreement. The recent actions of Trump and Attorney General Jeff Sessions have made it clear the U.S. isn't a safe country for migrants, refugees and asylum seekers.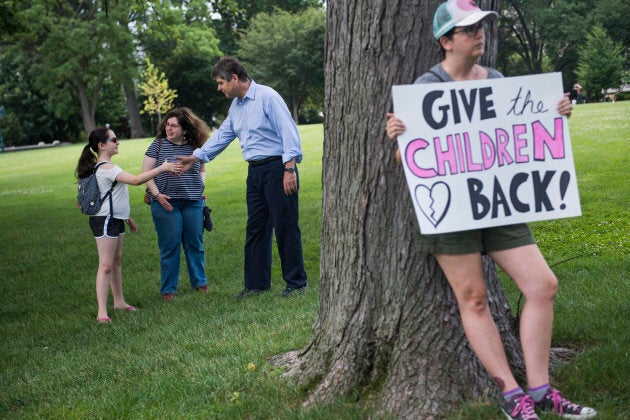 Call on the U.S. to end its practice of child and family detention
There is fear within the medical community that while the end of child separation is a positive step forward, more children and families will end up in immigration detention. As well, family reunification for the thousands of detained children is now an urgent priority.
The Ongoing History of Family Separation in Indigenous Communities in Canada
While the world has been learning about the humanitarian crisis in the U.S., Indigenous communities in Canada have also been drawing our attention to this country's history of state-sponsored child removal.
The Union of BC Chiefs released a strong statement condemning family separation, long a tool in Canada's nation-building. The legacies of residential schools and the Sixties Scoop ripple through families and communities across successive generations, leaving long-lasting marks and negatively impacting health and well-being.
Separation of Indigenous families continues to this day under different auspices, with massive over-representation of Indigenous children in the child welfare system, and disproportionately high numbers of Indigenous people in prisons and jails. We need to address the insidious racism and colonialism embedded in the separation of Indigenous families, whether by child removal or incarceration of adults and youth. It is critical to acknowledge Canada's history of disrupting Indigenous families as well as the current practices that perpetuate separation.
Thus in addition to our open letter we, the authors, also call on the Canadian government to follow the lead of Indigenous communities — as set out by the Truth and Reconciliation Commission's calls to action — to address the root causes and resulting impacts of Indigenous family separation, both in the child welfare and criminal justice systems.
By Michelle Cohen and Michaela Beder, with support from: Unjali Malhotra, Cornelia Wieman, Monika Dutt, Priya Raju and Harsha Walia.
Have you been affected personally by this or another issue? Share your story on HuffPost Canada blogs. We feature the best of Canadian opinion and perspectives. Find out how to contribute here.