Sunday is Children and Youth in Care Day in Ontario. Why do kids in care of the child welfare system have a day that recognizes and celebrates them?
Ontario has over 18,000 children living in care, the highest number of any province in Canada. These kids have experienced abuse, neglect and abandonment and are trying to overcome past trauma in order to heal, thrive and go on to lead happy and healthy lives. They are celebrated for their incredible resilience and triumphs in the face of adversity. But for kids in care, getting there isn't easy and they need and deserve our help.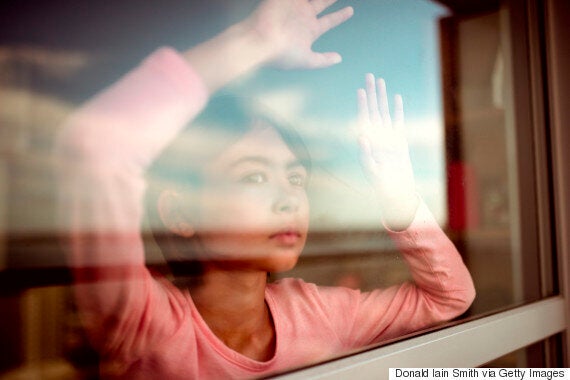 Through circumstances beyond their control and no fault of their own, these young people lack almost everything most kids take for granted such as a safe home, someone to nurture their growth, and a sense of unconditional love. All children have a right to these and in the absence of belonging to a permanent family, we as a community need to understand their challenges and become their cheerleaders, their champions -- we need to stand up for them.
Picture your own kids -- their childhoods depend upon having the love and support of a stable family, so that they can excel at school, develop long-lasting friendships, and take part in sports or extra-curricular activities. At age 18, when they graduate from high school, they can continue to live in your home with your support as they embark on their post-secondary education, get their first job or take their time to figure out the next steps in their lives.
Kids in care don't have that.
The average child in care moves to five different foster homes during their time in the system, disrupting their schooling each time. This makes it difficult to develop nurturing and stable relationships and prevents them from developing a sense of permanence or belonging.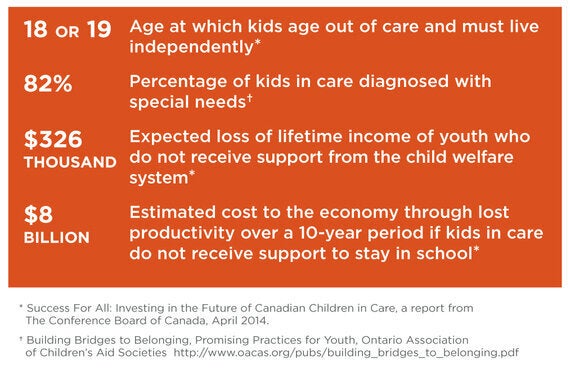 And when youth in care turn 18 or 19, they exit the system and are on their own. They do not have a parent who can co-sign a lease, help them furnish their first apartment or help out with tuition, groceries or bills. They don't have a family home they can return to when times are tough or to celebrate holidays. They lack meaningful connections to their family, community and culture. Many couch surf or access shelters or food banks to help them get by. According to a Raising the Roof study, 68 per cent of youth who are homeless had previously been in foster care, group home placements, or in youth centres.
How do we help these kids who also face mental health issues, unemployment and poverty?
We can do more. We can do better.
Smart investment is necessary in programs that work on strengthening families and keeping them together, in order to prevent children from entering the child welfare system in the first place. Initiatives that provide parenting skills, engagement strategies for at-risk communities and support to help families ease the burden of poverty have all shown to be effective. We've seen great success when true collaboration happens at the grassroots level enabling change to happen through the actions of individuals and corporations.
When the community comes forward to help fill the role of a caring parent, be it as an advocate or by helping to provide access to programs and resources previously unavailable, kids in care gain confidence and develop a sense of identity beyond the label they are given of "Johnny, the foster kid." Being part of the local hockey team, joining their peers at summer camp or accessing mental health supports go a long way to letting kids in care just be kids.
We hear from former youth in care that when they receive guidance and encouragement from someone who believes in them, they are driven to succeed. Scholarship programs give an opportunity for youth who are transitioning out of care to move on to post-secondary education, sometimes at the Masters or PhD. level, where financial support is often lacking. Like skills courses, such as financial literacy, and mentorship and employment programs provide vital lessons that help ease their transition into adulthood. Helping former youth in care find safe and secure housing so that they can avoid facing homelessness and can concentrate on finding is a job or continuing their education is essential to starting them off on the right foot.
By working together, we as a community can help thousands of vulnerable kids in Canada define a vision for themselves of a successful future. And that's something to be celebrated.
President and CEO, Children's Aid Foundation
Follow HuffPost Canada Blogs on Facebook