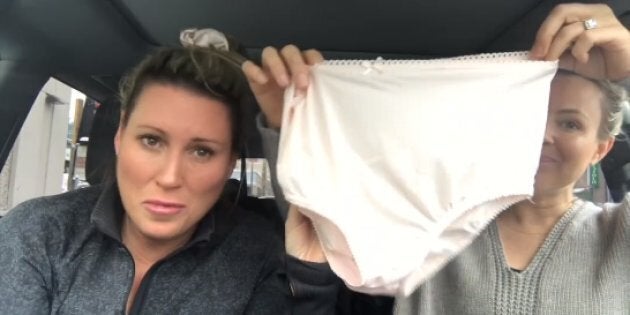 So, you've taken a prenatal class and learned all about lamaze breathing, you've weighed the pros and cons of epidurals, you've packed your hospital bag with fluffy socks and inspirational birth music, and you've given your partner explicit instructions to avoid the business end of the bed when he's capturing magical photos of your first child being born.
You're armed and ready for childbirth, right?
You might want to sit down.
"I thought that after you had the baby you were gonna crack some bubbly and celebrate because you have given birth and you are a mother," they said in the video posted Jan. 5.
"Literally everything that you thought would be, is not, and it's actually more like the opposite."
Belknap and Telfer are the duo behind the digital platform Social Common, a website for moms, by moms (they have seven children between the two of them). They host the live-streamed "The Cat & Nat Show," and are the creators of the video series "Mom Truths," where they share "all the dirty details of being mothers and wives."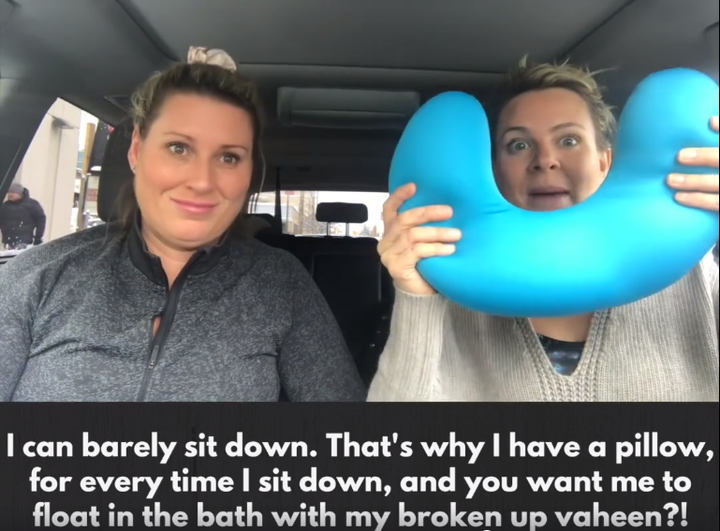 As is their style, their newest "Mom Truth" video holds nothing back about what to really expect after giving birth — from the granny panties and pads (maybe even diapers) you're going to need, to the ice packs you'll be wanting ... and not for your head.
"It's for your cooch! Cos that thing is swollen and pulsing. It is unrecognizeable," the duo warns.
"It's like taking a pound of meat and tenderizing it. So you gotta ice that puppy."
Belknap and Telfer also come clean about hemorrhoids (and the "Costco-sized" epsom salts that can help shrink them), needing stitches in your vagina, and warn women that "when you sit down on the toilet you feel like your uterus is going to fall out of your body."
"The truth is too much. The truth hurts!" they exclaimed.
But don't worry, they assure us. "We all get through it. The more prepared you are, the better you feel."
Not everyone felt reassured.
"Okayyyyy... I don't want to give birth now. Due today and baby can just stay put. I'll live this way now. I've accepted it. Just going to cross my legs and go about my business," one woman wrote on the Facebook post.
But most applauded Belknap and Telfer for speaking the truth, and shared their own personal experiences.
"...this is no joke. And for real, get some laxatives bc the first couple poops are the scariest thing of your life. Do I push? Do I not push? What else is going to fall out if I try and push?? Just pray for diarrhea," one woman wrote.
Popular in the Community