Eighty years ago, the Spanish Civil War resulted in a vast displacement and large number of unaccompanied child refugees. It was from the ashes of that crisis that Plan International was created. I am sure John Langdon-Davies, the founder of Plan International, would be heartbroken to know how urgently, in so many parts of the world, our work is still needed.
Today there are 75 million girls and boys who lack access to education, including 17 million refugee and internally displaced children. While these numbers can be numbing, they are real for the young girls and boys living through protracted conflicts in Syria, Afghanistan, South Sudan and the Central African Republic, among other affected regions. These conflicts have created a generation of children and young people who have been denied their right to an education. In Syria alone, six years into the conflict, two million children are out of school.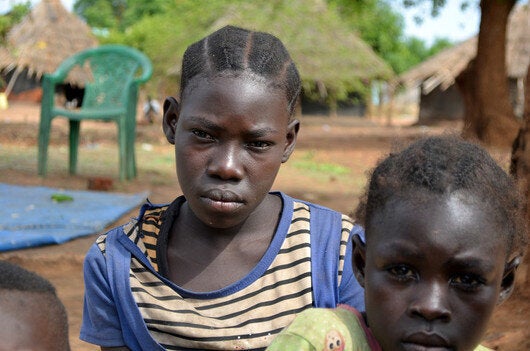 Children are unable to go to school anymore due to the ongoing conflict and famine in South Sudan. (Photo: Plan International)
This weekend I was at a global education event, the Global Education & Skills Forum, discussing solutions to the realities these children face. We have come together with a range of other organizations, from the Varkey Foundation to Interpeace, to develop new ideas and partnerships to ensure all children continue to learn even when they are displaced and living in countries affected by conflict. A key part of all these discussions is teachers.
Teachers working in some of the world's forgotten crisis and conflict zones face significant challenges to keeping children safe, instilling a regular rhythm to their lives, and simply providing learning. These frontline teachers are some of the unsung heroes that often go unnoticed in the media coverage of war zones. At Plan International, we want to elevate and celebrate these educators who quietly promote peace, stability and learning in some of the most precarious and conflict-ridden corners of the globe.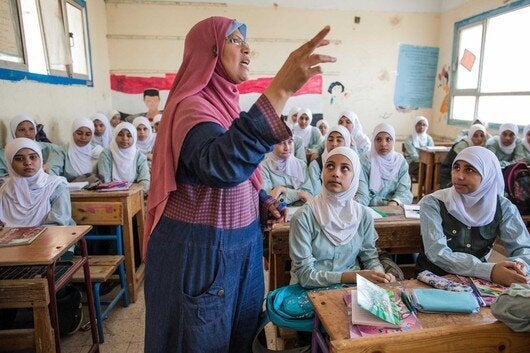 Refugee children from Syria at a Plan International-supported school in Egypt.
(Photo: Plan International/Eman Helal)
I met two such remarkable teachers this weekend; Ron Alvarez and Hanan Al Hroub. Ron travels between refugee camps to teach children music and develop a global orchestra of refugee children. Hanan, the winner of the 2016 Global Teachers Prize, spent years teaching in Palestine and has called on the world to support and connect teachers so they are able to champion peace.
And of course, these inspiring educators exist in our own backyard as well. In fact the recipient of this year's Global Teachers Prize was Maggie MacDonnel, a Canadian who teaches at a school in the Inuit village of Salluit, in the Canadian Arctic. Within the community Maggie works to empower young girls, helping them build the skills, self-esteem and resiliency to overcome barriers such as high levels of suicide, gender-based violence and teen pregnancy.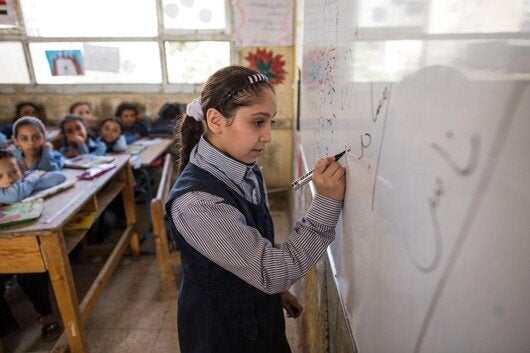 A third-grade girl from Syria learns with the support of Plan International
at a school in Egypt. (Photo: Plan International/Eman Helal)
To elevate the voices of millions of teachers around the world like Ron, Hanan and Maggie, we announced at the forum that we will co-chair a new global alliance on Post Conflict and Peace Education, with a focus on accelerated learning programs.
Working in partnerships and alliances is the only way we will be able to achieve the urgent change that is needed, and the Global Education and Skills Forum facilitated many more of these to develop and move forward.
The last few days have been brimming with energy, ideas and belief -- a belief that if we work together, all children will be able to receive an education. At Plan International Canada we will continue to work hard to transform that belief into reality.
Nadine Grant is Vice President of International Programs and Business Development at Plan International Canada
Follow HuffPost Canada Blogs on Facebook