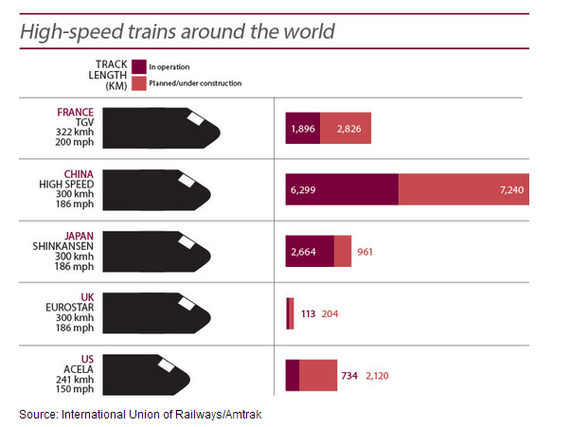 China's "Moon Shot" into high-speed rail has made it number one on this planet.
China has pursued this technology leadership goal for 20 years. Back in the 1990s, it began importing technology from Germany, the Siemens Velaro model; from France, the Alstom New Pendolinos. And, guess what? The Zefiro 250 type, made right here in Canada by Bombardier.
Nearly all high-speed train models that China uses today have been refitted with new domestic-made parts, and reverse-engineered once the patented machinery was safely within the country. Now China makes its own high-speed trains.
In 2008, investment in high-speed rail projects shot up to $88 billion with plans to open 42 new lines.
With improved rail service, China can now ship three times the amount of freight that it did in the 1990s, which means it can exploit coal seams far from urban centers.
The railways allow workers to commute farther, faster -- increasing labour mobility and economic opportunity.
The trains permit an active policy of commercial establishment in neighboring Asian countries, and even in Europe;
Within China, economic development of connected urban centers is booming.
Gerald Ollivier, the World Bank's Senior Transport Specialist, has been working on China's high-speed rail network: ''Look at the case of Zhengzhou on the 2,298km Beijing to Guanghzhou line opened on December 26th [2012]. "In the past, in a three-hour conventional train journey on this line, about three million people from Anyang, Xinxiang and Handan could reach Zhengzhou; today, with the opening of the new high-speed line, this number will surge to 28 million people from eight cities. These cities will start to work more closely together as a return trip within a day will be within reach."
"The impact in terms of economic exchanges, accessibility, and productivity gains are expected to be significant, and extend beyond traditional transport savings. The scale and scope of the Chinese high-speed rail programme offer a unique opportunity to measure such impacts."
China is already exporting its know-how to the U.S. and other world markets, making use of technology that originated in Canada. So where is our True North in all this? That's easy. We, ladies and gentlemen, are Strong and Free.
Joseph Soares served as a communications issues advisor to the Prime Minister of Canada (2008-2010), as well as a Policy Advisor to the Minister of Transport, Infrastructure and Communities (2006-2008). This article is the second in a three part series on the state of passenger rail in Canada.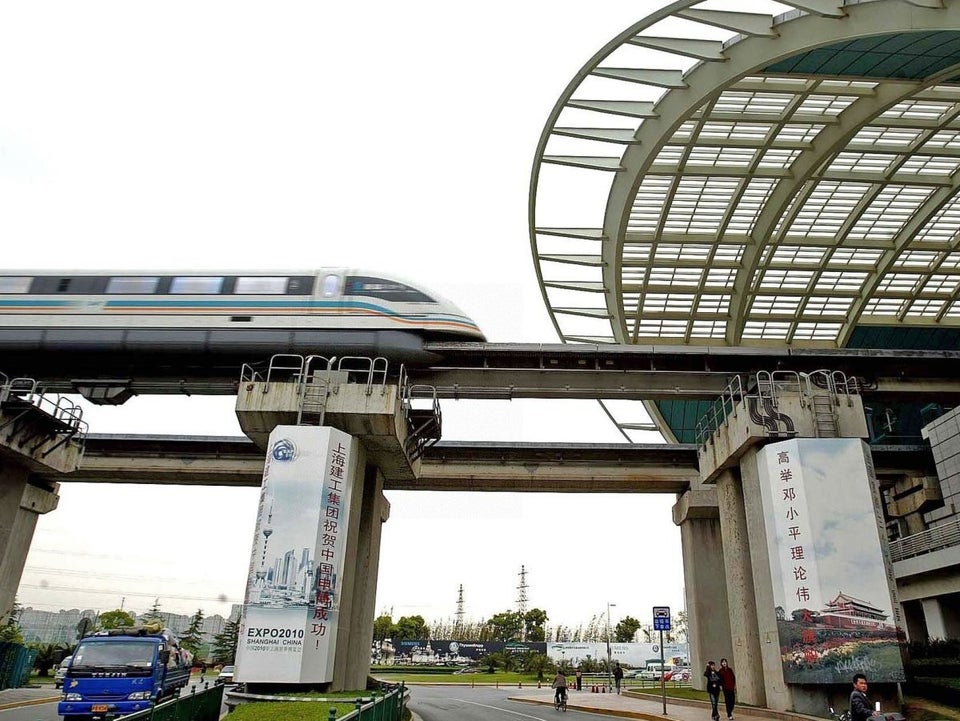 World's Fastest Trains