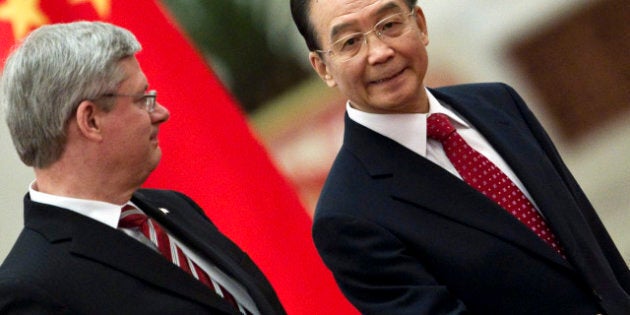 The China-Canada trade deal and allowing buyouts by state-owned enterprises from countries like China are clearly not in the national interest nor popular.
I've written about Sinopec Shanghai Engineering's workplace incident in 2006 and its attempt for years to circumvent workplace safety penalties by arguing it was above Canadian laws in the courts. The Supreme Court of Canada finally refused to hear its case this summer, leading the company's subsidiary to plead guilty to negligence that led to the deaths of two workers and injuries to four others.
There's also the case of Canadian mining company Khan Resources and its attempt to sue a Russian government company for $300-million in Canadian courts. This so far has been stymied because Russia refuses to let foreign commercial interests serve court papers on its companies, according to some arcane clause in a treaty. Similar attempts in the U.S. and UK have been laughed out of the courts, but not here.
Here are three more examples of questionable business citizenship:
1. Terry Hendrickson, CEO of Hendrickson Construction Co. Ltd. and other Manitoba suppliers have had huge difficulties with Chinese-owned CaNickel Minerals Inc. They are claiming millions in payment for work they have done.
"I do not want a repeat by another Chinese company until firm ground rules are in place with financial safeguards to protect other Canadian companies like myself," wrote Hendrickson.
The Chinese management accused the Canadians of tricking them or of not doing the work. It also put in place managers without expertise, alleges Hendrickson.
"At one point the Chinese brought on site a man from China who could not speak English and lasted only one month because he knew very little," he claims.
Manitoba Workplace Safety and Health Division issued stop work order at the mine in May 2012 over concerns about blasting.
2. Canadian Dehua International Mines Group Inc. in British Columbia is about to bring in 200 Chinese temporary workers for its coal mines, with plans to bring in 2,000 more. Immigration Canada has allowed this, with BC's blessing, because the company claims Canadian workers are not available. But the company has offered below-market wages to Canadians to make a case to bring in its own labor, according to local unions.
Canadian Duhua has offered $10 to $17 an hour, half or less the going rate. Eventually, the company reportedly intends to bring in thousands more workers, a salami-slice strategy that all Chinese companies around the world have deployed. They concoct a case local workers are unavailable then bring in their own.
That is when, says a BC union official, China exports its unacceptable and unsafe workplace conditions to the target country.
"These workers will not complain. Would you complain if you know if you're brought in and if you complain, you are going to be sent out on the next plane?" he said. "Normally, inspections start with the concerns of the crew. Are there going to be sufficient safety committees? Is there going to be a real, working safety committee? Doubt it. Are workers going to be able to stand up for their own air quality and underground conditions to make sure they're treated properly? Doubt it."
3. In 2008, Yukon Zinc Corp. was bought by China's Jinduicheng Molybdenum Group Co. Ltd. and Northwest Nonferrous International Investment Company Ltd. and taken private. In 2009, one of its workers died when his brakes failed underground and Yukon's sub-contractor, Procon Mining and Tunneling, pleaded guilty to two of eight charges involving unsafe vehicles. In 2010, a second worker died from a cave-in. Yukon Zinc and Procon were charged in connection with the death and a large portion of the mine was closed for safety reasons.
In February 2011, a massive cave-in occurred but workers escaped injury.
"One fatality in a small hard rock mine in Canada is, these days, real news. Two separate incidents should be seen as shocking," wrote S. Mark Francis, a business consultant with CNSX Western Canada Advisor.
China's track record in Canada is checkered, to say the least, and yet the China-Canada trade deal would open the floodgates to tens of thousands of sovereign enterprises then exempt them from Investment Canada scrutiny if they want to buy more. This means that CNOOC, which wants to buy Nexen Inc., and its sister giants like Sinopec Shanghai, PetroChina or Chinmetals will, in theory, be able to buy other mining, oil company and oil sands projects in Canada. So could the Russians and others.
These incidents are not theoretical. They happened. Ottawa, Immigration Canada and the politicians cannot ignore them nor can they ignore the wishes of Canadians who are overwhelmingly opposed to the Canada-China trade deal and buyout of their important corporations.
Immigration Canada must behave responsibly. Foreign companies cannot be allowed to game our system by bringing in workers without offering Canadians market wages, benchmarked to reality, and then by saying Canadians are not available. On top of that, they should pay foreign workers market wages and be prevented from placing wages into company-controlled bank accounts, as has happened before, that the workers will never get.
Most importantly, sovereign-owned entities, from China or countries that do not offer reciprocal benefits and protections to Canadians, should be restricted to 10% ownership of resource, farmland and infrastructure companies or assets, as is the case with Canada's banking system.
As a former executive with a sovereign-owned Chinese giant said to me "you absolutely do not want to let these guys run riot all over your economy. That's for sure."
This article previously appeared in the Financial Post