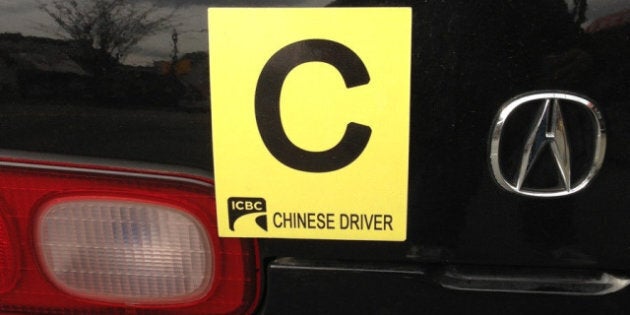 "C" stickers which apparently stand for "Chinese Driver" have been spotted on Vancouver vehicles. They're a close replica of the official signs issued by the Insurance Corporation of B.C. to designate novice drivers.
So is the "C' sign a warning for others to be cautious of this driver? Is it a symbol of nationalist or ethnic pride, like when people put a country's sticker or flag on their car bumper? Or is it simply a parody to poke fun at the racist stereotype of bad Asian drivers?
The blogosphere has featured intense debates of late. Many Caucasian commenters call the sticker racist and offensive, while many Asian commenters said they put the sticker on their car because of ethnic pride, and they thought it was funny.
Then I checked some more blog forums, and somebody wrote: "IF I SEE THIS SIGN IN SOMEONES WINDOW, A ROCK IS GOING THROUGH IT. THIS IS A WARNING."
There were lots of non-Asians threatening to damage cars that were identified as having Chinese drivers, as well as making racist statements. I found more overtly racist signs advertised at a Sears website, stating "Caution Chinese Driver," and another sign with slanted eyes and bucked teeth. Anti-Asian stereotypes were alive and well, more than a century after the 1907 race riots that attacked Vancouver Chinatown and Japantown.
But I wondered if new immigrant Chinese drivers had no idea of anti-Chinese racist history or stereotypes in B.C., and were being corrected by their politically correct and culturally sensitive non-Asian citizens?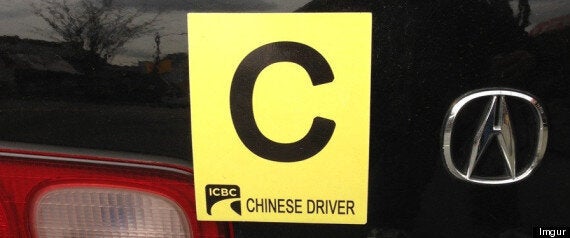 The C stickers are available in car accessory stores in Richmond, Vancouver and Burnaby for $3.99 for plastic stickers or $8.99 for magnets. According to my Chinese friends, lots of Chinese people were putting them on their cars, and most of them were indeed immigrants, according to stories in the Chinese language media, and even blogs in China.
Technically, these C stickers are only "offensive" because people "think" they're offensive.
New immigrant Chinese want to be proud to be Chinese; they don't see it as an issue. They did not live through the decades of systemic racism and negative stereotypes, of everything "Chinese" being considered inferior.
They may not know about the decades-old stereotyping of Chinese drivers as near-sighted bad drivers. As a fifth-generation Canadian, I had always bristled at such a shameful concept that I could never identify with. In fact, growing up, I had also bristled at the sight of new immigrant Chinese drivers with little red decorative thingys hanging from their rear-view mirrors.
Community and cultural standards shift with the zeitgeist of the times. They are all social constructs.
Remember when the "Baby On Board" signs originally came out? Soon people were displaying parody signs such as "Doggie On Board," "Princess on Board," "Baby, I'm Bored" and even "Mother-In-Law in Trunk" (even if a bit disrespectful).
"C" can also stand for Canadian, Celtic or Caucasian Drivers. What if we have "I" for Italian or Irish Drivers, or "S" for Scottish or Spanish Drivers or "A" for Alberta Drivers, then more people are in on the joke, because not everybody in a specific ethnic group is a bad driver right?
Here's an idea that could satisfy all the people who decry this "Chinese Driver" sticker as racist. Perhaps we could use this as an opportunity to make "Chinese Driver" a positive term, similar to the GLBT community turning the negative connotations behind "gay" and "dyke" into a positive term. Then it will take the sting and negative associations away from "Chinese Driver."
If everybody started putting a "C" driver sticker on their car to demonstrate that Chinese drivers are good safe drivers and they are proud of their heritage, then that is what the consciousness will shift to.
It is time to put away the racist, negative stereotypes of Chinese drivers in Canada. We are homogeneous, and you can't really tell if the Asian-looking person in the car is a multi-generational head tax descendant, or a new immigrant from Taiwan, China, South Africa or England. Or maybe they are a half or three-quarter Asian from California.
The only thing people are not yet talking about is whether ICBC will sue for trademark infringement, and improper use of their logo and designs and intent for public safety.
Maybe the ICBC can start issuing stickers with the letter "C" for people who have been ticketed for cellphone use while driving, or a "S" for driver who has too many speeding tickets, or a "U" for "distracted" drivers who have been ticketed for driving with undue care and attention.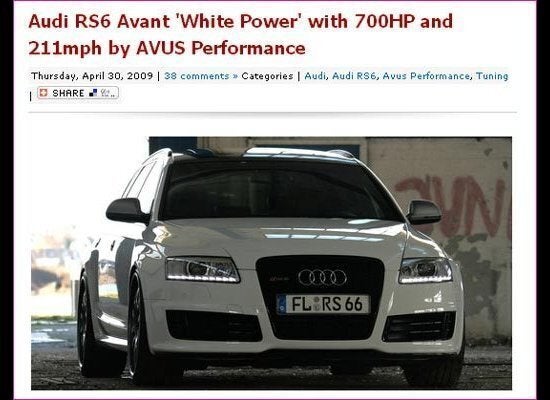 Instances of Accidental Racism