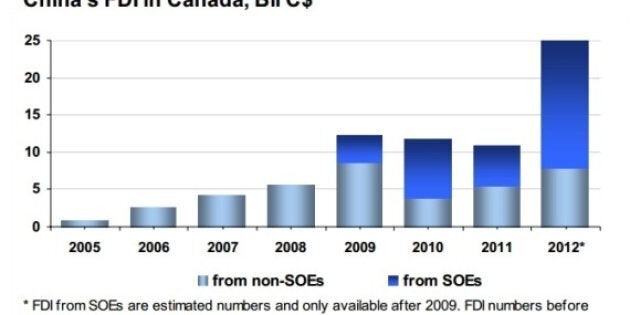 According to an estimate from the Bank of Montreal, foreign direct investment into Canada from China hit an all-time high in 2012, with most of that money going to purchases of natural resource companies and projects.
The much-debated and controversial purchase of Nexen Energy by Chinese state-owned CNOOC accounted for a large portion of the estimated $25 billion that China poured into Canada in 2012, BMO economist Christy Chen told The Huffington Post Canada. The Nexen deal is worth $15.1 billion alone.
But even as Canadians debate whether or not foreign state owned enterprises such as CNOOC should be allowed to purchase Canadian resource companies, investment by non state owned companies also saw an enormous leap in 2012, by around 44 per cent compared to the year before. Chen, who stressed that the 2012 numbers are just an estimate, said the jump was driven by growing Chinese investment into Canadian mining operations.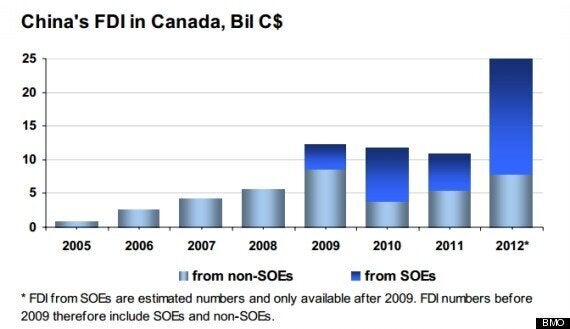 Chinese companies appear to be turning to Canada in part because of rapidly growing demand for resources at home, but also because some other, more preferred, locations are becoming harder to do business in.
Chen says she expects Chinese foreign investment into Canada to decline, in dollar value, as a result.
"The focus for 2013 will be more on the private sector," rather than on the big state-owned companies, she said.