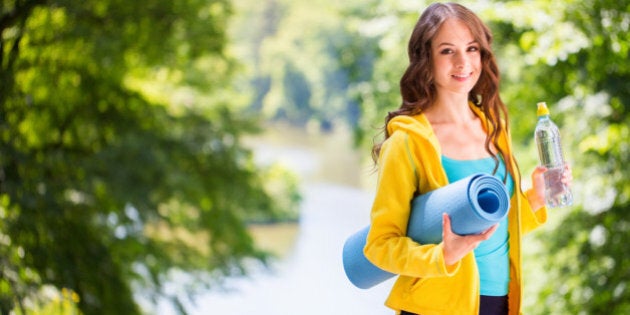 If you are practicing yoga at home, at the office, in a hotel room or at a studio, having the right yoga mat will support your knees and body and make a world of difference in your practice.
I tend to like a cushy yoga mat and some blocks to help make it easier on my knees. But there are so many yoga mats to choose from (and so many different types of yoga), I chose to speak with an expert to find out more about how to pick the perfect one.
Manduka CEO, Sky Meltzer provided some great tips and helpful information on how you can find the best type of mat for your practice, how to care for it and what to do with your mat when it is worn out (good for you! you must have done a lot of yoga).
What's the right yoga mat for your practice?
A key factor in finding your perfect mat is thinking about how you practice. If you practice primarily at home, we suggest a dense mat, providing ample cushion and luxurious support. If you are a yogi on the move, we recommend a more lightweight mat, ideal for carrying around town while running errands after your practice.
When I travel for business or yoga retreats, I always take a super light mat -- it folds flat and is easily stored in my carry-on so I don't have to worry about packing a full sized mat.
How long do yoga mats last for?
The average lifespan of a yoga mat depends on the material, your practice and your environment. Low-quality PVC mats tend to last one to two years. Open cell rubber mats can wear out more quickly due to vigorous practice or if stored in a hot, humid climate. A good rule of thumb is that you get what you pay for.
How should you care for your yoga mat?
The main concern when it comes to your mat is how to properly clean it. We suggest using a towel to preserve its longevity and giving it a light cleaning after a sweaty session.
You can make a really good all-natural cleaning solution at home using something that's probably already in your pantry. What we recommend is wiping down with a 50/50 solution of water and organic apple cider vinegar, an effective natural cleanser for nearly any kind of mat.
If your mat is made from a non-traditional material, such as fabric, felt or jute, you'll want to check with the manufacturer on cleaning instructions.
Are there other props you can use to help your yoga practice?
Yes -- there are so many props to support the yoga practice. Blocks are great in aiding tight hamstrings and hips, bringing the floor closer to our hands and helping to support the body by improving alignment.
Sometimes props can be used to stretch the body further -- for example, when a block is placed behind the feet in forward fold to lengthen the legs, They're also great for restorative yoga and recovery -- placing a block under the sacrum in bridge pose helps relax your lower back.
Straps can be used in so many different ways. The Iyengar practice specifically uses props like straps to optimize every pose. Bolsters are commonly used in restorative practices as well to help the body settle into a pose that is held for a long amount of time. My personal favourite piece of gear besides a mat are performance towels. I always have peace of mind when I practice on a towel -- they keep me from losing my grip no matter how much I sweat.
Try cushions, eye pillows and more to support the joints through the practice and provide a restful final relaxation. Props are tools for us to honour our different bodies and experience a more fruitful practice.
What can you do with your old, worn-out yoga mat?
It is a good idea to look for mats that are created with zero-waste manufacturing and made from environmentally friendly materials that reduce waste and landfill consumption. Keep an eye out for mats that are engineered and eco-friendly, so that they last as long as possible (if not forever).
Sometimes when a mat does begin to wear, we suggest donating to animal shelters to use as soft padding for their floors.
I will continue to practice yoga and share my experiences. If you have ideas or questions about yoga please leave a comment below and I will do my best to find the answer for you.
Your suggestions are always welcome as I continue on my journey to enjoy life to the fullest. Let's have the very best year ever!
Follow HuffPost Canada Blogs on Facebook