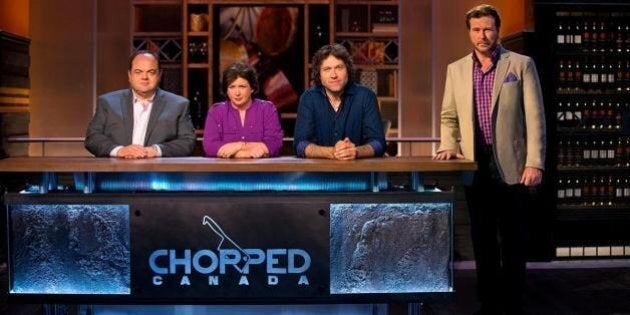 Like so many of us, for years I've been a fervid home chef and I've had an obsession with the Food Network. After recently taking some culinary skills classes, I was stoked, if a little nervous, at the opportunity to compete in the "Chopped Canada" media challenge (and to meet some of our country's most admired foodie icons).
As an avid watcher of the U.S. version of this timed cooking show challenge, I thought I might be able to take what I've learned from other competitors (don't forget an ingredient, don't attempt multiple dishes, keep it simple) and have a good shot at impressing the judges, something I wanted very badly.
"Chopped Canada" debuts Thursday, January 2 on Food Network Canada at 10 p.m. EST/PST. Like the U.S. version, each episode will feature four competitors whose dishes will be chopped throughout three rounds -- appetizer, main and dessert -- with one left standing for a $10,000 prize at the end. Some of the best chefs in Canada comprise the intimidating panel of judges. My culinary heroes Lynn Crawford, Chuck Hughes, Vikram Vij and Susur Lee were among those critiquing my dish. Even Canuck host Dean McDermott is a cooking aficionado with credentials under his apron, including winning "Rachel vs. Guy: Celebrity Cook-Off."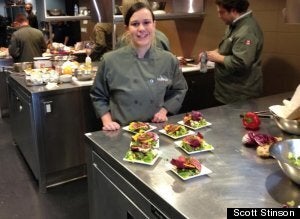 The (admittedly pared-down) challenge: create a gourmet appetizer in 30 minutes using the four ingredients in the mystery boxes sitting atop the stainless steel counters at the George Brown Culinary school in Toronto. With my heart beating, I opened the mystery box of crucial ingredients; beef tenderloin, Canadian cheddar cheese, grapefruit-- and the kicker … cake sprinkles?
And so the challenge began. My teammate, TV critic and self-proclaimed "useless chef" Scott Stinson of the National Post, was fine with letting me take the lead while he was content to play sous chef. After the briefest of strategy sessions, cut short by the impulse to join in the frenzied rush toward the pantries, baskets and fridges of ingredients, we settled on a mixed green and herb salad with a cake sprinkle/grapefruit vinaigrette, topped with seared beef tenderloin and a cheddar cheese tuile.
Scott was in charge of the beef and cheese grating, and I claimed I'd figure out the rest.
The hardest part --aside from trying to perfectly time the beef, tuiles, finding a blender and putting out a minor bacon grease fire -- was disguising the candy sprinkles. The tartness of the grapefruit helped cut their sweetness, but I quickly realized the vinaigrette needed to become a Green Goddess dressing (luckily one of Chef Lynn Crawford's faves) because the colour turned into an unappetizing brownish-green. A bunch of parsley and some basil did a good job of turning it into a more appealing and fresh green colour. Phew.
Finishing with time to spare, it was hard to know what to do in those final precious moments. Of course, as soon as the challenge ended, I knew all of the improvements I could have made: More salt! Bigger plates! More cooking time for the beef! Rearrange the plating!
Standing in front of those prestigious judges was one of the most nerve-wracking experiences of my life. Chef Crawford could see it on my face, especially when Chef Vij (resident Simon Cowell-type sour judge) said our dish might be considered good if we weren't in Toronto, but a less sophisticated part of the country (ouch to all involved!). Chef Crawford was generally positive. Chef Hughes, my celebrity crush, was gracious but said we could have amped up the flavour. Chef Lee said he liked the fusion elements of our dish, and other reviews were mixed.
I followed all those rules I thought I knew from being a "Chopped" fan. But alas, in the end the chefs favoured another team's creation, a one bite wonton beauty that violated one of those cardinal rules because it had grated cheese and candy sprinkles thrown atop, not incorporated throughout.
But at the end of the challenge, it was the dish that worked best and tasted best to those esteemed judges -- a crushing blow to be sure, but one that only gave me a newfound respect for those chefs we'll see competing for a lot more than bragging rights in Canadian media.
I learned some important lessons that I will carry with me in my culinary adventures, but that I'm sure will do little to reduce the anxiety I'll feel for those brave chefs competing in "Chopped Canada" when watching at home. And for those placing bets or looking to enter a timed cooking challenge yourselves, remember these things I learned:
Take an extra few minutes to decide how to execute your dish. Time and time again, contestants heard from the panel: "It's a nice idea, but the execution isn't there." Once you have that plan, go for it! Make sure to grab the equipment and ingredients you need lest some competitor steal your perfect plans out from under you. This goes for time left at the end as well; take a deep breath and step back to think about last-minute adjustments that could improve your dish. Additional advice from Chuck Hughes: don't leave the craziest ingredient until the end, or you might end up screwed. In one cooking challenge he was told to use cream soda, didn't pop it until the last minute and ended up with a pink fizzy mess.
The winner often has the confidence to keep it simple. Don't attempt to create several bites or dishes that pair well together. There's simply no time, and you could very well end up presenting the judges with only a partially assembled meal. Chef Crawford stressed how, at the end of the day, the only thing that matters is the flavour and that means not going overboard. The point is to let the ingredients you're working with shine. While bacon makes everything taste better, I learned through our last-minute addition that it really just distracts from doing the other things well. Another team added amazing buttery mushrooms to their dish, which the judges loved but kept asking what their purpose was.
Presentation Includes Functionality
Don't just go for what's prettiest, but what will work best when the judges have to bite into your dish. For example, I regret going for the dainty square appetizer plates over the regular-sized salad plates; the regular-sized ones would have allowed someone cutting into a slab of beef ample room to do so without spilling salad all over their table. I also positioned the crispy tuile where I thought it looked best, but ultimately it made the dish harder to dig into. And as Chef Susur Lee pointed out, it's also good to remember that your dish might not be presented right away, so you have to recall what it's going to look like or taste like an hour later.
"Food can have flair and look good, but at the end of the day it has to go in your belly and be good going down."
Even The Best Chefs Make Mistakes
I will take solace in the fact that several of my heroes pointed out it's not always the best chef who wins, but the one who can manage time best. Sometimes it's the most tenacious chefs, such as those who cut themselves and continue on, or those competing to help a loved one, who capture the judges' hearts. While Chefs Lee and Crawford pointed out that timed challenges make for the kind of pressure chefs thrive under, even they can be thrown for a loop. For instance, Chef Lee wouldn't know what to do if given a mystery ingredient of squirrel (apparently a northern Canadian delicacy), while Chef Crawford would lose it if presented with "anything creepy-crawly." Even my chef crush Chuck Hughes, who has competed and won "Iron Chef," has suffered a "Chopped" loss. For now, I'll have to take heart in knowing if Chuck Hughes can be chopped and still be on top, then so can I.
"Chopped Canada" debuts Thursday, January 2 on Food Network Canada at 10 p.m. EST/PST.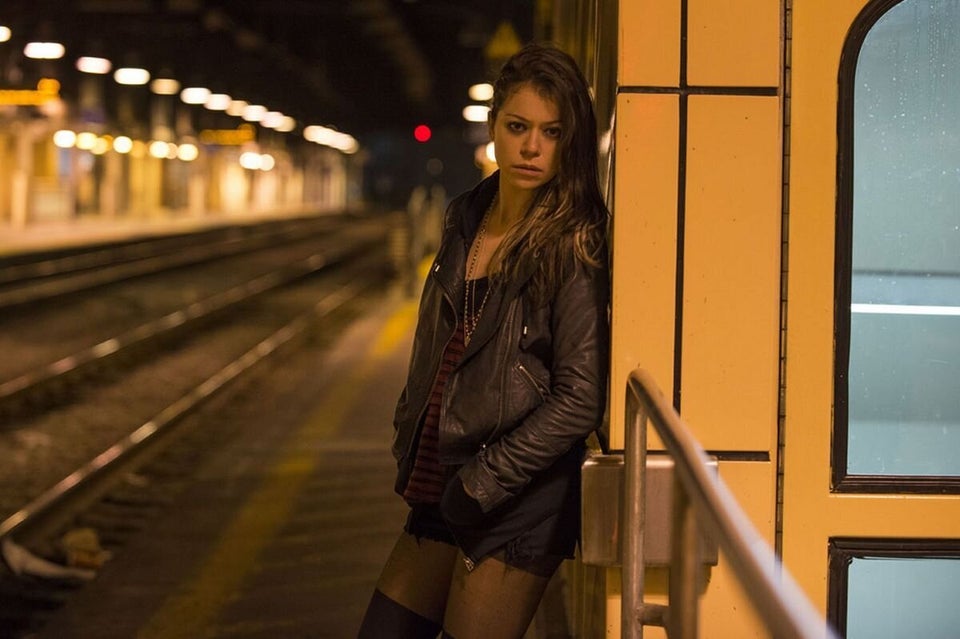 Best Canadian TV Of 2013
Popular in the Community