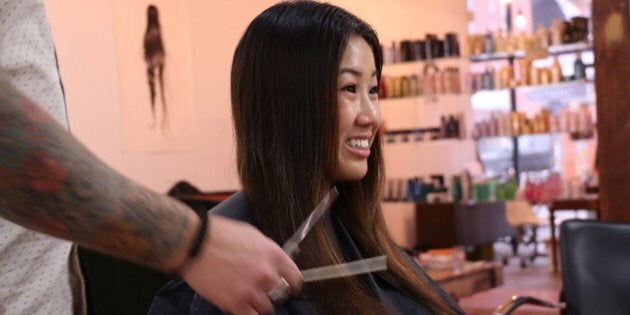 My hair has always been my security blanket.
If I was feeling shy, I'd hide behind it. If I wanted to catch a cute guy's attention, I'd flip it over while walking by. If I was feeling awkward, I'd simply just twirl it, to give me something to do. And I could always count on getting compliments on it, even if I left it au naturel.
Growing up, my hair was always a topic of discussion -- my locks were constantly being fawned over by girls (and teachers and moms) on how perfect it was, and how they wished theirs was just as long and silky straight. Even if I wasn't the most popular girl in school, I always knew I could rely on my hair to keep me relevant.
This is the reason I've kept my hair long for most of my life -- it was my thing, and it made me feel more attractive, more likeable, and more confident.
We're constantly being told that women with longer hair are just automatically hotter -- big, bombshell waves a la VS models add some femininity and sexiness that a shorter chop lacks. I used to always test guys I was dating to see how they would respond to me hinting at chopping off my hair -- for the most part, none of them approved (good thing I'm no longer with them).
So, for years, I kept my hair long, rarely visiting the hairdresser despite my massively split ends to feel "safe." I told myself, "No guy will like you with short hair," and "You'll lose your identity without it."
What I didn't realize was my hair was weighing me down -- both literally and figuratively. I had allowed it to become my identity, which then evolved into relying first and foremost on my appearance for validation.
It wasn't until recently I noticed a movement going on, and suddenly, female celebs known for their long hair were opting for shorter, chicer chops. I envied these women, and how ballsy they were to rock a short 'do. I, too, wanted to be that brave. And it made me realize, there's a newfound confidence that comes along with cutting off your hair. Opting for shorter locks has that whole "f*ck-it-I-don't-care-what-you-think" attitude to it, and really, what's more sexy than that?
So, I decided to take the plunge, and chop off my coveted locks. As someone who doesn't do well with change (I actually wanted to put my braces back on when they were taken off, because I wasn't used to seeing myself without a metal mouth), this was a huge deal. I pondered over this decision for over a year before I finally made the appointment.
When making such a big hair change, it's always a good idea to go to the best of the best -- a hairdresser you can trust. In this case, it was Matthew Collins of Brennen Demelo Studio. The Toronto-based stylist's work has been featured in numerous glossies, and he's responsible for some of the best cut and colour jobs in the city. It was a no-brainer, really.
I walked into Brennen Demelo knowing I would be in good hands. I showed Matthew some pictures of styles I liked, but told him to do what he thought was best. (You can see the entire process in the gallery below.)
He got rid of my hair in one swift chop.
And as the weight of the hair (literally) fell off my shoulders, I, too, felt lighter.
I was free of my hair, free of my security blanket, free of the one thing I had been hiding behind and using as a confidence crutch my whole life. A huge smile came across my face.
Two weeks later, I'm loving my new look. It makes me feel significantly more cool (especially when I muss it up and throw on a leather jacket and ripped black skinny jeans), and much more polished. That's not to say I didn't have a little bit of a meltdown the days following the cut -- it was weird to see my reflection in the mirror, and all my doubts and insecurities about short hair came rushing back. But I realized that since I've cut my hair, I've been forced to put myself out there more, rather than hide behind my locks. And to be honest, I don't really care if people view me as "less attractive" -- if all people are judging me by is my hair, then really, they're not worth it.
At the end of the day, you look your best when you feel your best -- and boy, does short hair feel good.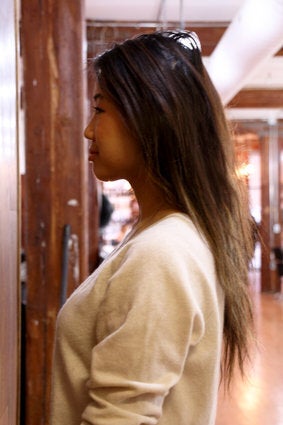 Hair Transformation