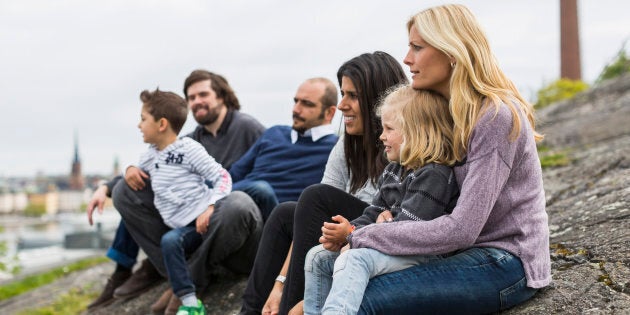 Erin Corbett was excommunicated for getting a divorce when she was 29 years old. Corbett and her son left their Jehovah's Witnesses community, their biological family, and everything they knew in search of a place to call home. They eventually made their way to Calgary, Alta.
"The point I am now versus six years ago is night and day ... I never thought I would be in this place, so happy," Corbett told HuffPost Canada while reflecting on her move.
Creating what is often called a "chosen family" for herself and her son has made a world of difference for Corbett, she said.
WATCH: Myths about same-sex parenting you should not believe. Story continues below video.
Shortly after leaving the religion, Corbett came out as gay, and is now in a loving same-sex marriage. The family has gathered a tight group of friends around them who offer "unconditional ... acceptance and support," she said.
When asked what these relationships give her that she didn't have growing up, Corbett responded immediately: "Love."
A chosen family is borne out of necessity
The term "chosen family" can be misleading, as these bonds are often "borne out of necessity, not choice," Dr. Karen L. Blair, assistant professor of psychology at Nova Scotia's St. Francis Xavier University and director of the KLB Research Lab, told HuffPost Canada.
Everyone would choose to have an unconditionally supportive biological family, but when that is unavailable, insufficient, or far away, many create "lasting and supportive bonds without the underpinnings of a biological connection," Blair said, adding that this speaks to "the resiliency that exists among LGBTQ individuals."
Some have made comparisons to other forms of marginalization, Blair said, but this isn't always accurate. For instance, often a racial minority will grow up with a family who shares that racial identity, and who can therefore provide a whole lifetime of advice and empathy.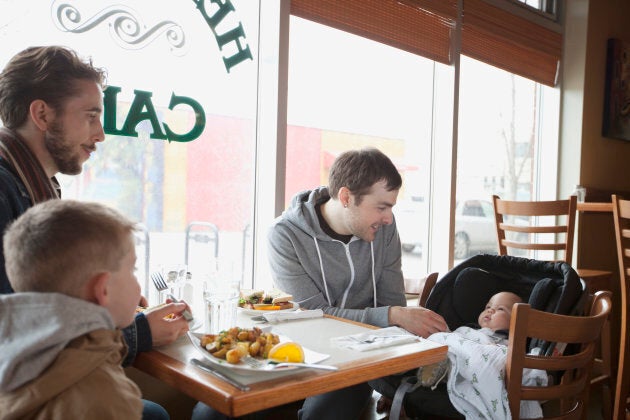 "LGBTQ kids rarely grow up with this same level of support and advice. No one can tell them what it is like to come out, or what it will be like to be bullied and harassed based on their sexual or gender identity," Blair said.
LGBTQ2S+ parents emphasize the importance of these chosen families for their own children as well.
Corbett's 10-year-old son worries that he'll stand out or get teased because none of the other kids in his class have a parent who's gay, she said. But by cultivating a diverse, welcoming chosen family, Corbett said, "he sees that there's nothing wrong with [having two moms]... there's nothing wrong with him, us, or me."
Chosen families create an environment of acceptance
For many LGBTQ2S+ parents, creating a family of choice is an opportunity to raise their children in an environment of acceptance that they themselves never had. Jessy Roos, also from Calgary, said she was raised with "messages about women, minorities, and the LGBTQ+ community not being valuable ... and [being] the cause of the world's problems."
"This stunted my ability to acknowledge ... my sexuality. I don't think I even knew that bisexuality was a thing, probably until I was an adult," Roos told HuffPost Canada.
Roos and her husband have two children and another one on the way. She said they're raising their kids with the understanding that "family is who you choose it to be. We want our children to grow up knowing that you don't have to keep someone in your life out of obligation."
WATCH: The "Boy Erased" trailer. Story continues below video.
Many young people grow up without that knowledge. The challenging film "Boy Erased," about conversion therapy is helping raise awareness about the ways LGBTQ2S+ youth are ostracized or harmed by the people who are supposed to protect them.
LGBTQ2S+ youth are also sharply over-represented in statistics about Canadian homelessness and suicide.
With this in mind, California author and speaker Robin Rice created the Your Holiday Mom project, connecting vulnerable LGBTQ2S+ youth with letters from moms across the world, containing words of support, warmth, and the awareness that they're not alone.
"If your mom won't love you, our moms will. No one should go without love ... It's a fundamental need. We can choose the mother of our hearts," Rice, also known as Shamama, told HuffPost Canada.
For many, curating a chosen family can be challenging, but there are multiple ways to go about creating these bonds. Blair emphasized the importance of Facebook groups for LGBTQ2S+ families and communities, for example. She also referenced events such as those put on by r family vacations for LGBTQ2S+ parents and children. While lamenting their lack of financial accessibility, Blair said they can help parents and children develop meaningful bonds with other families.
Although there are ways for LGBTQ2S+ families to forge connections, many are still more socially isolated than they'd like to be.
Corbett urges these families to trust in their own value, and community will come.
"Tell them to come hang out with us! We'll have a BBQ," she said with a smile.