Olivia Chow was the only Toronto mayoral candidate to make direct mention of Rob Ford's substance abuse issues during a raucous debate in Scarborough on Tuesday.
While Chow exchanged jabs with Ford and fellow mayoral frontrunner John Tory on a variety of issues, it took more than an hour for Ford's drug and alcohol scandals to surface at all.
The Toronto mayor returned from a two-month stint in rehab just weeks ago. He has blamed past homophobic, racist and misogynistic slurs on his alcohol and drug problems and has said he has a "disease" that he will die with.
"Mr. Ford, even when you're clean and sober, you can't stick to the truth," Chow said during a heated exchange on the city's land-transfer tax.
The crowd appeared mixed on the former NDP MP's jab, with some applauding and others booing loudly. Some also suggested on Twitter the remark was a low blow.
But Chow did not back down after the debate ended, telling reporters the quip was fair.
"I'm telling the truth," Chow told The Toronto Sun. "Even when Mr. Ford is clean and sober his policy has failed the people of Toronto."
Chow told The Sun she wishes the mayor well on his recovery but it's "time to pack up the circus."
When later asked by CP24 reporter whether the remark was "a little below the belt," Chow again said she was just being truthful.
"His behaviour is still the same. I assume he's clean and sober… he continues talking about things that aren't true," she said.
And Tory also took a thinly-veiled jab at Ford's personal problems while attacking overruns on projects under his watch, The National Post reports.
"We know what you were doing and it wasn't managing taxpayers' money," Tory yelled.
Ford also did himself no favours on the issue of drugs.
At one point, he said he would take "another crack" at getting rid of the land-transfer tax. Many in the crowd laughed and cheered.
The awkward moment led Toronto Star reporter Daniel Dale to fire off a pretty interesting tweet.
But the Toronto mayor did say a number of things Tuesday night that were simply untrue.
Dale compiled a list of 14 misleading or inaccurate statements Ford made, including his claim to have lowered taxes when they have, in fact, gone up under his watch. (Dale says Tory made three inaccurate statements and Chow made one.)
Ford incorrectly said Chow spent the most on expenses when she was a city councillor and falsely claimed that the annual property tax increase was the lowest of any city in North America. As Dale points out, the city of Windsor has actually frozen property taxes.
But the most misleading statement from Ford may have been his claim to have "built" the subway in Scarborough. Construction for that project won't even begin for several years.
What do you think of Chow's quip about "clean and sober" Ford? Tell us in the comments.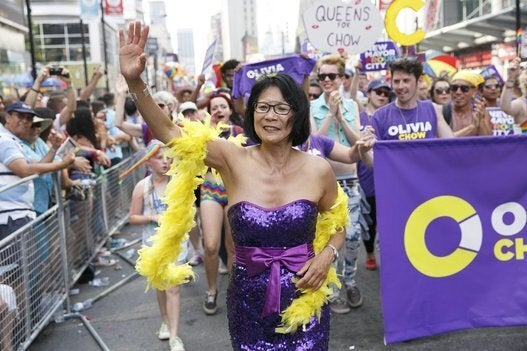 Olivia Chow Through The Years
Popular in the Community