Though Conservatives have denied opposition MPs a place in Canada's delegation to Ukraine, it was only a few weeks ago that Immigration Minister Chris Alexander pointed to a Liberal MP as an example of the close ties between both nations.
During an emergency debate on the Ukraine crisis on January 27, Alexander suggested there isn't another member of Parliament — in either party — who can match rookie MP Chrystia Freeland's proficiency with the Ukrainian language.
"I am looking over at the member of Parliament for Toronto Centre, a new member in this place, who speaks a high quality of Ukrainian. I think her Russian is quite good, too," Alexander said.
"I can understand her Russian but the quality of her Ukrainian is certainly second to none in this place and probably second to none among parliamentarians in NATO countries. That speaks to our strength as a nation in understanding what Ukraine is going through and in living that reality because of who we are."
Freeland, a Ukrainian-Canadian, has a bachelor's degree in Russian history and literature from Harvard and master's degree in Slavonic studies from Oxford. Her mother helped draft Ukraine's constitution.
Alexander said at the time he was honoured to be with all of his colleagues for a debate which he said showed how much Canada cares about the crisis.
"We must stand up to bullying in our streets and communities, in Europe, in eastern Europe, and around the world," he said. "This is one case when we, as Canadians, must stand up and be counted."
But this week, Tories rejected an NDP request this for an all-party delegation to accompany Foreign Affairs Minister John Baird to Kyiv on Friday.
Jason MacDonald, the chief spokesman for Prime Minster Stephen Harper, made no apologies, saying Wednesday that neither parties are worthy of inclusion on the trip.
He cited the joke Liberal Leader Justin Trudeau made on a popular Quebec television show about the crisis (Trudeau apologized Tuesday to the Ukrainian ambassador) and the NDP's past criticism of Baird's foray into Kyiv's main square in support of protesters in December.
"Mr. Trudeau's comments about Russia and Ukraine were neither helpful nor did they contribute positively to Canada's efforts to assist the Ukrainian people, and as a result there's no role for the Liberals in this government mission," MacDonald said Wednesday in an email to The Canadian Press.
"The NDP wouldn't pick a side, unlike our government, which has been steadfast in its support for the Ukrainian people. Until they decide on what they stand for they, like the Liberals, shouldn't be a part of the government delegation."
This was much the same response Liberal foreign affairs critic Marc Garneau received when he asked about the snub in question period on Wednesday.
"What message are we sending Ukrainians about multi-party democracy when our government excludes members from other parties?" Garneau wondered.
Tory MP David Anderson, the parliamentary secretary to the minister of foreign affairs, defended the government's decision.
"The NDP members wanted to wait and see. They did not want to take sides. In fact, they criticized us for taking sides," he said. "But the Liberals actually thought this whole thing was a joke."
"That is why we are sending people there who have been engaged in this issue, who treat it seriously and they are standing with the Ukrainian people."
Earlier in the week, Alexander held a press conference in Ottawa to criticize an off-hand remark Trudeau made in a pre-taped appearance on Radio Canada's "Tout le Monde en Parle,'' a program known for its humour and irreverence.
"It's very worrisome,'' Trudeau said. "Especially since Russia lost in hockey, they will be in a bad mood. We are afraid of a Russian intervention in Ukraine.''
Alexander said such a quip was proof Trudeau thought the situation in Ukraine was something to joke about.
But the minister's statement also included other Trudeau controversies that had nothing to do with Ukraine.
"We are concerned that there is not just one statement of this quality, there's a pattern here of support for communist dictatorship, of belief in ... budgets balancing themselves and now of whimsical comments, offensive comments about Ukraine's future based on the result of a hockey game in Sochi," he said.
Garneau accused Tories of "trying to take advantage of this for cheap partisan reasons.''
With files from The Canadian Press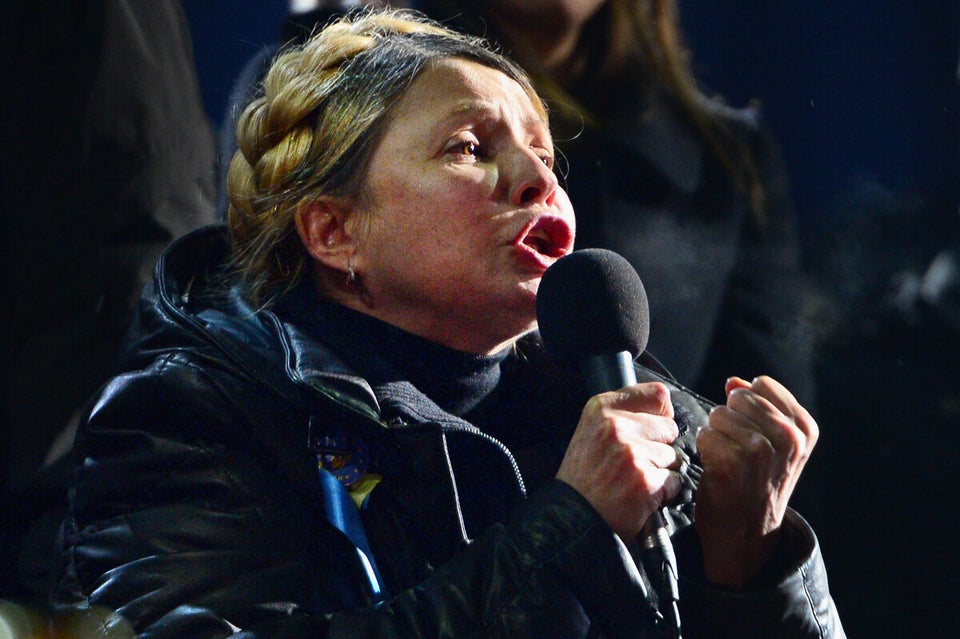 Ukraine Riots (GRAPHIC WARNING)