GREELY, Ont. — Conservative leadership candidate Chris Alexander says fellow contender Kellie Leitch is importing anti-immigrant American rhetoric for "crass political purposes."
Alexander, Canada's former immigration minister, said he doesn't believe Canada will see the same type of political polarization that has happened in the U.S. because the country doesn't have the same large issues with illegal immigrants or undocumented residents.
"That is the single greatest cause of poisonous politics that we see south of our border or in Europe," he told reporters Sunday after an leadership debate organized by a local riding association in Greely, south of Ottawa.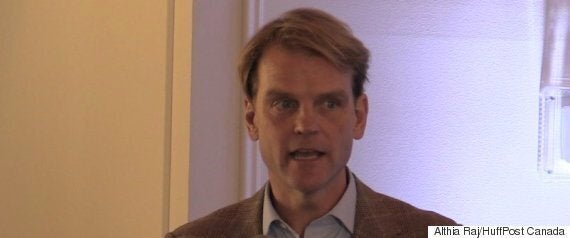 Canada's immigration system works, the former Ontario MP and career diplomat declared. It brings huge numbers of people based on their skillset and generously resettles refugees who need the help, Alexander said.
"I don't think it is right to import, for crass political purposes, the genuine anger that Americans are feeling and to say we have the same situation here. We do not."
Leitch has made screening every single newcomer and visitor to Canada for so-called anti-Canadian values the cornerstone of her leadership bid for the Conservative party.
After Donald Trump's U.S. presidential victory on Wednesday, Leitch congratulated the Republican and noted how she wanted to accomplish the same feat in Canada by throwing out the elites.
A day later at the first Conservative leadership debate, Leitch said she and Trump shared "common ideas" — namely the screening of immigrants.
On Sunday, Leitch was on the defensive for her support of Trump, telling CTV's "Question Period" program: "I am not a racist."
Leitch was expected to participate in Sunday's event with the other leadership contenders, but she left after the luncheon and missed the debate portion of the riding association's fundraiser due to an apparent break-in attempt at her home in Creemore, Ont.
In a statement Sunday night, Leitch says she was notified by a volunteer in her riding association that someone was purporting to know her address and was offering it up online to anyone who she says was "interested in doing me harm.''
Leitch says her home alarm sounded early Saturday and as she left the house to wait for police she noticed the garage lights were on, but they had been turned off by the time officers arrived, and no intruder was found.
She said the entry closest to the garage was found to have been the trigger for the alarm and the officers speculated that someone trying to gain entry could have set the alarm off.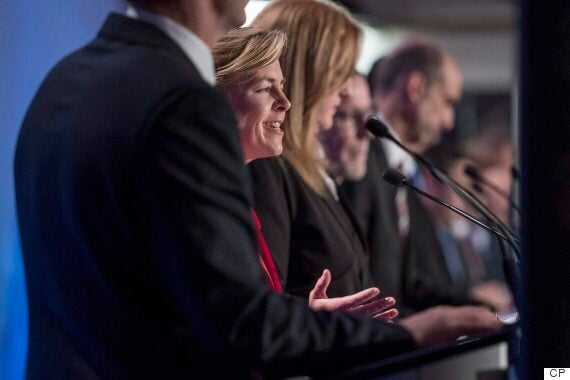 In a free and democratic society, Alexander said Leitch has every right to put forward views that reflect some Canadians' opinion — but he finds them regrettable.
"They are views that come from an American presidential election from one of the candidates who said unbelievable things, unspeakable things, abhorrent things during that election," he said of Trump. The president-elect called, at one point, for a total and complete ban on Muslims entering the United States.
"I regret that it has become a central issue of this campaign for one candidate. It is not an issue for the rest of us."
"I don't want to see Canadian politics go in that direction. We have a different legacy here, a different reality here," said Alexander. "We are proud of diversity. We are proud of strong immigration. Our immigration system is seen as a model to the world."
Canada's settlement policies, and successful integration, retention and respect for newcomers is a unique system that Canadians should be vigilant in protecting, he added.
During the last election campaign, Alexander and Leitch stood shoulder-to-shoulder in announcing that a re-elected Tory government would introduce a barbaric practices tip line for the RCMP. The proposal was widely criticized.
Alexander also came under fire for his perceived lack of empathy towards the Syrian migration crisis and the Tory government's unwillingness to drastically increase refugee numbers. He was defeated in the 2015 election.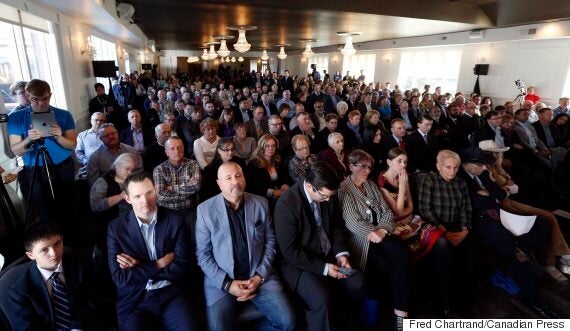 On Sunday, Alexander said he would "never be part of a government" — and certainly never lead a government — that placed newcomers and visitors to Canada "under a cloud of suspicion just because they are not one of us."
"I don't think any of us [in government] would have tolerated one of our colleagues saying: 'These people need to be screened more,'" he said, referring to Leitch, who also served as a cabinet minister for labour.
"When was the last time you saw a major security incident in Canada terrorism or otherwise caused by a visitor?" he asked. "It wasn't the case in Ottawa ...So why go there, why make these accusations?" he said referring to the 2014 shootings on Parliament Hill.
In that case, Michael Zehaf-Bibeau fatally shot Cpl. Nathan Cirillo at the National War Memorial before storming the nearby Centre Block parliament building. That same month in Saint-Jean-Sur-Richelieu, Que., Martin Couture Rouleau deliberately ran his vehicle into two uniformed officers, killing Warrant Officer Patrice Vincent.
Both attackers were born in Quebec, and considered lone-wolf terrorists. Both were killed by police.
The Canadian screening system that relies on interviews and background checks "works well," Alexander said, pointing out that further screening will cost more money, add delays, and hurt the Canadian economy.
"I regret that it has become a central issue of this campaign for one candidate. It is not an issue for the rest of us."
With files from The Canadian Press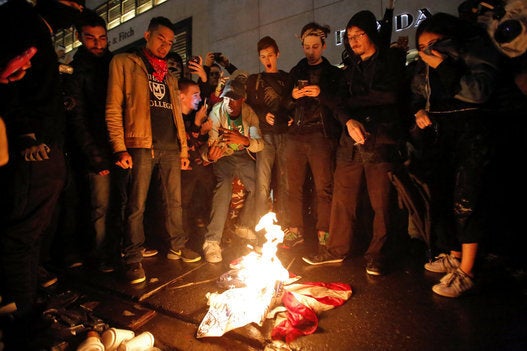 Donald Trump Win Sparks Protests Nationwide