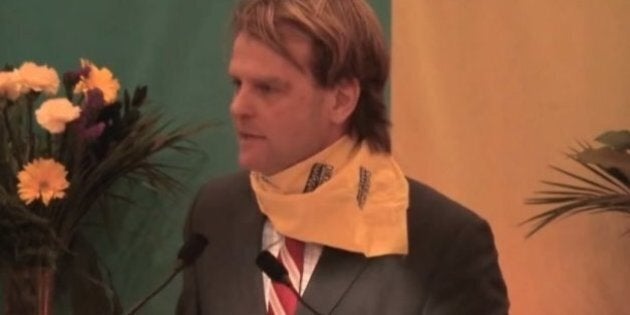 A Conservative cabinet minister's speech asserting that the crisis in Ukraine is "the biggest issue facing the world today" has resurfaced as Canada debates extending its mission against the Islamic State.
And it seems Immigration Minister Chris Alexander, a key member of the prime minister's inner circle, stands by his words, despite sharp criticism from the Russian Embassy in Ottawa.
On Feb. 22, Alexander addressed the Ukrainian Canadian Congress in Toronto about Russian aggression in Ukraine. Video of his speech was posted to YouTube late last month.
Alexander told the group that Russian President Vladimir Putin is only going to face his "comeuppance" when the world is standing united against him "with every option on the table," offering Ukraine military assistance and every other form of help.
"This is the biggest issue facing the world today, in my view. I think, in the view of our prime minister and our team," Alexander said. "Yes, there is terrorism. Vladimir Putin is behaving like a terrorist."
Alexander also said Syria and Iraq are "serious issues" that can't be forgotten.
"But the buck stops in Ukraine," he said. "There is absolutely no scenario going into the future that leads to peace and security for this world, that leads to prosperity in Europe globally that does not include a full international effort to give Ukraine the tools it needs to drive Russian forces from their borders and secure its borders for good."
On Sunday night, the official Twitter account of the Russian Embassy in Canada shared a shorter clip of Alexander's speech.
Canada has been among the most vocal countries in the world in denouncing Putin's actions and has provided non-lethal military equipment to Ukraine to help the country protect its border.
But Tories have also made political hay out of this crisis. An incident at the G20 summit in November, in which Harper reportedly told Putin he needed to "get out of Ukraine," has been consistently referenced by Conservative MPs in question period and featured in fundraising emails and a site seeking donations for the party.
Earlier this month, Tories launched a Facebook "caption contest" asking followers what Liberal Leader Justin Trudeau might say to the Russian leader, yielding responses like: "Hey, got time for a selfie?"
A poll last May from Angus Reid Global suggested most Canadians were satisfied with the Harper government's response in Ukraine, including past Liberal and NDP voters.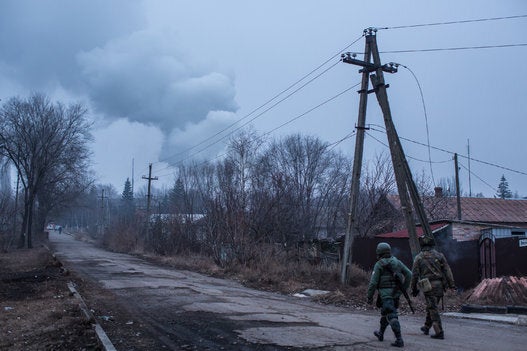 Ukraine In Ruins