"To My Sweet Christopher," begins Vicky Cornell's love letter to her late husband, grunge-rock icon Chris Cornell, who died of suicide last week at the age of 52.
Published on Billboard.com, the letter describes Cornell as "the best father, husband and son-in-law," praises his "patience, empathy and love" and reflects on their time together.
"You had always said I saved you," she writes, "that you wouldn't be alive if it were not for me."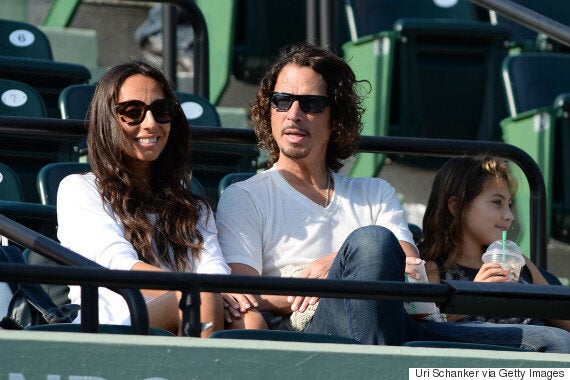 Chris and Vicky Cornell married in 2004 and have two children together: Christopher, 11, and Toni, 12. He has another daughter, 16-year-old Lillian, from a previous marriage.
Since Cornell's death was ruled a suicide by medical examiner, Vicki has blamed it on prescription drugs. Her lawyer released a statement last Friday saying:
"Without the results of toxicology tests, we do not know what was going on with Chris — or if any substances contributed to his demise. Chris, a recovering addict, had a prescription for Ativan and may have taken more Ativan than recommended dosages. The family believes that if Chris took his life, he did not know what he was doing, and that drugs or other substances may have affected his actions."
Vicky reiterates this in her letter. "I know that was not you, my sweet Christopher. Your children know that too, so you can rest in peace."
She goes on to promise "I will take care of our beautiful babies" and concludes by writing "I love you more than anyone has ever loved anyone in the history of loving and more than anyone ever will."
"You had always said I saved you, that you wouldn't be alive if it were not for me."

— Vicky Cornell
Cornell's funeral will be held in Los Angeles on May 26. Although this service is private, Cornell's attorney told Variety that there will be announcements for public memorial "when that's been decided."
Are you in a crisis? If you need help, contact your local crisis centre. If you know someone who may be having thoughts of suicide, visit suicideprevention.ca to learn how to talk about suicide with the person you're worried about.