 Now that Commander Chris Hadfield has landed safely back on Earth, in Kazakhstan actually, his extraordinary five-month mission at the International Space Station (ISS) has been the most exciting out-of-this-world event since Neil Armstrong first landed on the Moon, on July 20, 1969 in Apollo 11.
We have just witnessed the best, longest-running, "good news" PR campaign in years. It was designed to promote interest in space aviation, technology, and science, and by extension the STEM subjects -- science, technology, engineering and math -- to our next generation.
I might argue that experiments at the ISS aside, his most important mission was to get the public fired up again about space exploration. It's one of the tenets of public relations, attributed to Abraham Lincoln: "With public sentiment, nothing can fail; without it nothing can succeed."
For NASA, and in Canada the Canadian Space Agency (CSA), getting people excited about space exploration is invaluable, especially because for the past 20 years, NASA's budget when compared as a percentage of the overall federal U.S. budget has been dwindling rather than keeping pace.
Commander Hadfield is equal part astronaut and PR spokesperson. In fact, he's the best spokesperson that NASA has ever had to help "sell" the space program, both conceptually and in practice. In fact, he's such a great spokesperson that we have forgotten that there is likely a PR machine behind him. And, he's Canadian (gosh, that's our pride showing).
In fact, Hadfield is the ideal PR spokesperson. He is a natural communicator. He does not spout "key messages." He is unassuming and speaks in English, not "techno-speak." He connects with people. He frames communication so people "get it." He gets people exited. He is helping us regain our sense of wonder for space. For organizations such as NASA and CSA, that's communication gold.
While many corporations would love to have a spokesperson like Commander Hadfield, here are his communication strategy and techniques, deconstructed. Corporations take note: these techniques are entirely replicable.
A sustained campaign of five-months -- Hadfield did more than 130 experiments at the ISS and uploaded dozens of videos to YouTube, many aimed at children and youth.
There was a sustained campaign to reach out to schools where students could ask basic questions and more advanced questions about life in space. We saw pictures and footage of little girls dressed in costume spacesuits, excited to be speaking to Hadfield.
"Music Mondays" -- Knowing that frequently, Mondays are slow news days for TV, radio, and newspapers, "Music Mondays" provided producers and editors with cheerful and fun footage, without a lot of work on their part.
Photos are critical -- As much as PR people draft and re-draft words, frequently this produces an inferior article or news release. Remember the saying: a picture is worth a thousand words. Commander Hadfield posted hundreds of astonishing photos of our world from space. He helped us to connect with the beauty of the Earth. He also reminded us that the Earth is a finite place, and if we destroy it, there is no Plan B.
Stunts are still very good, when done right -- Public relations originated with stunts more than 100 years, with elephants on Main Street as part of circus PR. Hadfield has phoned people from space like the CBC's science commentator Bob McDonald. Getting phone calls from the ISS must be pretty mind blowing.
Simple experiments using props -- Juggling tomatoes, opening a can of mixed nuts, brushing teeth, wringing out a facecloth, sleeping, eating, cutting your fingernails, and even going to the bathroom all satisfy the basic question: What is it really like to live in outer space? And he sure understands props -- props help to tell your story.
Incorporating popular culture -- Remember Hadfield's conversation with Bill Shatner, a.k.a. Captain Kirk, of the Starship Enterprise? Umm, Kirk is a character from science fiction -- one with a huge following. NASA even had fun with the sound effects from the Enterprise's hailing frequencies. Here is that conversation. This is the stuff that goes viral, that people feel compelled to share because it is so cool, and so quirky. It's a giggle!
Music, the great equalizer -- Hadfield brought his guitar to space and there were jam sessions with the school groups and the Barenaked Ladies' hit "Is Somebody Singing" -- or ISS for short. Music is a natural for television.
Social media savvy -- Hadfield only joined Twitter on December 12, 2012, a week before he left for the ISS on December 19. In five months, he has sent almost 5,000 tweets to almost a million Twitter followers.
Life imitates art -- The first music video done in space was released by NASA just hours before Commander Hadfield was to return to Earth on May 13. The choice of "Space Oddity," released by classic British rocker David Bowie in 1969 had Bowie tweeting back at Hadfield, "Hallo Spaceboy."
Commander Hadfield's "Space Oddity" video has now been viewed almost seven million times in less than 24 hours. If you have not seen it, you really should. So, get yourself a cold drink and enjoy it here.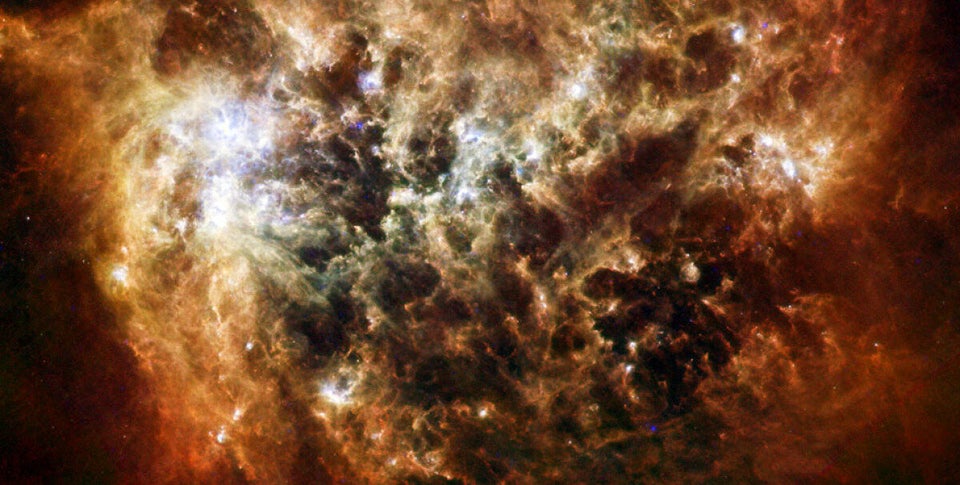 59 Incredible Space Photos